Union Home Minister Amit Shah on Saturday accused Shiv Sena (UBT) leader Uddhav Thackeray of betraying the BJP for the chief minister's post after the Maharashtra Assembly elections in 2019 by joining hands with Nationalist Congress Party and Congress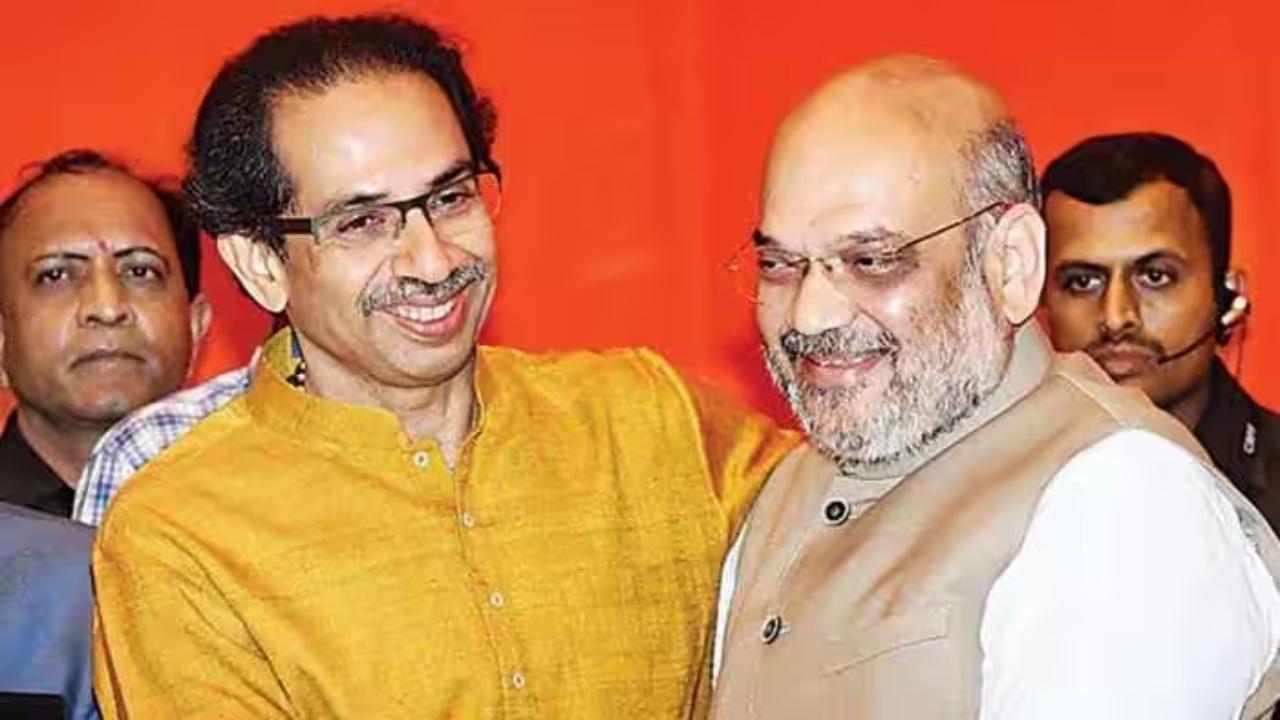 File Photo/PTI
Union Home Minister Amit Shah on Saturday accused Shiv Sena (UBT) leader Uddhav Thackeray of betraying the BJP for the chief minister's post after the Maharashtra Assembly elections in 2019 by joining hands with Nationalist Congress Party and Congress.
Addressing a rally at Nanded as a part of the BJP's outreach campaign to mark the completion of nine years of the Narendra Modi government, Shah said the BJP didn't bring down the Thackeray-led MVA government last year, but they were Shiv Sainiks who were tired of Thackeray's policies and were not ready to go with the NCP headed by Sharad Pawar.
ADVERTISEMENT
"I as (then) BJP president and (the then chief minister) Devendra Fadnavis had carried out negotiations in which Thackeray agreed that if the NDA emerged victorious, Fadnavis will be the chief minister (again). However, after the results (in 2019), Thackeray broke the promise and sat in the Congress-NCP's lap," Shah added.
The Shiv Sena (undivided) and the BJP contested the 2019 Assembly polls together, but the former walked out of the alliance over the post of chief minister.
Shah said the Shiv Sena, which is now headed by Chief Minister Eknath Shinde, has got back its bow and arrow and it has been decided who the real Shiv Sena is.
He dared Thackeray to make his stand clear on whether he agrees on abolishing the practise of triple talaq, construction of Ram temple in Ayodhya, Uniform Civil Code and reservation for Muslims.
"You cannot stand on two stones. You will be exposed before the people of the state," Shah said in a swipe at Thackeray.
Also read: Man arrested for objectionable social media post against Devendra Fadnavis
Shah said during Covid-19 pandemic while Modi was giving vaccines to countrymen, Thackeray did not go to office.
Thackeray had received flak for not going to office during the Covid-19 pandemic. In his revised autobiography released last month, NCP president Sharad Pawar said although the middle class liked Thackeray's Facebook Live during the Covid-19 pandemic, him going to Mantralaya (the state secretariat) just twice was difficult to fathom.
Shah said four generations of the Gandhis could not achieve what Modi did in nine years.
He said Prime Minister Modi is working to raise the stature of India globally, while on the other hand, the Congress' "prince" Rahul Gandhi goes abroad and insults the country.
This story has been sourced from a third party syndicated feed, agencies. Mid-day accepts no responsibility or liability for its dependability, trustworthiness, reliability and data of the text. Mid-day management/mid-day.com reserves the sole right to alter, delete or remove (without notice) the content in its absolute discretion for any reason whatsoever. Do you indulge in mindful activities for an improved mental health?