Following concerns about cracks on Babulnath Shivling, IIT report allays fears while advocating cautious abhishek practices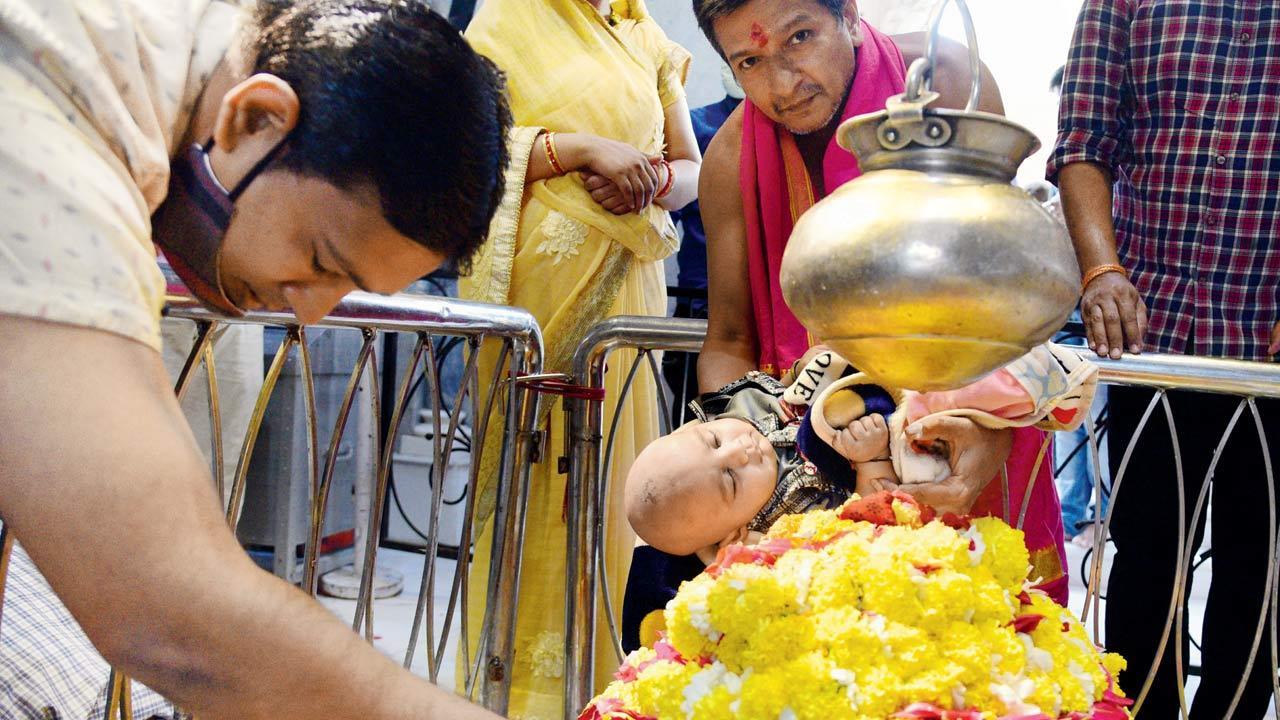 The Shivling at Babulnath Mandir on March 1, 2022. Pic/Pradeep Dhivar
Almost a month after mid-day reported on the management of Babulnath Mandir appointing IIT Bombay (IIT-B) to look into cracks that had supposedly developed in its Shivling, the former has concluded that there are no cracks on the sacred object. The premier institute has shared its recommendations based on its findings with the temple's trust to prevent possible damage to the 350-year-old Shivling.
A Babulnath Mandir trustee had told mid-day that the Shivling was showing signs of weathering due to the doodh (milk) abhishek.
ADVERTISEMENT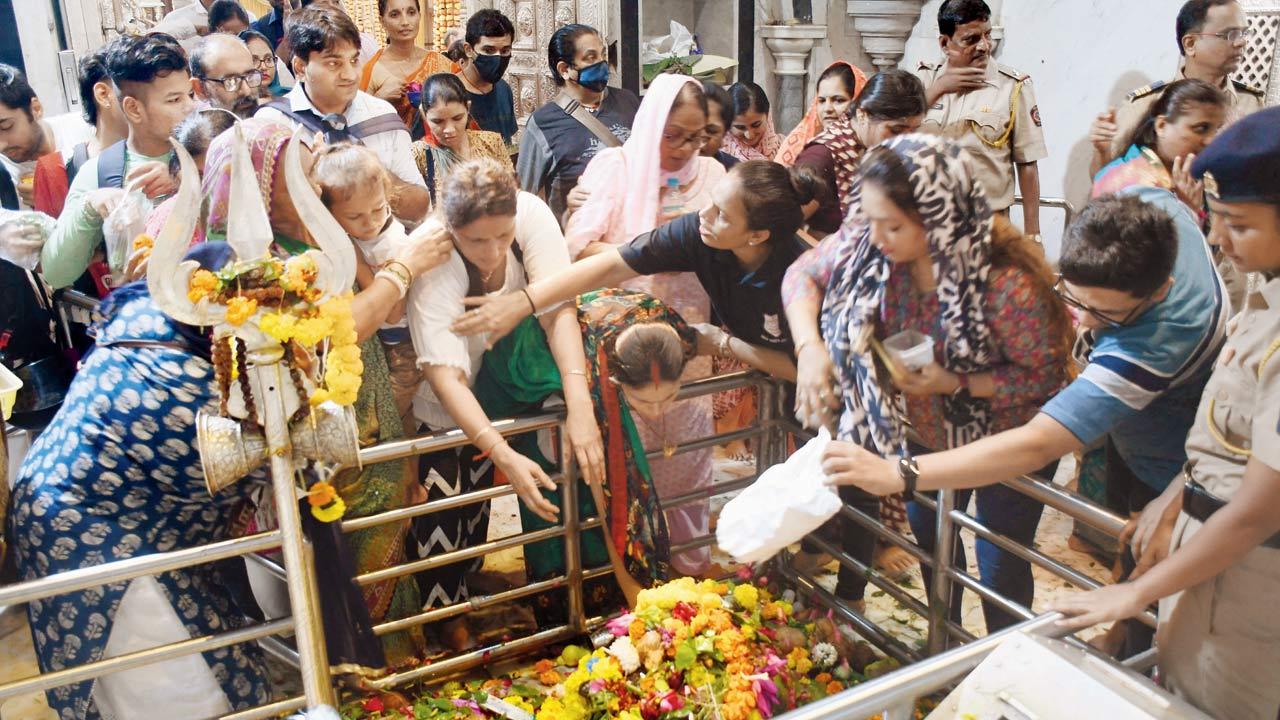 Devotees seek blessings at Babulnath Mandir in Girgaon on August 1, 2022. 
"The report by IIT-B has confirmed that there are no cracks in the Shivling," said Nitin Thakker, trustee and chairman at Shree Babulnath Mandir Charities, on Friday.
A statement issued by the temple trust read, "IIT-B physically examined the Shivling as well as perused photographs of it. They also took samples of various articles that are offered to the deity and tested the articles to establish the presence of leachable elements, which might cause deterioration in the long run.
Also Read: Mumbai: Babulnath shivling cracking, trustees want IIT Bombay's help
The report stated, "The offerings used for worshipping the idols of Lord Shiva and Lord Ganesha (constituents being granite and marble rock, respectively) that are acidic and saline in nature would, after a period of time, lead to their subsequent wear and tear (cracking) due to numerous wetting and drying cycles. Higher ambient humidity levels would aggravate abrasion, erosion and micro fissure formation and facilitate entry of the chemicals into the idols, leading to their severe weathering. If contaminated materials used as offerings are permitted, the Shivling and other idols might wear and tear over a prolonged duration. It has been observed that, as on date neither these idols nor Shivling are cracked but have undergone excessive wear and tear."
The report recommends restricting the usage of cow milk and states that the quantity of water being offered for jal abhishek should be reduced.
The trustees are studying the recommendations before implementing them.
Thakker said, "We are yet to discuss the IIT-B's recommendations with other trustees. We will have an internal meeting to discuss the same. Speaking anything before that and misguiding people would be wrong on our part. We will take appropriate measures based on IIT-B's report after our internal meeting." Do you like to interpret your dreams?