Study done by a tertiary care hospital sheds light on orthopaedic issues during Covid-19; sedentary lifestyle could be a reason behind the cases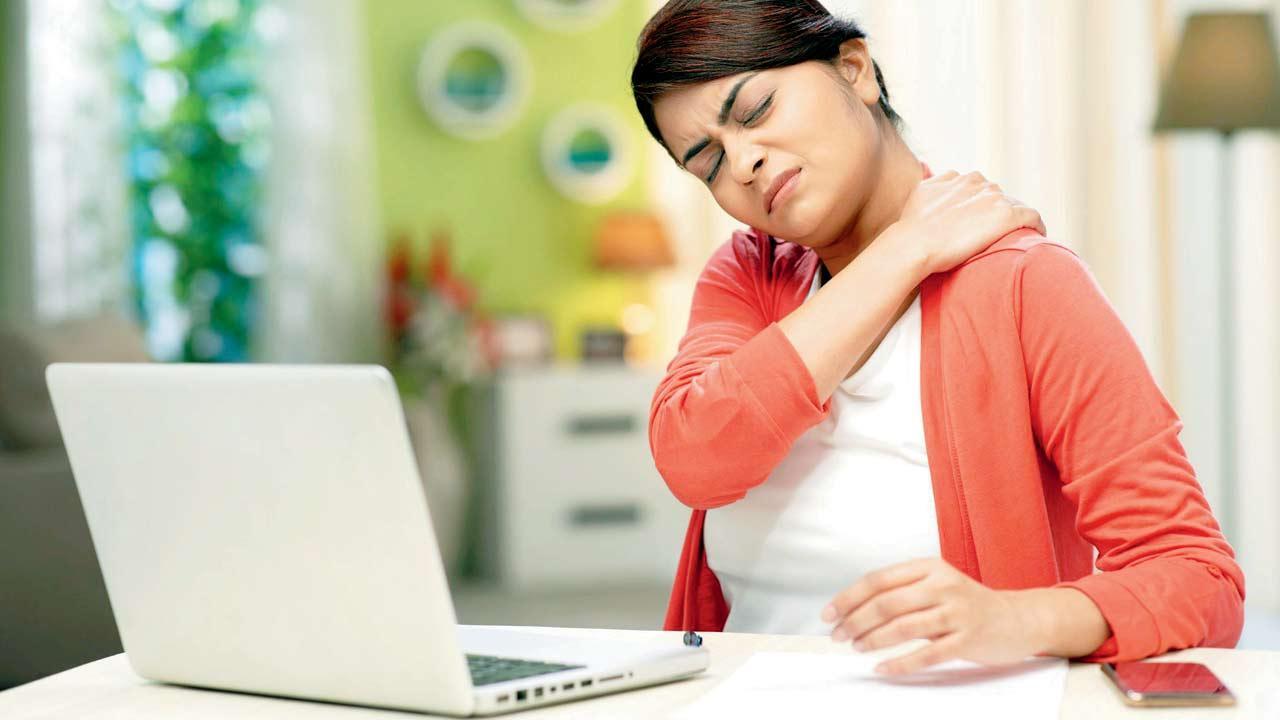 A sedentary lifestyle and sitting in the wrong posture are the major reasons behind backache. Representation pic
Chronic backache and arthritis were the most common orthopaedic problems during the COVID-19 pandemic, according to a study conducted by a doctor at the OPD of a tertiary care hospital. Stiffness in the joints and neck pain were among other common problems. In a bid to assess prevailing diseases as well as orthopaedic outpatient load, Bhaktivedanta Hospital and Research Institute in Mira Road analysed the data of 1,605 patients who visited the hospital OPD between July 2020 and December 2020. The study was recently published in the International Journal of Research in Orthopaedics.
Dr Pushkar Borole, author of the study, found that a majority of 438 or 27.29 per cent suffered from acute and chronic backache while 421 or 26 per cent patients reported arthritis. Similarly, 161 patients were reeling from joint stiffness, 158 from ligamentous sprains, 111 neck-related problems, 106 suffered from tendonitis and enthesopathy, while 82 complained of non-specific body aches. Of the remaining patients, 65 were postoperative follow-ups, 38 had bone fractures, 15 had soft tissue injuries, and 10 suffered from neuropathy. Dr Borole said, "We have tried to put forward our study done during COVID-19 to show what the major orthopaedic problems were. Prolonged work-from-home mode can be one of the reasons behind the ortho-related issues." 
He added that sedentary lifestyle and sitting in the wrong posture are the major reasons behind backache while continuously looking at mobile and computer screens lead to neck pain. It is important to address such issues on a priority basis because it will affect the productivity of a person. "People should do basic exercise, go out for a walk, do yoga, and have a good sitting posture while working or doing other activities. Having nutritious meals is also important," he said. 
The doctor said, "This study could help formulate better prevention and treatment strategies to overcome such medical conditions, irrespective of the presence of a pandemic." The orthopaedic outpatient department of tertiary care hospitals plays a crucial role in the healthcare system as it attends to a large number of patients, and can observe disease patterns of common issues and help understand the distribution of illnesses in a particular region.
1,605
No of patients assessed in the study