Activity by creature released from Guhagar on February 23, has slowed down drastically near island's north indicating 'huge feeding activity'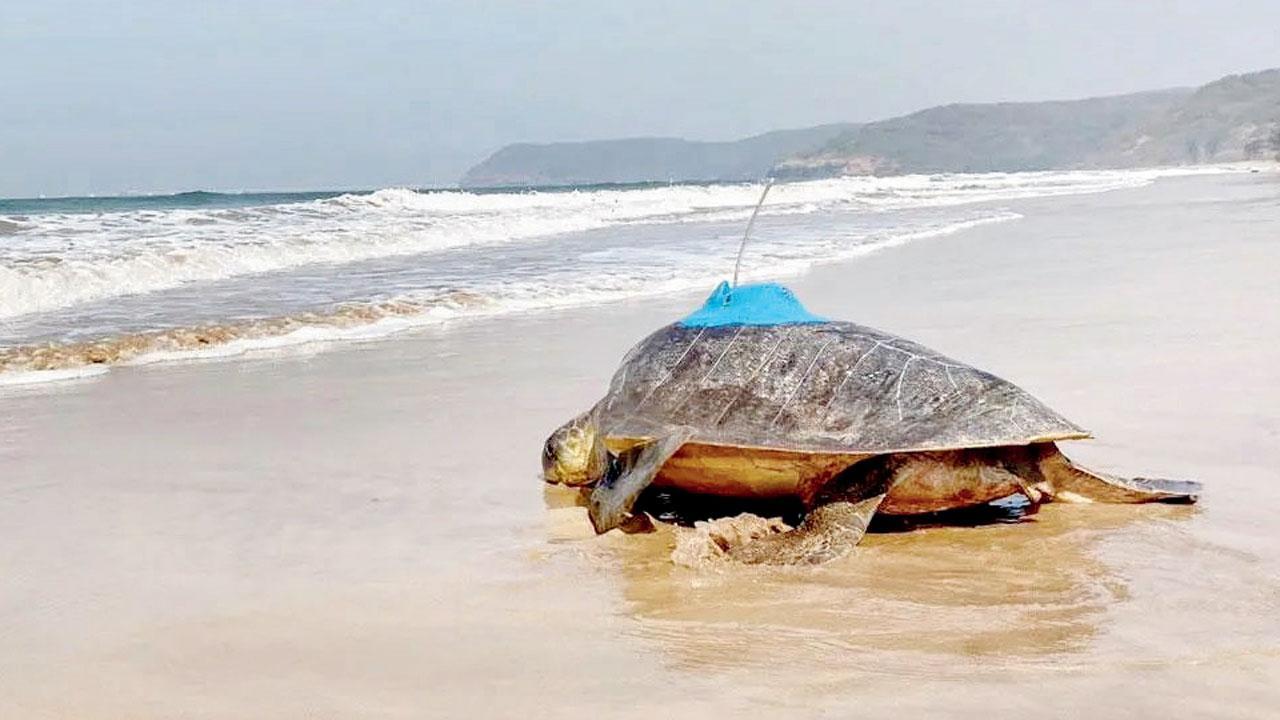 One of the two turtles tagged on February 23 in Guhagar
Listen to this article
Bageshri, the turtle, takes long break near Sri Lanka
x
Olive Ridley turtle Bageshri has been spotted along the northeastern coast of Sri Lanka
A few weeks ago, Bageshri had completed two orbits off the southern coast of Sri Lanka
The sporadic nesting of Olive Ridley sea turtles occurs on the Maharashtra coast
In a significant development this week, Olive Ridley turtle Bageshri, satellite-tagged in Guhagar in February 2023, has been spotted along the northeastern coast of Sri Lanka, showing minimal movement, indicative of extensive feeding activity in the region.
According to a tweet by Mangrove Cell on September 4, "This week, Bageshri remained off the north-eastern coast of Sri Lanka, moving relatively less, suggesting extensive feeding in the area." Meanwhile, Guha the other satellite-tagged turtle has been gradually heading back to the area off the Karnataka coast.
ADVERTISEMENT
A few weeks ago, mid-day reported that Bageshri had completed two orbits off the southern coast of Sri Lanka, heading east and is now approximately 200 km off the eastern coastal city of Kalmunai in Sri Lanka. The straight-line distance travelled by Bageshri is over 2000 km, while Guha has covered over 750 km to date from Guhagar, where both were satellite-tagged in February this year.
On the night of February 21, the Wildlife Institute of India (WII) team, Mangrove Foundation, and the Maharashtra Forest Department's Ratnagiri Division patrolled Guhagar beach. Two female Olive Ridley turtles that had come to nest on the beach were restrained after nesting. On February 23, the turtles were released back into the sea in the morning after being fitted with satellite transmitters. These female turtles were named Bageshri and Guha.
The sporadic nesting of Olive Ridley sea turtles occurs on the Maharashtra coast. Until now, the turtles had only been tagged on the east coast of India. This marks the first satellite tagging project on the western coast of India.
The Mangrove Foundation, Maharashtra Forest Department, has commissioned a research project titled 'Tracking the migratory movements of Olive Ridley sea turtles off the coast of Maharashtra' to the Wildlife Institute of India (WII). This study aims to understand the movement pattern of Olive Ridley sea turtles off the coast of western India.
The Mangrove Foundation and Mangrove Cell, Forest Department, are planning additional research initiatives to further strengthen turtle conservation in Maharashtra.
2,000 km
Distance covered by Bageshri
"Exciting news! Mid-day is now on WhatsApp Channels

Subscribe today by clicking the link and stay updated with the latest news!"
Click here!