Guts, glory and some goofing around spikes a meet-up to bid farewell to India's largest foreign contingent, headed to a South African marathon that's considered the ultimate human race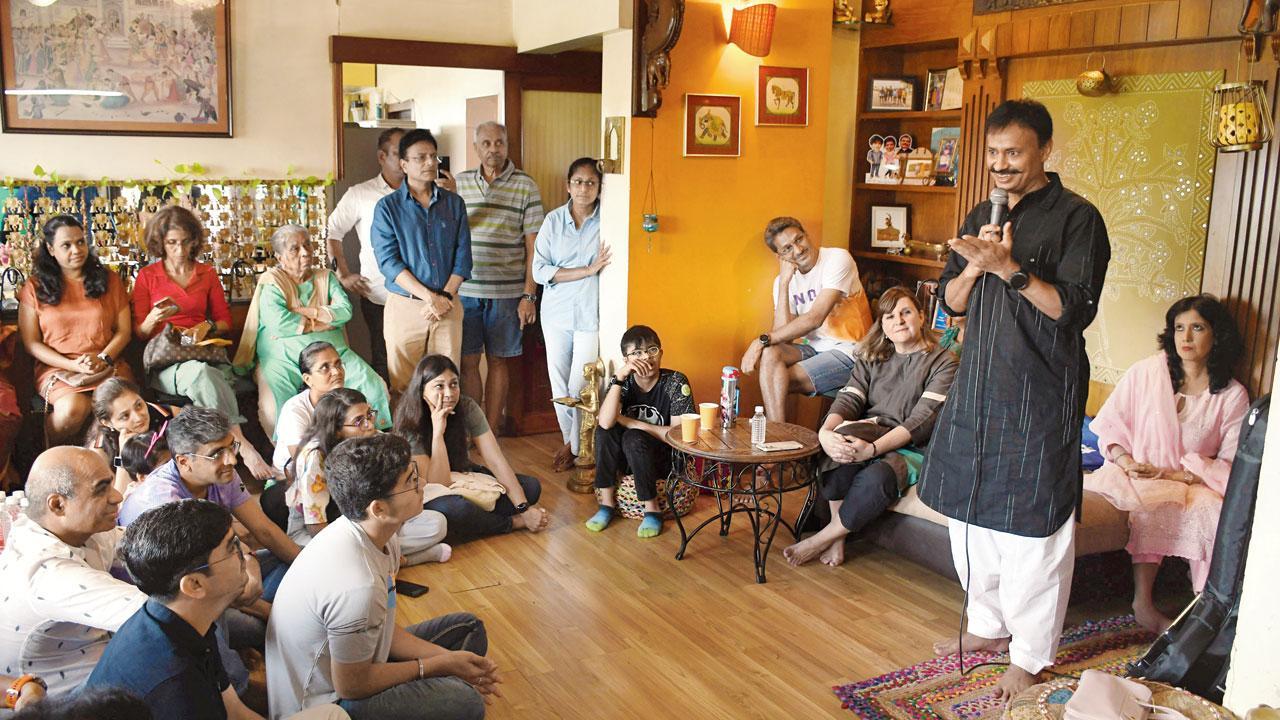 Krishna Prakash, ADG of Police and Director Force One, who will be running his first Comrades, speaks to the group at the participants' meet. Consul General of South Africa HE Andrea Kuhn is to his right. Pic/Ashish Raje
It is waka waka, yeah yeah, this time for South Africa. India has scored a Comrades kayo contingent wise. The country has clocked the largest ever international participation for South Africa's Comrades Ultramarathon, an event that's dubbed "the ultimate human race". India is sending 403 runners, including 40 women, for the June 11 run.
An Ultra is any race longer than the traditional marathon distance of 42.2km. In The Comrades, runners have to finish a distance of 90 km within 12 hours. The race starts from the Pietermaritzburg City Hall and ends at the Kingsmead Stadium in Durban.
ADVERTISEMENT
"Runners will race in the footsteps of history," said Subhash Motwani, marathoner and supporter, at a get together held last week at Comrades runner Dr Anand Patil's Dadar residence, before several runners emplaned for the Rainbow Nation. Motwani explained, "In 1893, Mahatma Gandhi was travelling in a first-class train compartment in Pietermaritzburg. He was ordered to move to a third class compartment when a white man objected to his presence. Gandhi refused, as he had a valid ticket. He was booted from the train; the seeds of Satyagraha were sown. That is the spirit of the Comrades, imbued with history and the ultimate test of mind, body and spirit."
History aside, there is topography to consider too. The route has lung searing inclines and some descents, making it very challenging. Dr Patil walks a dexterous tightrope between medical practice and running. The trauma surgeon told mid-day, "When I ran my first Comrades in 2012, the Indian contingent was 13 strong. After 10 years, the number has multiplied almost 30 times; that's a participation explosion to be proud of!"
It was an emotionally charged morning at Dr Patil's home, but effervescent too. There was plenty of good-natured ribbing for single man Satish Gujaran, who is all set to run his 12th Comrades, and is married to running for all practical purposes. The Mulund resident who is consultant director at a private company, said, "I ran my first Comrades in 2010. The process of running became a metaphor for life. Increased airfare, logistics and registration fees never dampen the spirit of Indian runners," he said, referring to the number this time, compared to six Indian runners when he started.
The Consul General of South Africa HE Andrea Kuhn was besieged by runners with  "long-term visa" requests when she met them at Patil's home. Kuhn said in her address, "I am humbled and touched to see the numbers. You bring meaning to the word Comrades." Kuhn had the room in splits as she looked at Gujaran and remarked, "This time, at the 60 km mark of the race, I suggest you stop and look at the ladies cheering the runners on."
The living room erupted in cheers as 'KP', as he is called by the fraternity, made an entrance. Krishna Prakash, India's Endurance Man in uniform, cureently posted as Additional Director General (ADG) of Police and Director Force One, the elite counter-terrorism unit, will be running his first ever Comrades. The top cop, who spoke about juggling professional duties with training, said, "The roads are the greatest leveller. When you train, the body is fit, the senses are in equilibrium and soul is pure." He brought a philosophical twist to a fun morning by reciting a poem eliciting wah-wahs: I am not in want of flowers; but I am not afraid of the thorns. 
A cake was cut, Mumbai's missal pav was the breakfast dish of choice as the morning wound down to Prakash encouraging the runners, families and friends to shout with him, "mushkil waqt, Comrades sakht'. From Dadar, Mumbai 28 to Pietermaritzburg, South Africa, 403 desi runners, 90 km and the clock ticking at 12 hours, the josh is high for the ultimate human race.
255
Zimbabwe's contingent strength, the second highest after India
224
UK
173
USA
142
Brazil
"Exciting news! Mid-day is now on WhatsApp Channels

Subscribe today by clicking the link and stay updated with the latest news!"
Click here! Will you take intranasal vaccine as a precautionary dose?