The BMC, in an unprecedented move, had asked citizens to share their views and suggestions for the 2023-24 civic budget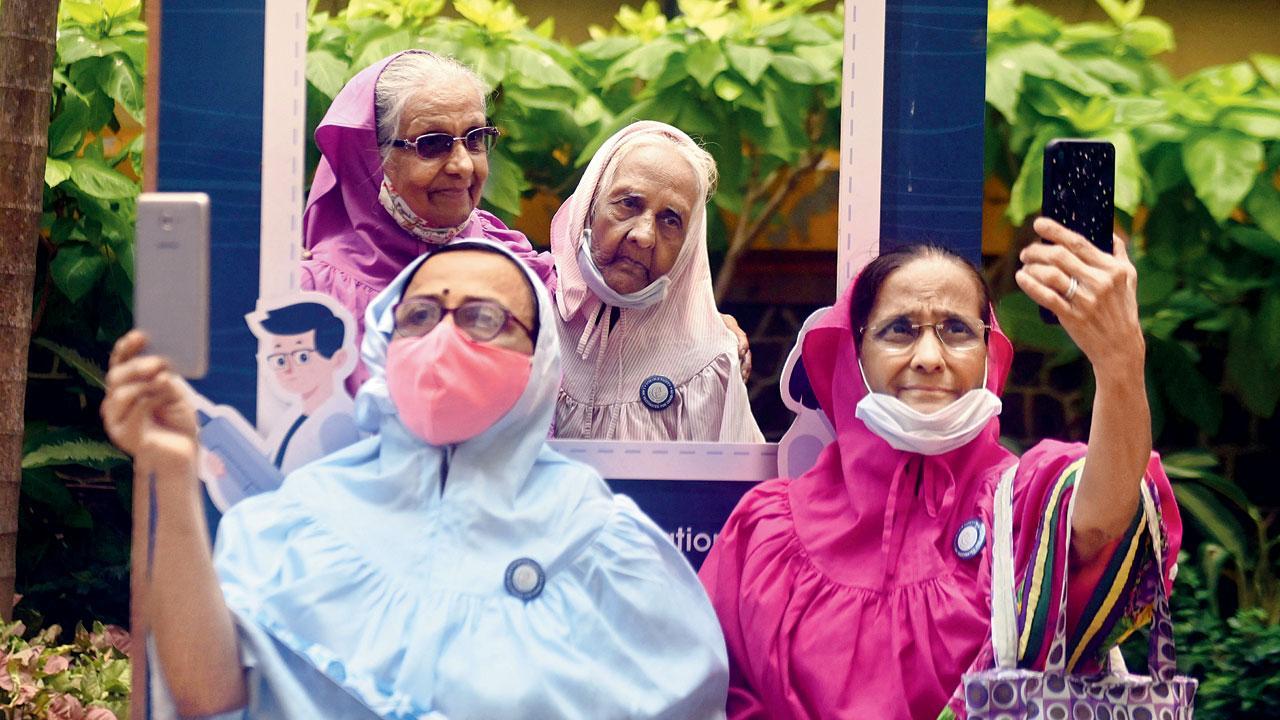 The JAC expects 10 pc of the budget to be spent on senior citizens. File pic
The city's senior citizens have put forth a 21-point wish list in response to a recent appeal to the public by the civic chief for suggestions for the 2023 BMC budget.
The Joint Action Committee (JAC) of Senior Citizen Organisations wrote a letter to BMC chief I S Chahal last week, mentioning demands such as the opening of mobile health posts, designating an officer to solve the problems of the elderly and establishing helplines for seniors.
ADVERTISEMENT
The BMC, in an unprecedented move, had asked citizens to share their views and suggestions for the 2023-24 civic budget. "Accordingly, 20 organisations who work for senior citizens have given written to the civic chief under the leadership of the Joint Action Committee," said Prakash Borgaonkar, head of HelpAge India and a member of the JAC.
Also Read: Mumbai: BJP kept BMC's coffers safe from extortionists, says Ashish Shelar
He added, "Ten per cent of the population are senior citizens. There are around 14 lakh senior citizens in Mumbai. Thirty per cent of them live alone. They need medical, financial and emotional help sometimes. We expect 10 per cent of the budget to be spent on senior citizens."
Borgaonkar said, "We are not only asking for help. Senior citizens have skills and experience in various fields. The administration can take advantage of this for the development of the city."
Shailesh Mishara, coordinator of the JAC, told mid-day, "Nine years ago, the BMC formulated a policy for the elderly. But only symbolic work is being done. The civic body needs to do concrete work for senior citizens. It can use us as volunteers to implement its policy."
Their demands
>> Old age homes
>> Daycare centres
>> Dementia/Alzheimer's daycare centres
>> Mobile health clinics
>> Helplines
>> Helpdesks at ward offices
>> Research, training and development in gerontology and geriatrics, caregivers, professionals
>> Pension for BPL elderly 
>> Midday meals
>> Affordable and accessible healthcare
>> Distribution of assisted devices
>> Free/subsidised medicines
>> Permanent office for BMC Senior Citizens Bhavan at a central, conveniently accessible location
>> Appointment of a nodal officer of joint commissioner or deputy commissioner rank to monitor progress of implementation of policies, programmes, budgetary provisions and address grievances
>> Reservation for recreation, entertainment, shelter, health care in DP Plan
>> Special concession on road, rail and water transport
>> Concession/subsidy for senior citizens' organisations' events at municipal venues, halls, theatres
>> Mandatory celebration of days dedicated to elderly
>> Special vaccination programmes
>> Intergeneration programmes and activities in all schools
14,00,000
No. of senior citizens in city Do you often find yourself in the middle of office politics?