Budget has no new projects, but has substantial provisions for completion of pending works such as Coastal Road and sewage treatment plants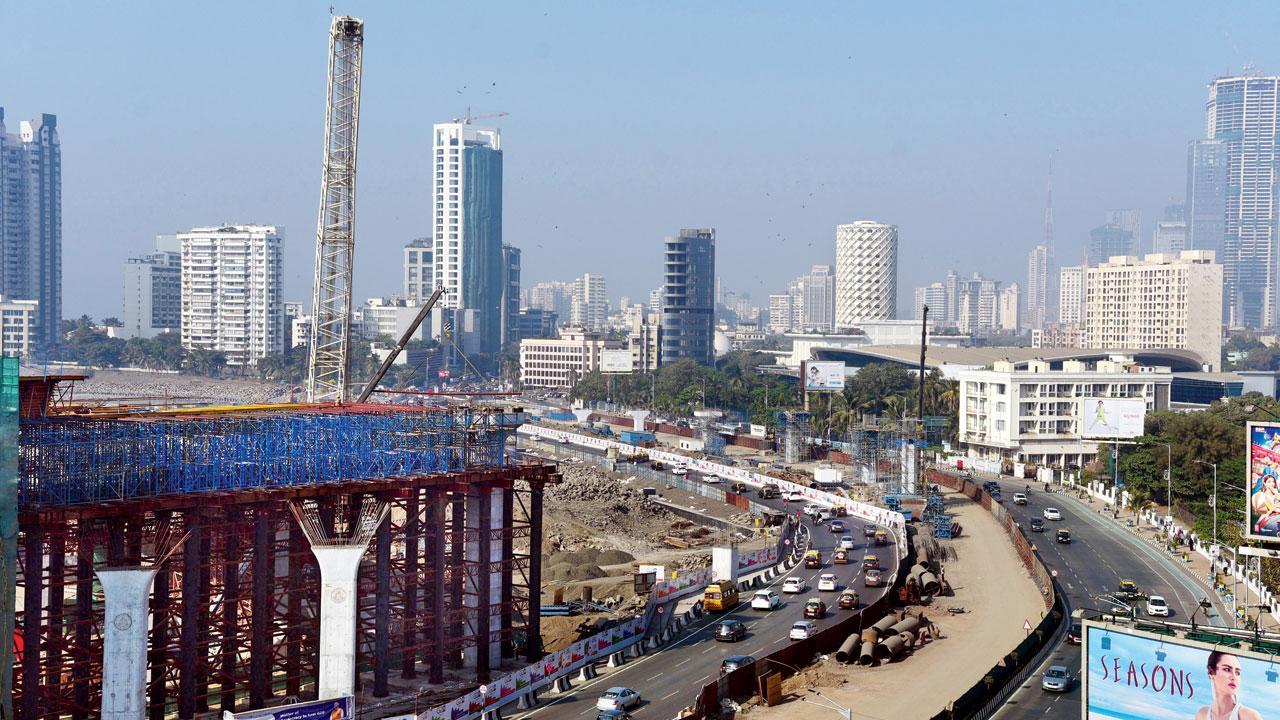 Coastal Road is in its final stages of completion. Pic/Pradeep Dhivar
While the budget hasn't mentioned any new projects, there is a substantial provision for pending work from the last few years .
Coastal road extension
ADVERTISEMENT
The part of the coastal road from Priyadarshini flyover to Worli will be completed this year. The next part from Bandra to Versova has been taken over by MMRDA. The BMC will now float tenders for Versova to Dahisar coastal road. "The cost of the project is Rs 9,000 crore and tenders will be floated in April. Also, preliminary work of elevated road from Dahisar to Bhayandar has started. The cost of the project is Rs 4,000 crore and MMRDA has promised to reimburse it in future as they do not have funds right now," said Chahal.  
November deadline
The Mumbai Coastal Road Project is in its final stages of completion. Out of two tunnels, one already completed last year and 90 per cent (1,875 metre) work of the boring of the second tunnel from Girgaon Chowpatty to Priyadarshini Park was completed in December 2022. "The coastal road will be completed in the coming financial year and most probably open in November 2023," said Chahal. 
Sewage Disposal Project
The department has awarded seven works of design, build, asset replacement and operation and maintenance cost of Wastewater Treatment Facilities . The plants will be at Worli, Bandra, Dharavi, Versova, Malad, Bhandup and Ghatkopar. The combined capacity of these plants is to treat 246.40 crore litres per day. The cost of the overall project is Rs 27,310 crore and it will take four to six years to complete the project. Versova, Ghatkopar, Bhandup plant will start in 2026 while others will take one or two years more. The budget provision for STPs in 2023-24 is Rs 2,792 crore.
Also Read: BMC Budget 2023: 'Pedestrian First' footpath policy to begin in Mumbai from April 1, says civic body
Financial assistance to BEST
The BMC made a provision of Rs 800 crore to BEST as a financial grant last year and has given Rs 684 crore till December 2022. In addition, Rs 1,382 crore has been given as loan to BEST Undertaking. 
Parking App
For the fourth consecutive year, the Parking App has found place in the budget without any implementation till now. The commissioner said all 32 public parking lots (PPL) off-street parking and 91 on-street parking places will be regulated resulting in better service for citizens.
46 flooding spots to stay
As per BMC's claim, out of 386 identified chronic flooding spots in Mumbai, 306 spots have been tackled till now. Remedial work at 34 spots is expected to be completed before monsoon 2023.