Apart from threatening people by pretending to call the cops, they abuse passengers in order to make them pay hefty fines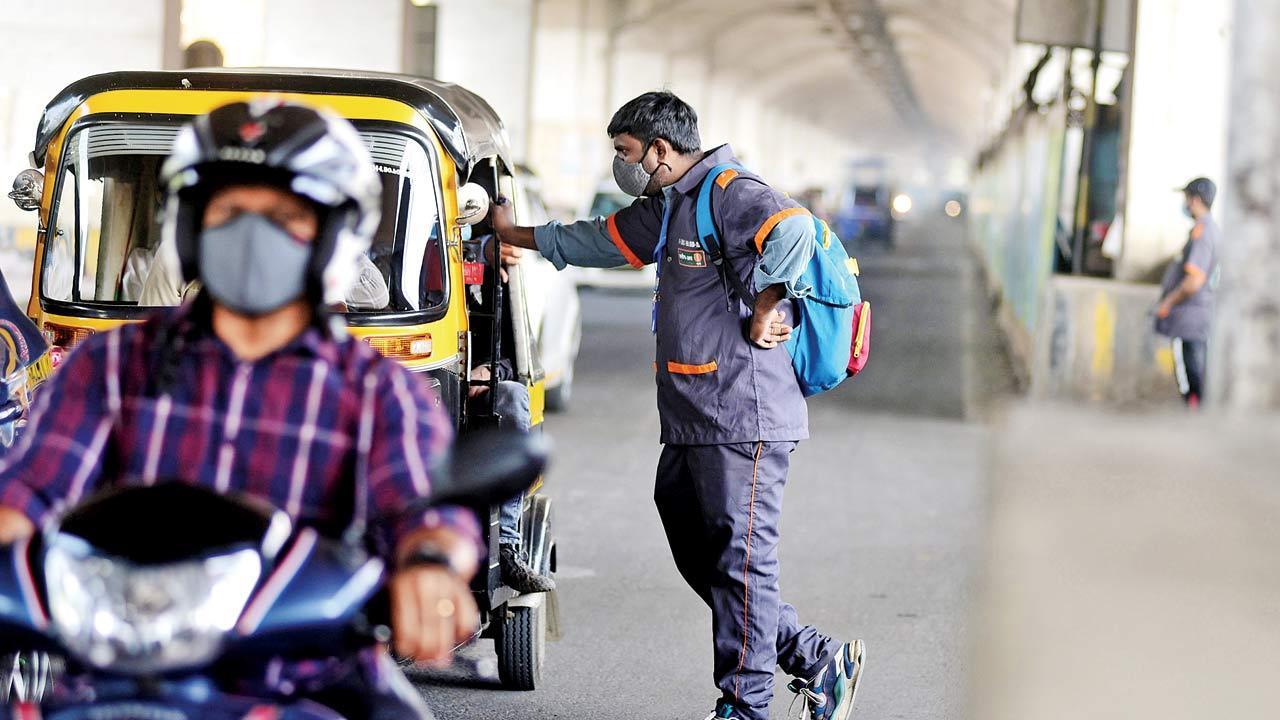 mid-day reporter Shirish Vaktania seen telling a passenger to wear their mask properly at the Santacruz-Kalina junction on WEH. Pics/Shadab Khan and Pradeep Dhivar
Implementation of BMC's rule on wearing masks has been a major point of contention between the clean-up marshals and citizens. People have been complaining of the high-handedness of marshals who threaten, abuse and extort money from them. mid-day decided to see what really happens on the ground and our reporter got himself employed as a marshal through an agency. He was hired within a few days without the mandatory police verification.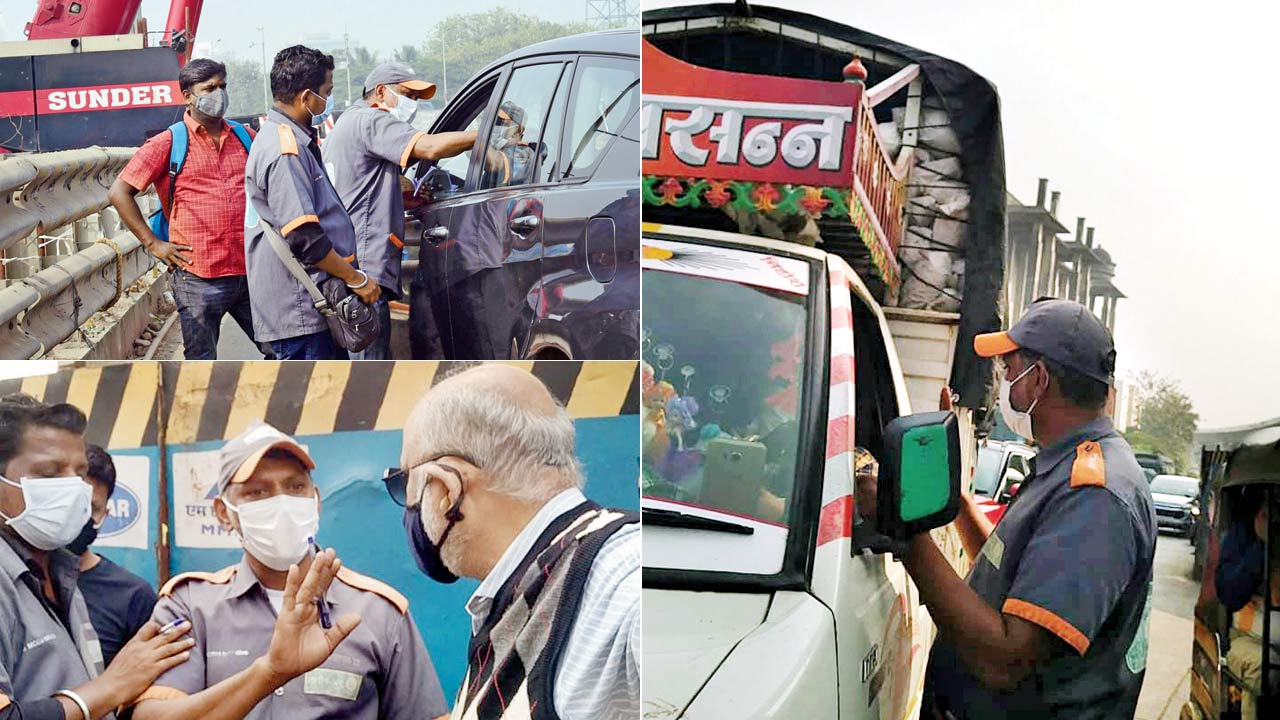 mid-day's undercover reporter gets 'trained' at the Santacruz-Kalina junction; Two marshals seen arguing with a senior citizen; Marshal Ganesh Gupta taking a fine from a tempo driver
The marshals behave no less than thugs and extort money from passengers. Most of the time they do not even provide receipts to those reluctant to pay fines, and pocket whatever profits they make They make an exception though, by not charging political party workers, cops and government officials. The reporter was deployed at Hans Bhugra Marg Road (which connects WEH and Kalina, Santacruz East).
The agency that recruited the reporter, Tiger Guards Private Limited, has its office at Hanuman Tekdi in Santacruz East. It has employed 50 to 60 clean-up marshals, and each of them has a target to collect fines from 25 people (Rs 200 each) in a day, which comes to around Rs 5,000.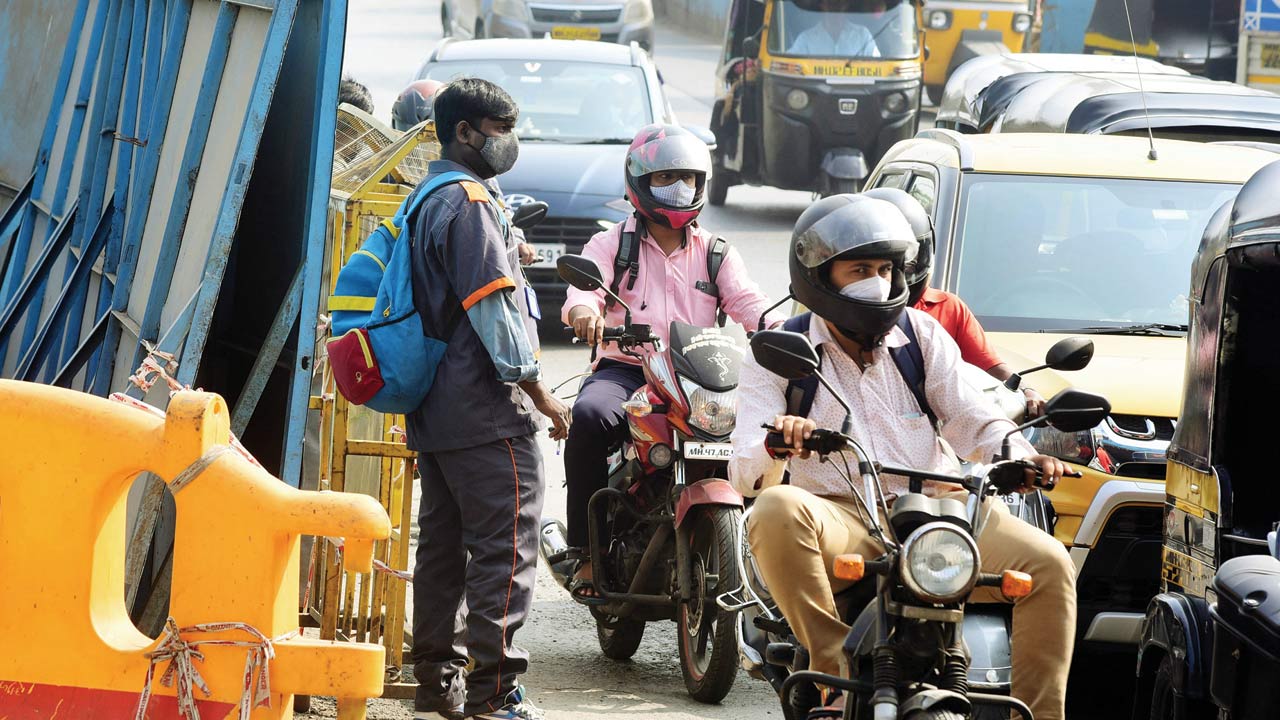 mid-day reporter Shirish Vaktania (above and right) during his training as a BMC marshal at the Santacruz-Kalina junction on Western Express Highway.
However, each marshal collects approximately Rs 10,000 a day by extorting money from people, who are unaware of the rates and the rules, and more than 60 per cent of what they get are pocketed by them.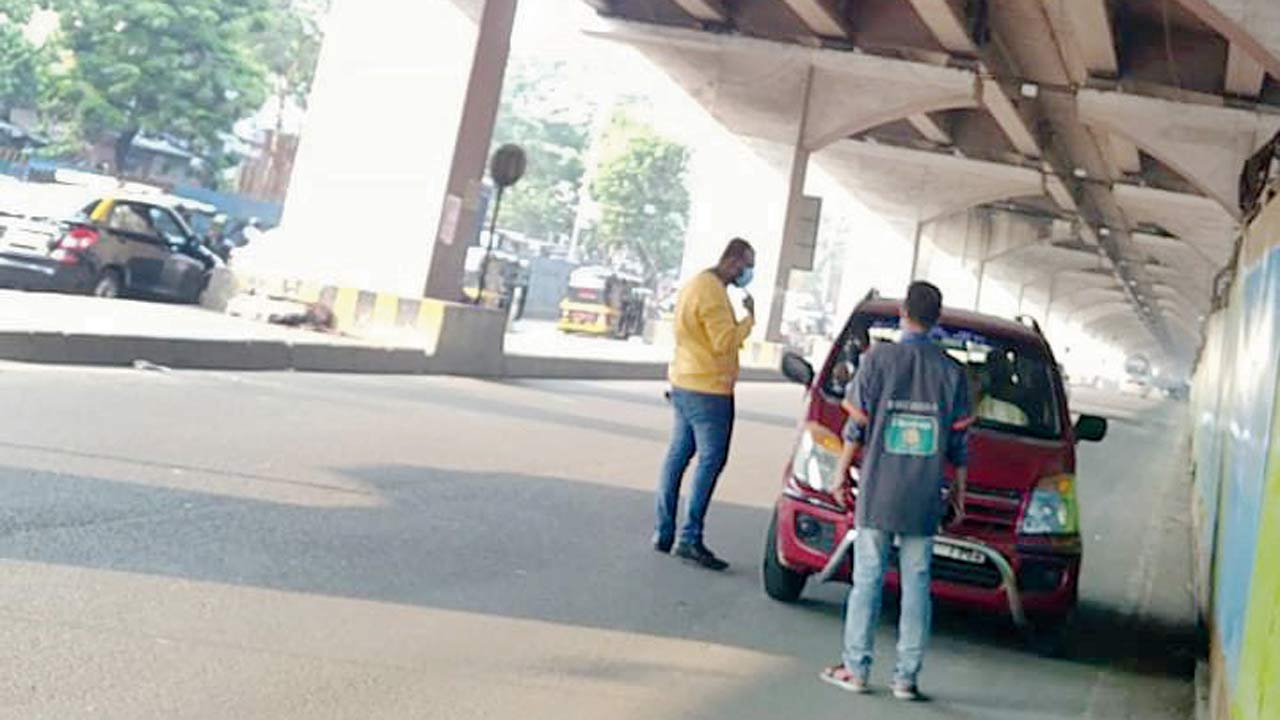 Mitesh Vitkar spotted taking fines from passengers
Day 1 MEETING SUPERVISOR
December 8 
On the first day, the reporter approached the supervisor of marshals, Mitesh Vitkar, deployed at the Santacruz-Kalina junction on WEH.
Reporter: I need a job as a clean-up marshal who collects fine from people for not wearing masks. 
Vitkar: This work contract will end in February. 
Reporter: I will work till then. How do I get paid?
Vitkar: The salary depends on each fine collected. You will get Rs 40 for each fine or chalan. 
Reporter: What are the timings?
Vitkar — It depends on you, complete your target and go home. 
Reporter: What is the target?
Vitkar: A minimum of 10 fines per day. For 10 fines you will get Rs 400. If you manage to collect fines from 25 people, you will get Rs 1,000. Call me tomorrow, I will fix an interview. 
Meanwhile, Vitkar stopped a private vehicle and forced the people sitting inside to pay fines. As per BMC's rules, those travelling in private vehicles are allowed to not wear masks. When the reporter told him the same, Vitkar said, "Sabko rules nahi pata (not everyone knows the rules." 
mid-day noticed that the BMC marshals were taking advantage of the fact that many people were not aware of the rules. The reporter tried to contact Vitkar many a times between December 9 and 13, but he finally fixed the interview on December 14 with Contractor Sudhir Choudhary at his office in Hanuman Tekdi, Santacruz East.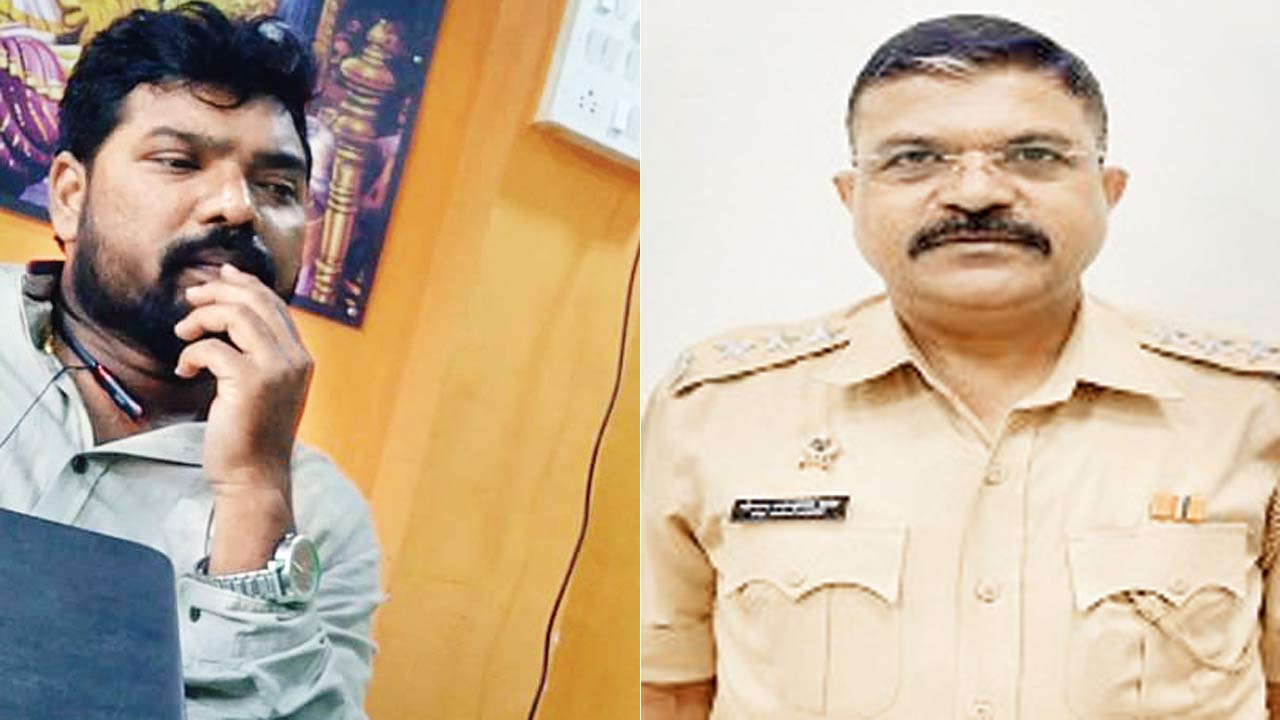 Sudhir Choudhary, contractor of Tiger Guard's Pvt Ltd and Shripad Balkrishna Kale, ACP, Vakola division
Day 2 INTERVIEW WITH CONTRACTOR
December 14
Reporter: I have come for the job of a BMC marshal.
Sudhir Choudhary: Where do you stay?
Reporter: I stay in Khar East. 
Choudhary: Have you got your aadhaar card, electricity bill and two photos? 
Reporter: I will get them tomorrow. 
Choudhary: You have to pay Rs 1,000 for the uniform, which will come in about two to three days. The money is non-refundable. 
Reporter: Can I join from today?
Choudhary: We will train you for two days and then you can decide whether to take up the job. 
Reporter: I will do it, sir. Will join training from tomorrow.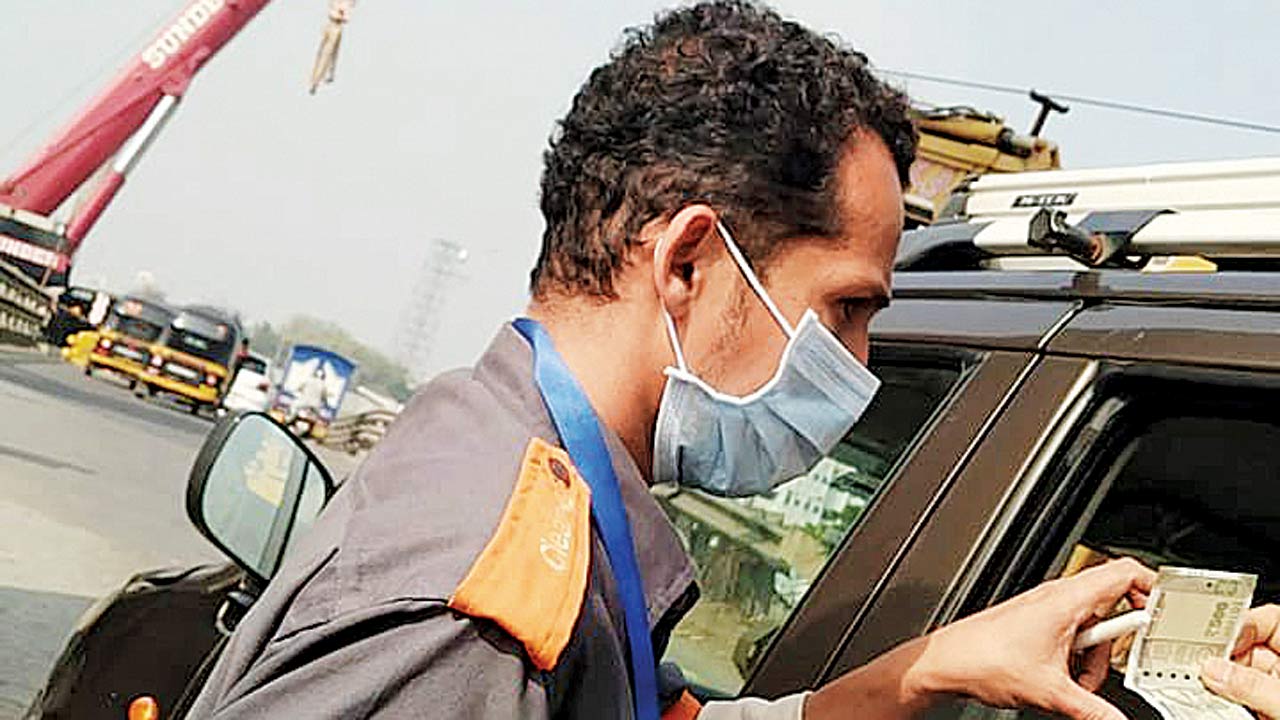 Bhagwan Patankar seen taking fine from a passenger
Day 3&4 ON-FIELD TRAINING
December 15 & 16
When the reporter met Choudhary at his office, he instructed him to take training under marshal Bhagwan Patankar at the Kalina junction. The reporter accompanied Patankar as he collected fines.
Patankar took the reporter to the spot and said that he should stop vehicles by standing right in front of them, so that they don't escape without paying fines. The reporter was introduced to several other marshals — Ganesh Gupta, Vishal Sawant and Afzal Khan. They usually function in groups and if any motorist refuses to pay fines, they argue and threaten the person. mid-day noticed that the gang makes about Rs 3,000 profit per day, which they call the 'personal cut'. 
Patankar used dummy cell phones to threaten the passengers. He pretended to click pictures and forced passengers to cough up fines. They would even threaten citizens by saying that they would call the cops, who would make them pay a fine of Rs 1,200. 
Patankar stopped a public vehicle in which two people were wearing their masks around their chins. 
Patankar: Aap dono ne mask nahi pehena hai thik se. Mask nose ke upar properly wear karna hai (you both are not wearing your masks properly, it should be above your nose). 
Passengers: We are wearing our masks properly. We will not pay fines. 
Patankar: Car side mein le lo, mai police ko call karke bula leta hu. Wo dekh lenge baad mai and aapko Rs 1,200 per head fine bharna parega (I will call the cops and they will make you pay Rs 1,200 fine per head). 
Passenger: Police ko kyun bula rahe ho (why are you calling the police?)
Patankar: Ek kam karo, Rs 200 fine bhar do aur jao (pay Rs 200 fine and go). 
The passengers gave Rs 200 but were not given a receipt.
Marshal abuses women
Marshal Patankar caught two women passengers who were not wearing masks. He even pretended to click their pictures and threatened to call the cops. Patankar took their car to the side and forced them to pay up. After they left from the spot, he started abusing them.
Marshal misguides woman
Patankar: No mask fine is Rs 500
Passenger: Kyun (why)? 
Patankar: Mask nahi pehena hai (you are not wearing a mask). 
Passenger: Jaane do yaar (let it go).
Patankar: Kya karna hai bolo? Rs 500 bharna parega. Ek kam karo Rs 300 bhar do aur jao (You have to pay Rs 500, but you can pay Rs 300 and go).
Passenger: Thik hai (okay). 
The woman gave Rs 300 to Patankar, who did not give her a receipt. 
Reporter: Why did you tell her that the fine amount is Rs 500?
Patankar: I could make out that she did not know about it. Study the people properly and you will get more money. 

Marshal Ganesh Gupta
Gupta stopped a public vehicle in which two people were wearing their masks around their chins. Gupta pretended to click their pictures and asked for a Rs 400 fine. 
Gupta: Aapka mask nose ke niche hai. Rs 400 fine bharna padenga (your masks are below the nose, will have to pay fine.)
Passengers: We will not pay fine. 
Gupta: Ek kam karo, ek ka fine Rs 200 bhar do (pay a fine of Rs 200 for one person.) 
Passenger: We will not pay fine. 
Gupta: Ek kam karo, Rs 100 fine bhar do and jao, but receipt nahi milenga (pay Rs 100 fine and go, but you won't get receipt.) 
Passengers pay Rs 100, which Gupta keeps in his pocket.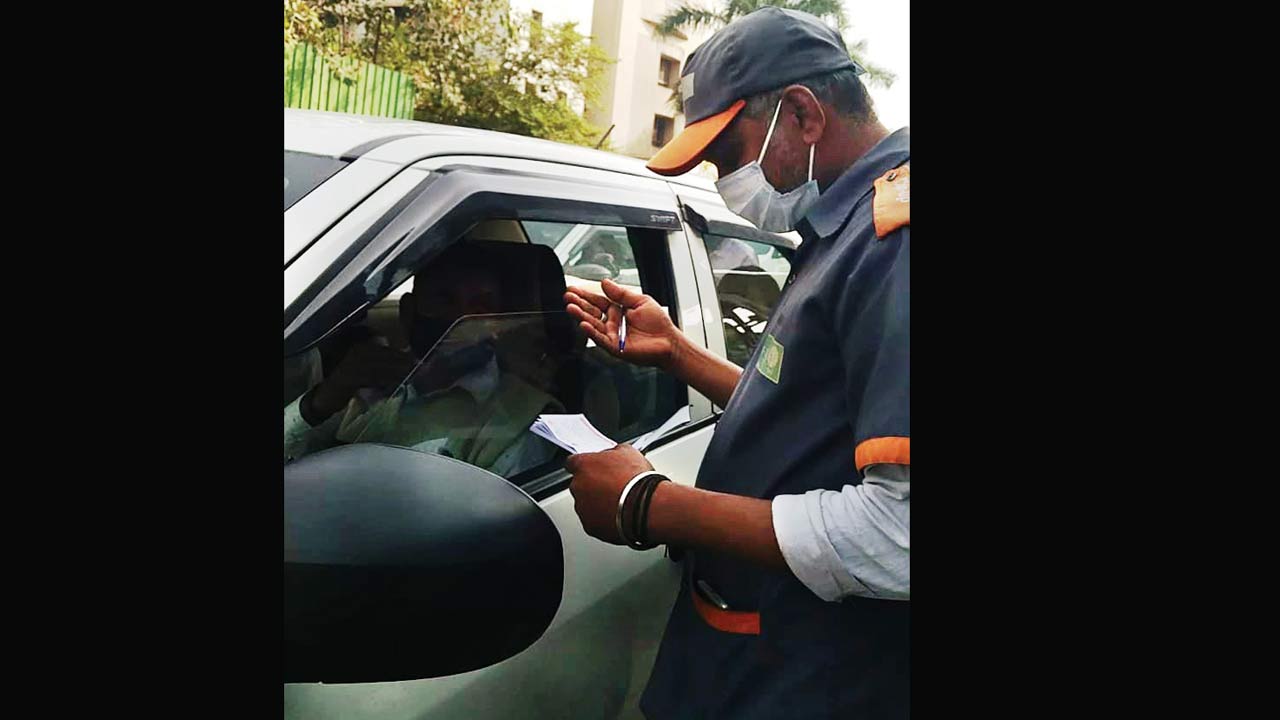 Ganesh Gupta seen extorting money from a passenger
Gupta stopped a mini-tempo and told them that they have to pay Rs 400 fine for two people not wearing masks 
Tempo driver: Hum log garib hai jaane do (we are poor people, please let us go). 
Gupta: Ek jan ka fine Rs 200 bharo aur jao (pay a fine of Rs 200 for one person and go).
Tempo driver: Jaane do please (please let us go). 
Gupta: Ek kam karo, police chowky mai chalo waha bharna Rs 1,200 ek jan ka (let's go to the police chowky and you will have to pay a fine of Rs 1,200 each). 
Finally the tempo driver gave Rs 50 and Gupta put it in his pocket.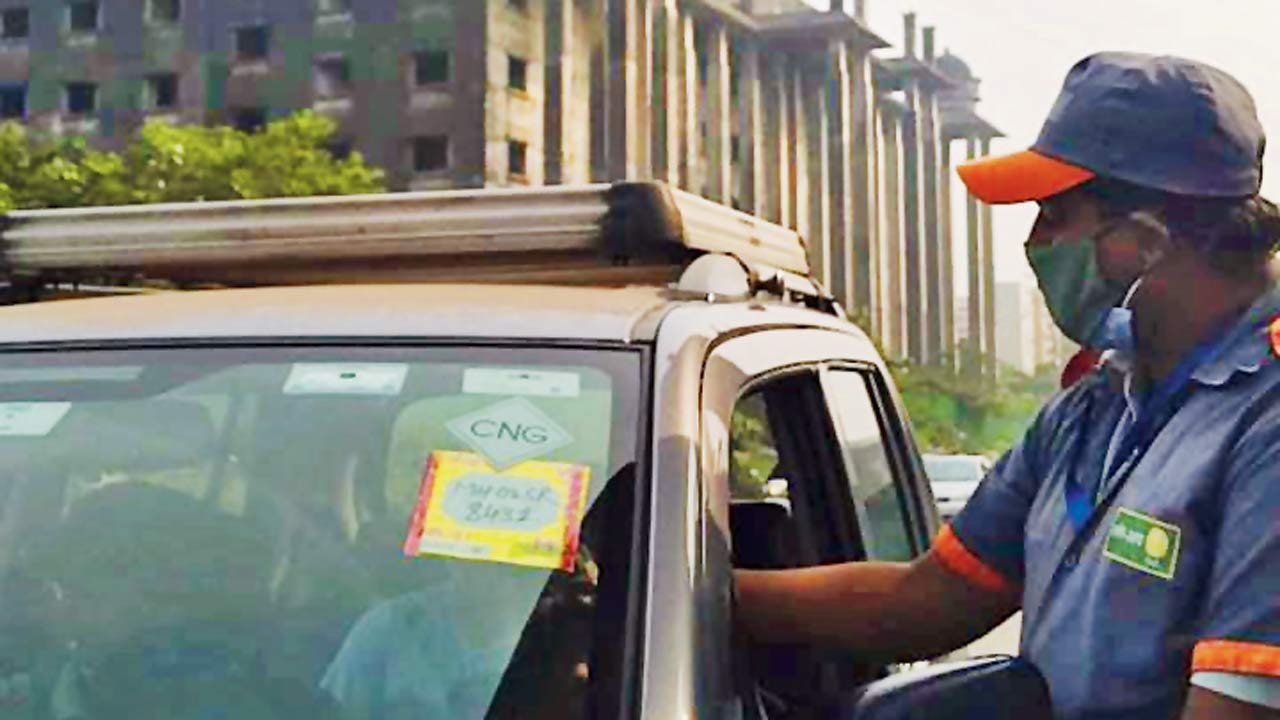 Afzal Khan seen extorting money from a passenger
Afzal Khan starts work as early at 8 am and fines more than 30-40 people. He earns over Rs 3,000 by extorting people. In one such instance, Khan stopped a public vehicle and threatened a passenger to pay fine.
Khan: Mask nahi pehena hai, fine bharo aur jaa. Tujhe jaane nahi dunga fine bhare bina (you have not worn the mask properly, will not let you go without paying a fine). 
Passenger: Fine nahi bharenge (will not pay fine). 
Khan manhandled the passenger and threatened him by saying that he won't let him go. 
Passenger: Rs 100 sirf dunga (will only pay Rs 100) 
Khan took the money and did not give a receipt.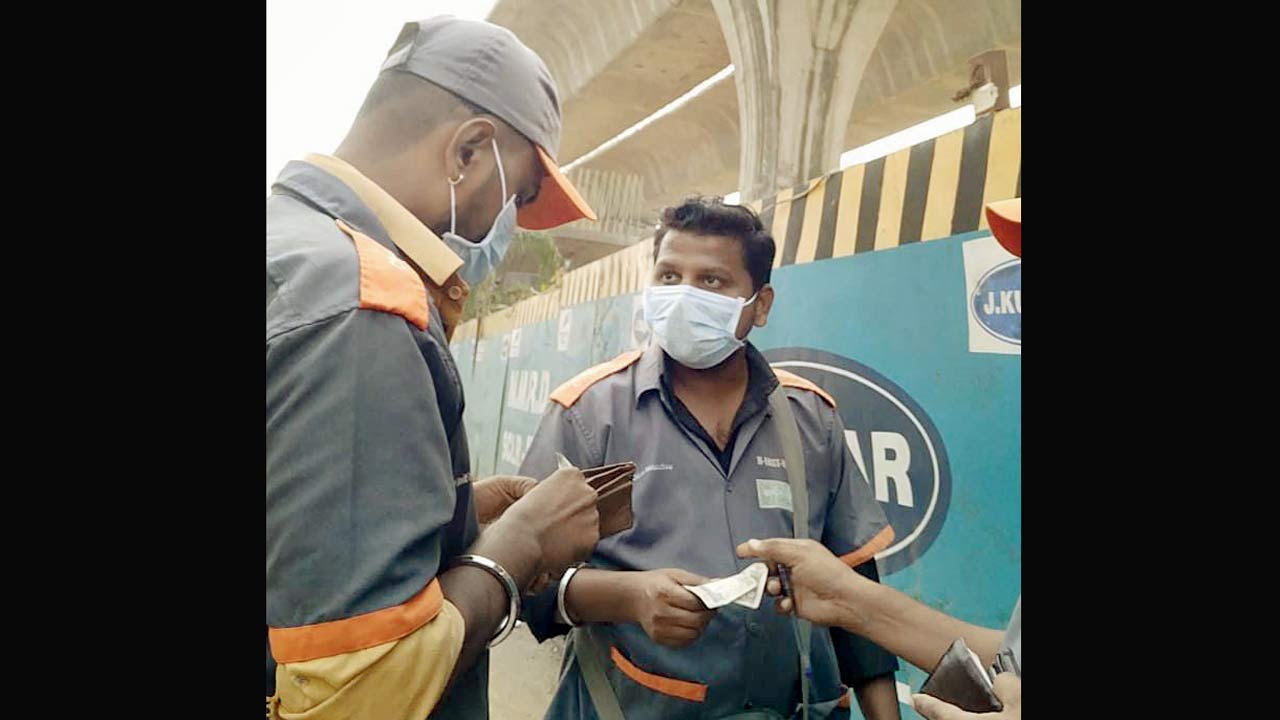 Marshals divide the bribe money among themselves
Marshals hit a jackpot
Tourist buses are like a jackpot for the marshals as they can extort a lot of money from the passengers. A tempo carrying 15 members of a family was returning from a tour and going towards the airport when three marshals stopped the vehicle. All of them entered the tempo and took a video of the passengers. None of them were wearing masks. A group of senior citizens got off the vehicle and a heated argument started between them and the marshals over paying fines.
Senior citizens: We are from a single family and have been travelling together for the past couple of days. We are headed to the airport and don't want to miss our flight. 
Marshals: I agree you all are from one family but this vehicle is a public one. We will call the police and take the vehicle to the police station. 
Senior citizens: We all are fully vaccinated, please leave us. 
Marshals: Now the police will take action. 
During the conversation one of the marshals pretended to call the cops and tell them that passengers were fighting with them over fines. 
Senior citizens: Don't give wrong information to the cops. Let us speak to them. 
Marshals: Wait for sometime, the cops will come and take all of you to the Vakola police station. 
Meanwhile, two young passengers got off the vehicle and took Marshal Vishal Sawant to the side. They then gave him Rs 1,000, but the marshal did not provide any receipt. The marshals then divided the money among themselves in three equal parts.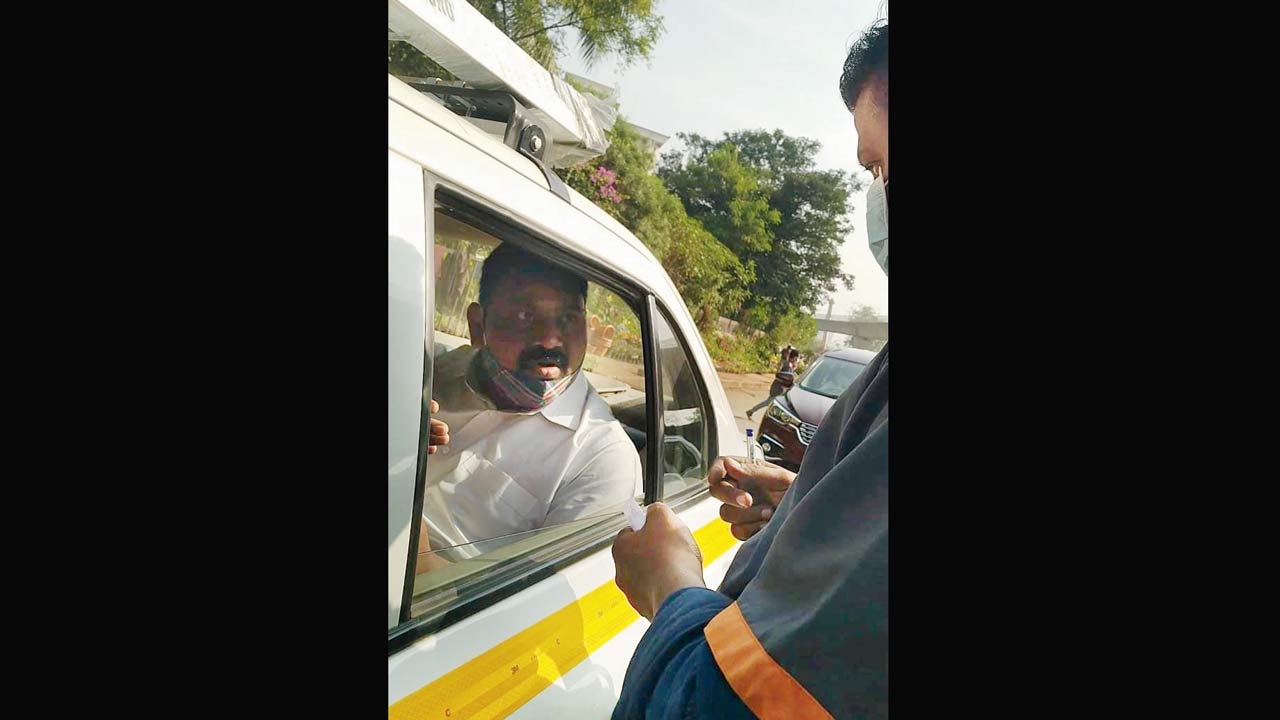 Personal assistant of an MLA seen speaking to a marshal
Politicians, govt employees let off
BMC marshal Sawant caught a passenger in a public vehicle with his mask below his nose, but he eventually let him go without taking a fine. 
Passenger: I am a personal assistant of an MLA. My mask is on my face. I was talking on the phone because of which I pulled it below my nose. I have to reach somewhere for urgent work. I will give you a number where you can talk to the person concerned.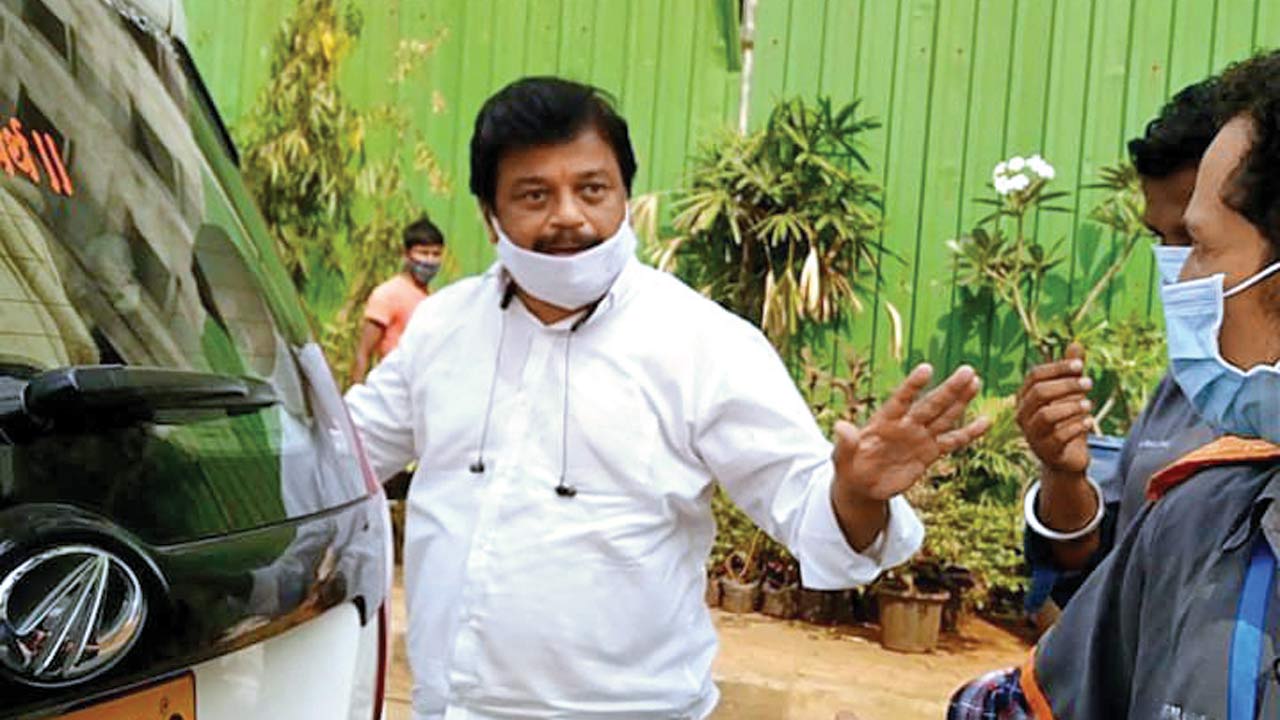 An MNS worker argues with a marshal at the spot
MNS worker
BMC marshal Khan spotted a passenger who was not wearing his mask properly and immediately stopped the car. The person who was driving the car came out and started shouting. He even mentioned that he was from the MNS party. "Phone pe mera photo le raha hai. Samjha do isko. Mental hospital mai admit karo isko. Kiska photo le raha hai wo bhi nahi pata. Ek phone karenga to tum sab BMC marshals ka khel khatam ho jayega (do you even know whose picture you are clicking? Send him to a mental hospital. I'll make one call and all that you guys are doing will come to an end)," he said. When the marshal realised that the passenger was a party worker, he let him go. 
Day 5 
December 17 
The reporter paid Rs 1,000 and collected the uniform from the Tiger Guard's office. However, he was not given any receipt for the same. He was also asked to train for another day.  
Day 6 
December 18
At 10 am the reporter went to the agency's office and collected the uniform. Then he worked for two hours. However, during that time the reporter only requested people to wear masks properly. He had also been given a fine receipt book of serial number 2653651 to 2653701. 
 
Note: The mid-day reporter didn't fine anyone. Instead, he just requested people to wear their masks. Later, he went to the agency's office and met Sudhir Choudhary. He then submitted the receipt book at 1 pm and told him that he had to leave for some urgent work. The receipt book was not used.