Environmentalists hail Union government's new-found love for mangroves and wetlands, but warn that it should not be an eyewash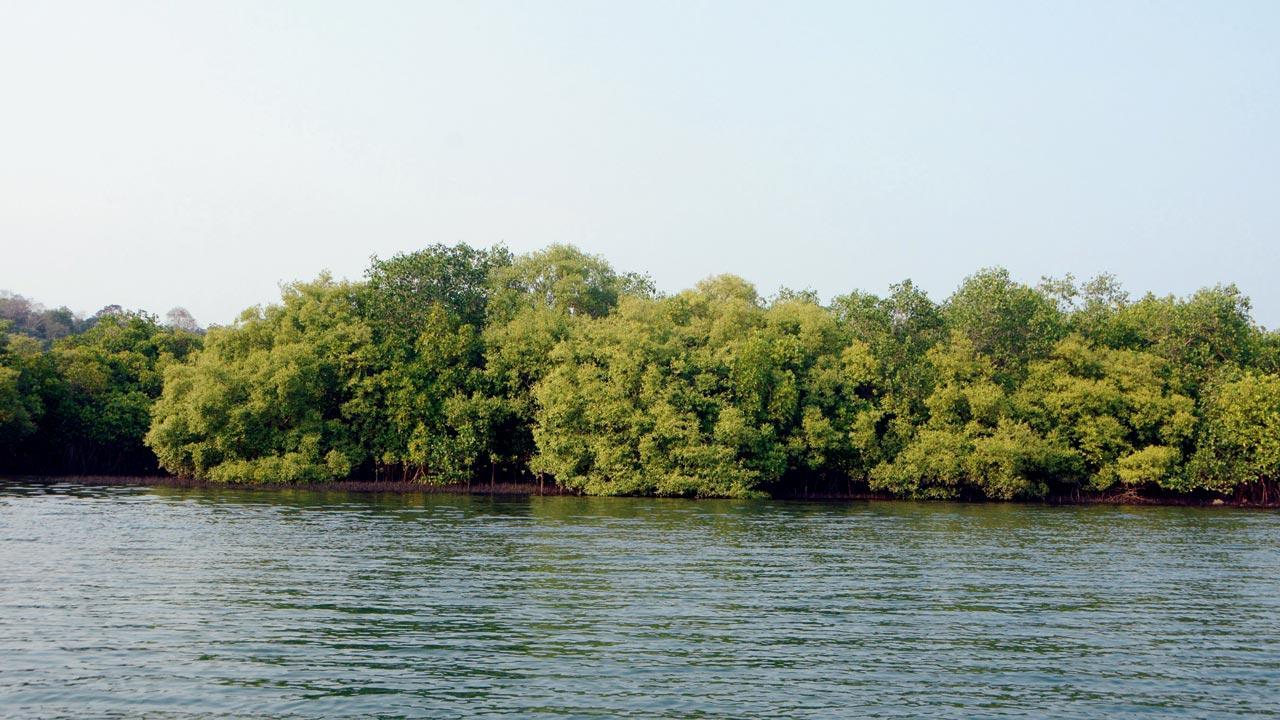 A mangroves safari in a creek between Taramumbari and Mithmumbari at Devgad in Sindhudurg. File pic/Satej Shinde
Green groups have welcomed the Union government's new-found love for mangroves and wetlands, but cautioned against environmental destruction under the guise of infrastructure development.
Finance Minister Nirmala Sitharaman proposed on Wednesday in the union Budget a scheme to preserve mangroves. She said that the Mangrove Initiative for Shoreline Habitat and Tangible Incomes (MISHTI) should be taken up for mangroves plantation wherever feasible.
ADVERTISEMENT
"Mishti means sweet in Bengali, but the plan does not sound so sweet considering the ground reality that the government has failed to check mangrove destruction," said NatConnect Foundation Director B N Kumar.
'Focus on conservation'
"Government companies such as the Jawaharlal Nehru Port Authority (JNPA), CIDCO and even the Public-Private-Partnership projects such as the Navi Mumbai Special Economic Zone (NMSEZ) have been caught destroying mangroves and wetlands," Kumar said, and called upon the authorities to focus on conservation rather than make wishy-washy announcements.
"We already have schemes like blue-economy and mangrove-based economy," NatConnect pointed out, and called for enhancing funds for such plans and implementing them across the coasts.
Also Read: Budget 2023: New tax regime not for the middle class, says Mumbai-based civic activist
Mangroves plantation is an eyewash and a waste of money, said Nandakumar Pawar, head of Sagarshakti. "All that one has to do is ensure uninterrupted inter-tidal water flow and mangroves flourish on their own, provided there is no human interference," he said and pointed out that their experience in Uran has clearly proved this. Mangroves at Pagote and near Punjab Warehouse have come back with the restoration of tidal water flow, Pawar said and commented, "that's the beauty of nature."
'A hogwash'
"Mishti sounds fine, but what about caring about existing mangroves?" asked Kharghar-based activist Jyoti Nadkarni. Despite our repeated requests, the mangroves in the node are yet to be transferred to the Forest Department for conservation as per a Bombay High Court order, she said and described the talk of mangroves plantation as 'hogwash'.
Referring to the Finance Minister's announcement of wetlands protection and the rise in number of Ramsar sites, Pawar said the Thane Creek Flamingo Sanctuary (TCFS) is in a bad shape due to the ever increasing pollution. TCFS is among the latest Ramsar sites listed as part of the global initiative to protect wetlands. Kumar pointed out that the TCFS Satellite Wetland Management plan to protect wetlands at Bhendkhal, Belpada, Panje, NRI Complex and behind TS Chanakya Institute has run aground as all these flamingo destinations are facing destruction.
"What we need is visible action on ground and not mere sweet sounding acronyms," Kumar added.