Three generations of a Mumbai family share what they liked and what they did not in the Union Budget 2023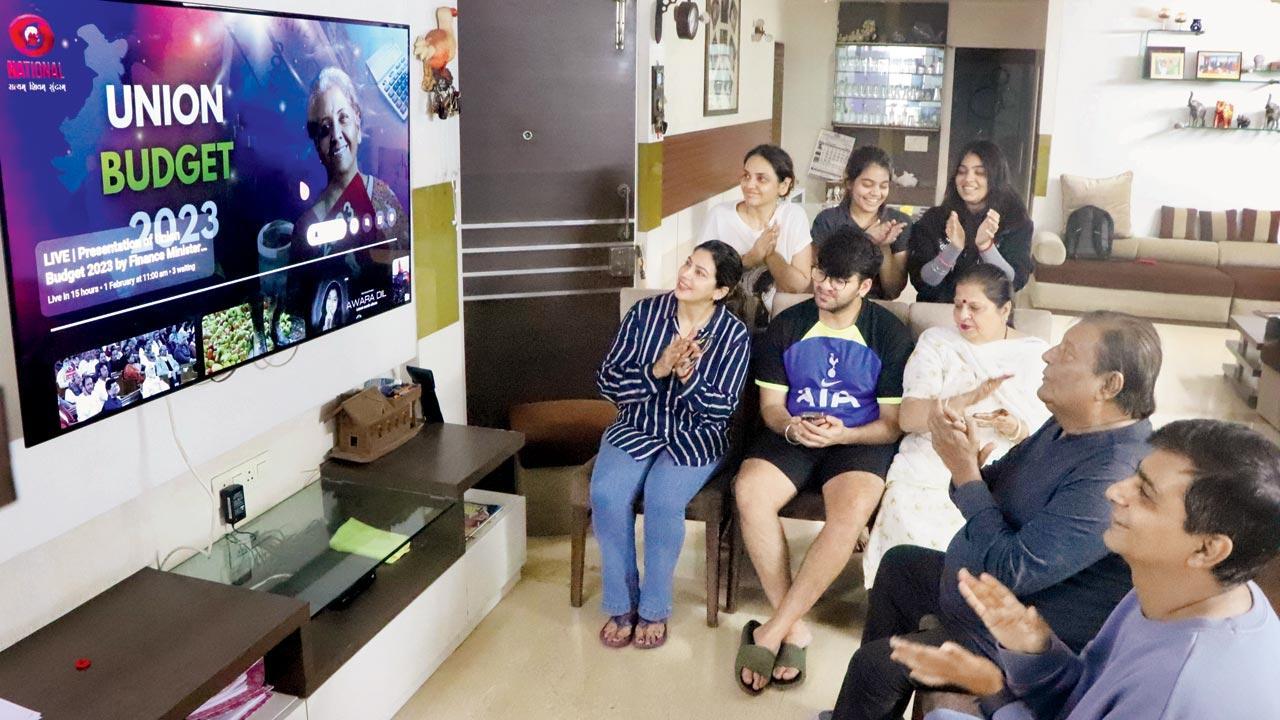 Pic/Anurag Ahire
While Finance Minister Nirmala Sitharaman on Wednesday said the Budget is aimed at empowering women, two women of the Attra family believe the government could have done more for senior citizens and female entrepreneurs of the country. mid-day met with three generations of the Attra family and asked about their views on the allocations for the upcoming financial year. The youngsters in the family were happy with the proposed initiatives for the nation's youth.
Chasing a dream for a better tomorrow, head of the family, Surindra Attra, 76, migrated with his family to Mumbai from Punjab when he was barely three years old. Originally farmers, he took a fancy to the violin and trained under Pandit Ramprasad, father of noted music director Pyarelal of Laxmikant-Pyarelal fame.
Starting at the tender age of 10, he started performing with the likes of Lata Mangeshkar with a starting salary of R5 per concert. The Attra family today has diversified into fields of music direction and the corporate world; and owns a music studio and a 10-acre holiday and camping farm in Karjat.
Also Read: Budget 2023: New tax regime not for the middle class, says Mumbai-based civic activist
Deepali Attra, 43
Homemaker
Education in both rural and urban sectors is of immense importance when it comes to shaping the future of the country. I am happy that the government plans to spend R1.12 lakh crore, which will help build better infrastructure for students. The recruitment of teachers and opening of national digital libraries is a big futuristic step
Hrettika Attra, 13
Student
This was the first time I heard the finance minister deliver the Budget speech. The only thing that I was told is that toys could become pocket-friendly. I will definitely watch forthcoming budgets in order to understand them better on their wider impact
Aneissha Attra, 17
Student
The measures taken for developing digital sector appear to be good. I look forward to having access to more mobile apps, which are both entertaining and informative, along with better 
internet speed
Kiran Attra, 72
Homemaker
Not enough emphasis has been put on health benefits for senior citizens. Currently, health insurance for senior citizens is way beyond the reach of even the relatively rich. One can only imagine the plight of the poor, particularly those living in small towns and villages
Surindra Attra, 76
Music director/violinist
I found the Budget quite comprehensive. I would request the finance minister to include some long-term savings schemes for artistes in their golden years and post retirement as they are often in a pitiable state with no income
Jitendra Attra, 45
Chartered accountant
Taxation in the country will be simplified to a great extent under the new regime of direct and indirect revenue generation initiatives. Although it is difficult and premature to quantify the exact long- and short-term implications on the overall economy, it definitely appears to be beneficial to the taxpayer as well as senior citizens who are getting savings schemes
Aman Attra, 23
Chartered accountant
I was particularly impressed with the youth power initiatives. The Pradhan Mantri Kaushal Vikas Yojana 4.0, which will cover courses like Artificial Intelligence and robotics, is the need of the hour. Selecting 50 destinations to be developed to attract tourists will go a long way in overall development. Unity malls, too, are worth looking forward to
Ninu Attra, 50
Homemaker
The mission to eliminate sickle cell anaemia is good, particularly for women in rural India, who are ignorant about the disease and its implications. However, I think more could have been done for women entrepreneurs, such as offering tax incentives for them. Start-ups and businesses run by women hold great potential for employment and can cater to both domestic and international markets, thus creating revenue