Baobab in Santacruz West to be chopped down for D N Nagar to Mandale Metro line 2B; environmentalists want authorities to save the heritage tree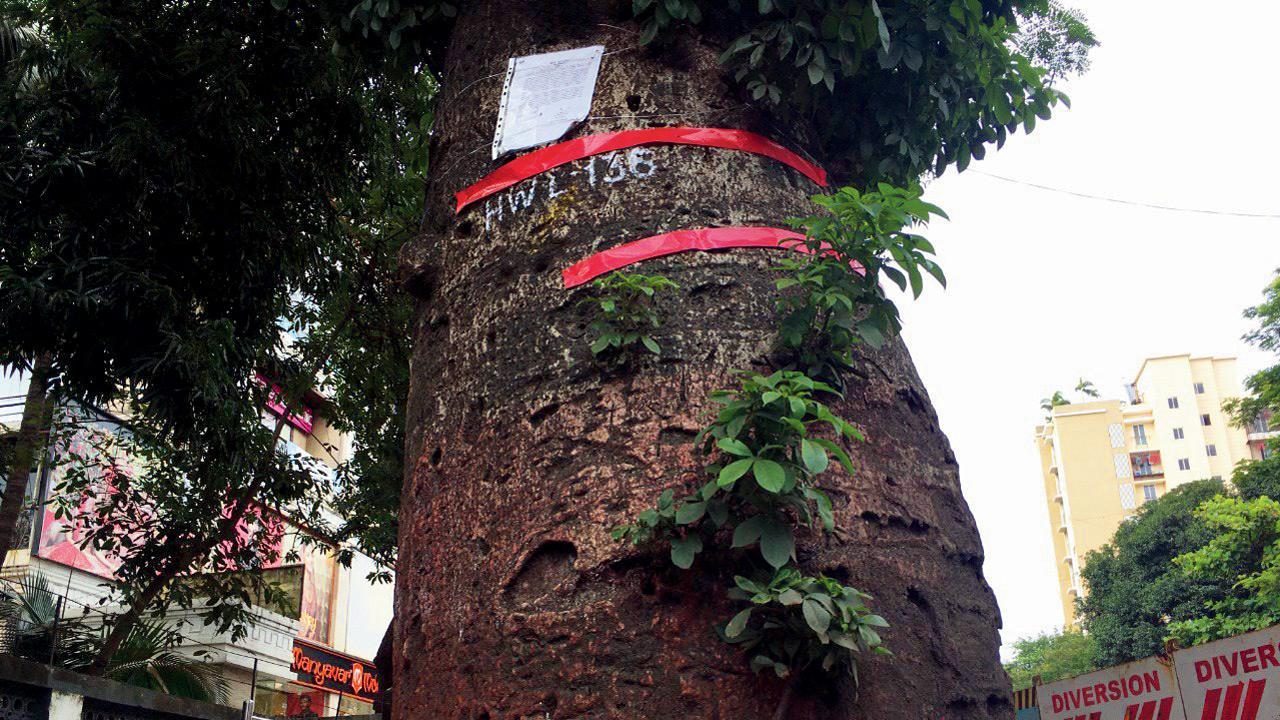 The baobab that has been marked for chopping at Santacruz. Pic/Atul Kamble
Mumbai has 120 endangered African Baobab trees and one of them, in Santacruz, will have to make way for an infrastructure project. Nature lovers and environmentalists are not happy with this and are demanding that it be saved.
The tree native to Africa, also known as the Tree of Life, was brought to the country over a thousand years ago by Abyssinian and Portuguese traders. According to a Brihanmumbai Municipal Corporation (BMC) tree census done few years back, Mumbai has 120 baobab trees and this exotic species has also been announced as endangered by United Nations.
ADVERTISEMENT
There are a total of nine species of these trees. The species that are found in Mumbai are Adansonia digitata. The tree can hold more water and nutrients than any other tree, and so its base appears to be swollen. According to the United Nations Environment Programme, a Baobab with an average diameter of its trunk at 32-feet can hold about 2,300 gallons (8,700 litres) of water in its swollen base.
Also read: Mumbai: 452 trees to be hacked to make way for Coastal Road work

Baobabs in city
The Baobab trees are found in Mumbai at Colaba, Jijamata Udyan-Byculla, Bandra, Santacruz, Andheri-Seepz, Aarey Milk Colony, Kandivli and also at Vasai besides other places.
Environmentalist Reagan Creado recently discovered that a beautiful Baobab tree on the S V road in Santacruz West near the station was going to make way for the D N Nagar to Mandale elevated metro line 2B. He made a small video appealing to nature lovers to come together to save this beautiful tree from getting chopped.
Talking to mid-day, Creado said, "Baobab trees live for centuries and are a rare sight in Mumbai. It's very sad to see this beautiful tree being removed for our progress."
It has been reported that the elevated metro line 2B will require the cutting of 1,134 trees and 1,670 trees will have to be transplanted.
Environmentalist Zoru Bhathena said, "The trees on the SV road stretch are not affected because of the Metro. They are affected to make space for the working area only. Way back in 2018 notices were issued for many of these stretches. We had many meetings with MMRDA officials and their then contractors Simplex, who agreed to move their work site barriers to accommodate the trees.
"However, with a change in the top management in MMRDA and with a change in contractor, they seem to have gone back to their old plans. We need to remind MMRDA that if they could save the trees in 2018, they surely can save them in 2021 too. All that is needed is some empathy for the trees and some work place accommodation to save most of them."
About baobabs
Botanist Anil Rajbhar said, "As per scientific literature, the trees were introduced to Mumbai probably India by invaders like the Portuguese. Some Indians believe as per mythology, it's a kalpavriksha that came out of Samudra manthan between the asuras and devas. It is dependent on bats, because it's big white flowers are pollinated by them. They are heritage trees because they have been surviving here for centuries."
1,134
No. of trees to go for D N Nagar-Mandale Metro line 2B