mid-day stopped at the iconic, century-old Irani cafe for one last chai, before it downed its shutters 'for repairs' yesterday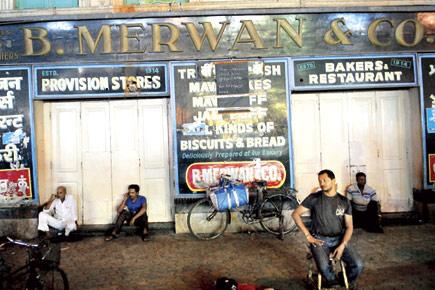 Back in January, mid-day broke the news that B Merwan and Co, one of Mumbai's iconic Irani cafes and a landmark by itself, would be downing its shutters.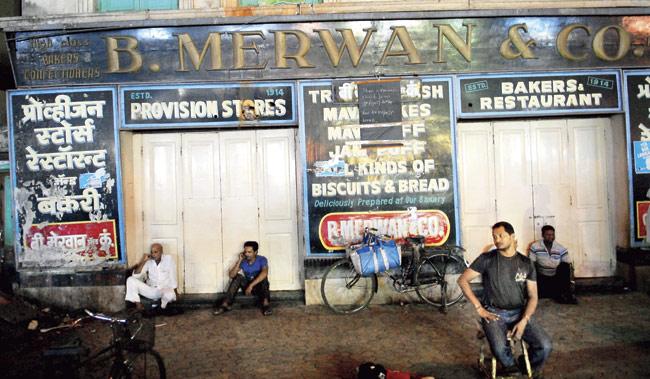 Started by Boman Merwan Nasra in 1914, the bakery is currently  handled by its third-generation owners. Pic/Sayed Sameer Abedi
While we were told then that the cafe, situated outside Grant Road railway station would shut in March, the date of closure extended by a month and it finally downed its shutters yesterday evening.
We visited the cafe for one last chai with generously buttered buns, and the mood seemed like just another day at the cafe. Several customers seemed oblivious to the fact that the cafe would be closing down.
We quizzed one of the owners, Sarosh Irani, who was manning the counter about the news, only to get a rather ambiguous reply: "We are not closing; we are shutting down for repairs."
To this, we asked further whether the cafe would reopen again, to which Irani repeated the repair theory and remained non-committal. After wolfing down their yummy Kaju Cakes and Mawa Samosas, we left for the day.
We learnt, hours later that the cafe downed its shutters, earlier than usual last evening. A simple hand-written board was displayed outside that informed that the cafe would remain shut for repairs from April 16.
So the question still looms: Will it reopen? Your guess is as good as ours.