Minor arguments and confusion aside, it was regular folk who queued up in bank branches to turn in their big notes of small amounts in various places in the city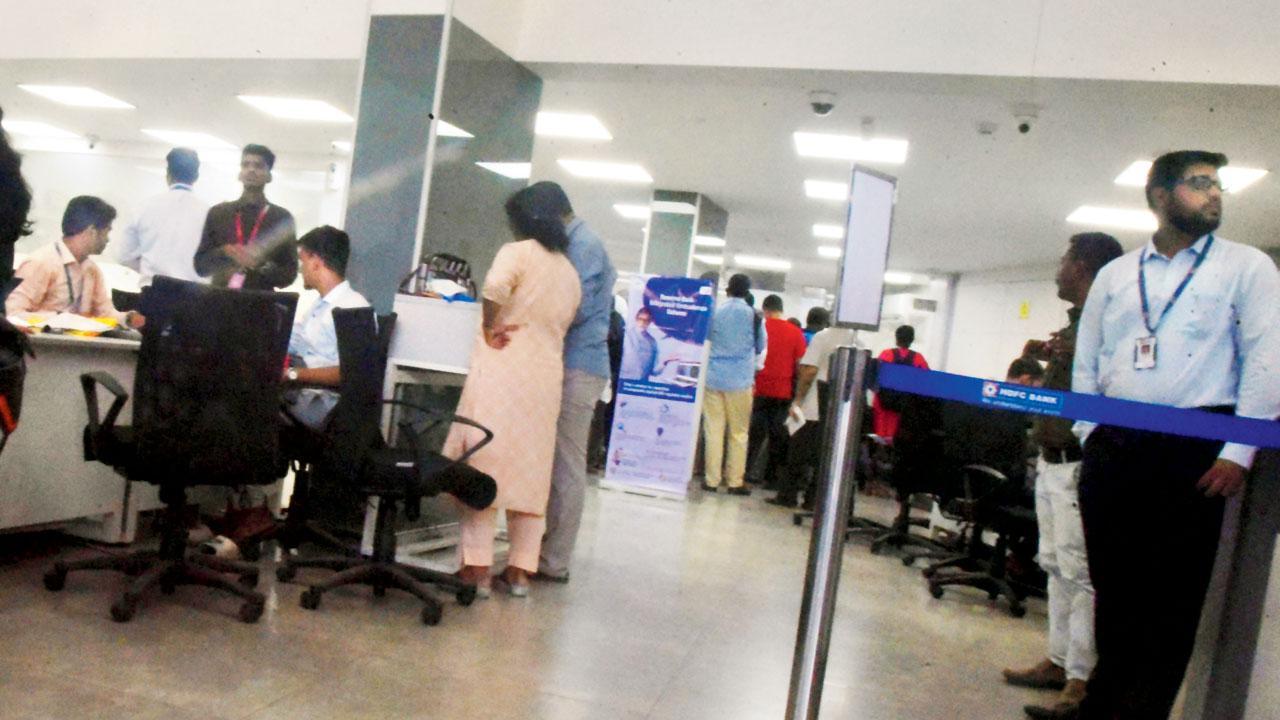 Customers deposit Rs 2,000 notes at the SV Road branch of HDFC Bank in Goregaon West, on Tuesday. Pics/Sameer Markande, Rajesh Gupta
There were no chaotic scenes in the city on Day 1 of the period during which citizens can deposit or exchange Rs 2,000 notes in the wake of the RBI's announcement regarding their withdrawal on May 19. At various banks on Tuesday, there was neither a rush nor were large amounts of notes deposited though some confusion and arguments related to processes were seen.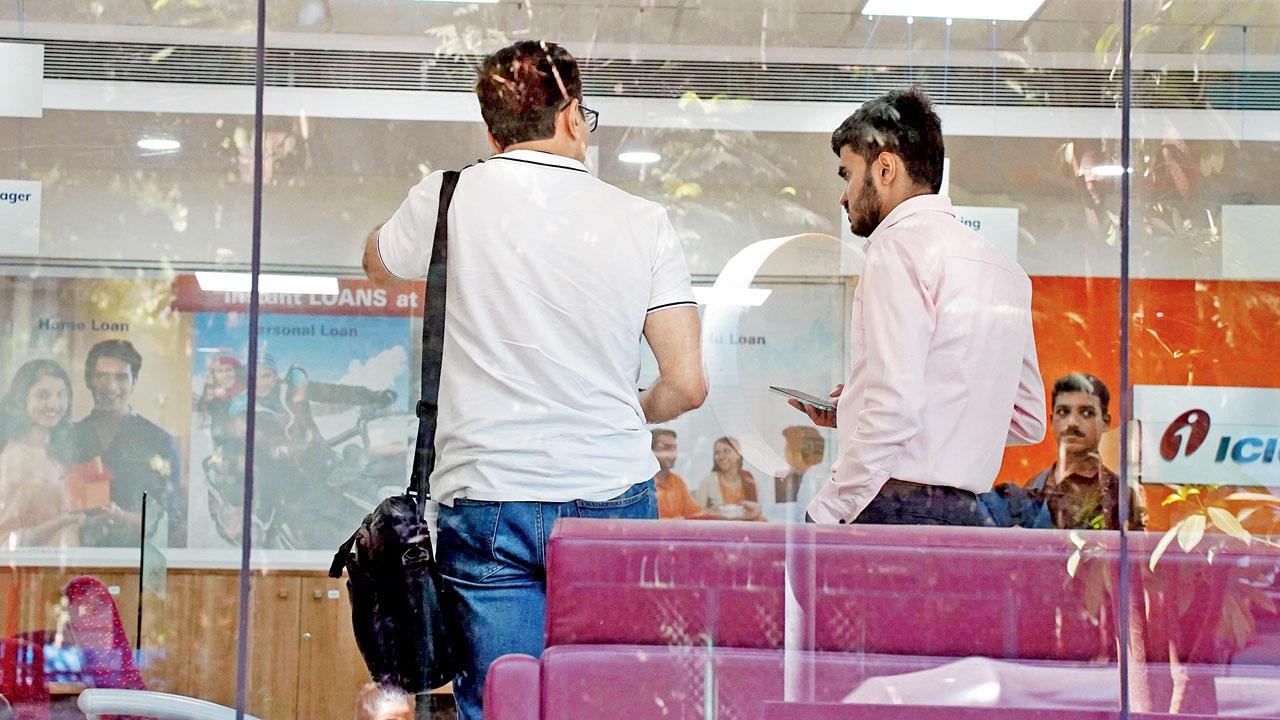 Citizens deposit notes at the ICICI Bank branch in Vile Parle East, on Tuesday. Pic/Aishwarya Deodhar
ADVERTISEMENT
The majority of those who came to deposit their notes were small and big businessmen as well as regular citizens. Sources said many citizens were also exchanging gold biscuits at jewellery stores, but the situation seemed under control, unlike in 2016, when demonetisation was implemented, as the Rs 2,000 notes are being slowly phased out. Citizens have until September 30 to exchange or deposit the notes at the bank of their choice.
Also Read: Exchange of Rs 2,000 notes starts; Here's all you may need to know
'No stress'
Mulund businessman Pravin Gupta said the exercise was largely stress-free. "We have not faced any problems so far. There is adequate time till September, and it doesn't seem like there will be any problem in the future either," he said. A Ghatkopar resident, who had withdrawn R4 lakh ahead of a wedding in the family, said he is trying to spend off most of the notes at the earliest. "I had withdrawn Rs 4 lakh, just a day before the RBI announcement. The wedding is on June 12 and we will be able to use up all the money by then," he said on the condition of anonymity.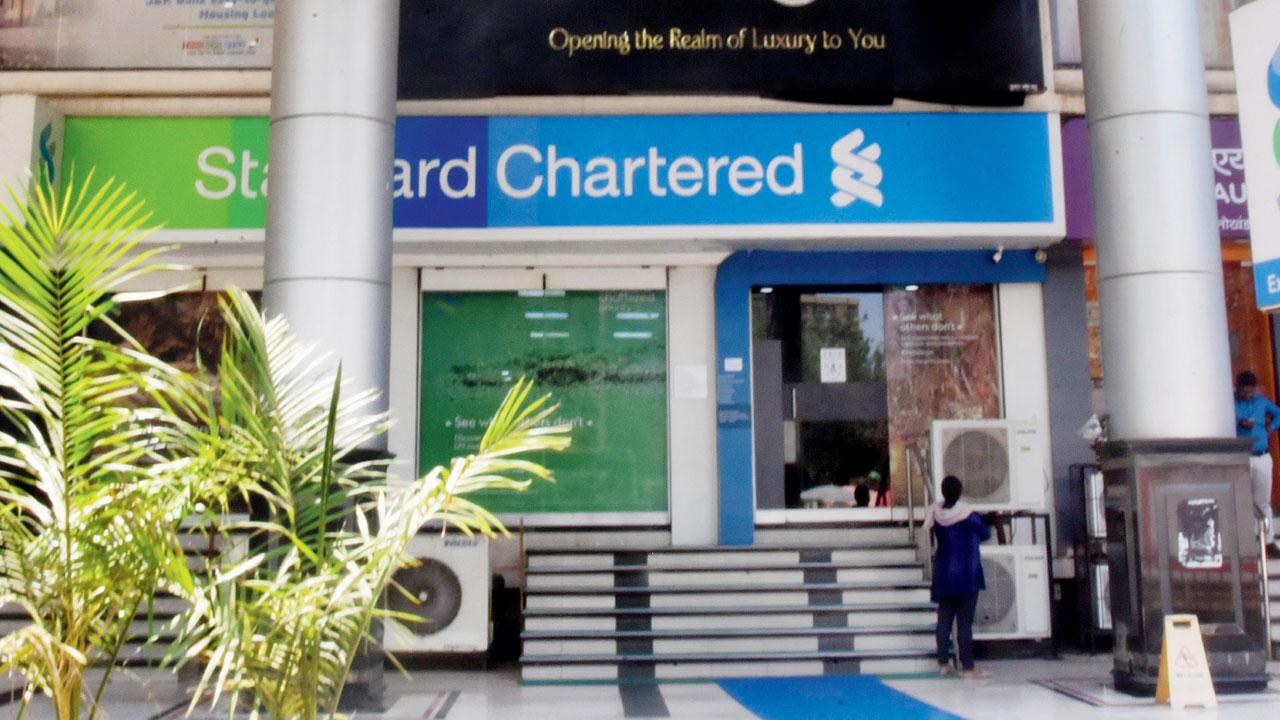 No queue is seen outside the Standard Chartered Bank in Andheri, on Tuesday. Pic/Sameer Markande
Another citizen, Zarna Shah, said, "I was able to deposit Rs 6,000 in Rs 2,000 denomination at HDFC Bank's Lokhandwala branch without a fuss and it was in 10 minutes flat." A businessman from Dadar said, "I had an argument with bank staffers as there was some confusion. They thought I did not have an account with their bank when the case was that I did not have an account with that particular branch. The branch then accepted the notes without me having to fill a KYC or provide other details."
'Bank staff are helpful'
Most banks in Dahisar and Borivli were relatively empty on Tuesday. Staff members said that only a small number of people had come to exchange or deposit notes and the sums in question were not colossal. K Vishwanath, a resident of Avdhut Nagar, visited the Dahisar branch of the State Bank of India (SBI) to deposit three Rs 2,000 notes. "I was gifted these notes by relatives at my wedding in November last year. They had been lying around the house. When I learned that the RBI had decided to withdraw the notes, I opted to exchange the cash. The bank employees have been extremely cooperative," he said.
'Process is hassle-free'
When mid-day visited banks in Andheri West and Goregaon, it was business as usual. There were no long queues at the Lokhandwala branches of HDFC Bank, IndusInd Bank, Kotak Mahindra, RBL, Yes Bank, Jammu & Kashmir Bank, Standard Chartered, ICICI Bank and Saraswat Co-operative Bank. At one bank, an employee who requested anonymity, said very few people had come to exchange notes and it is only when the deadline approaches, that crowding might occur.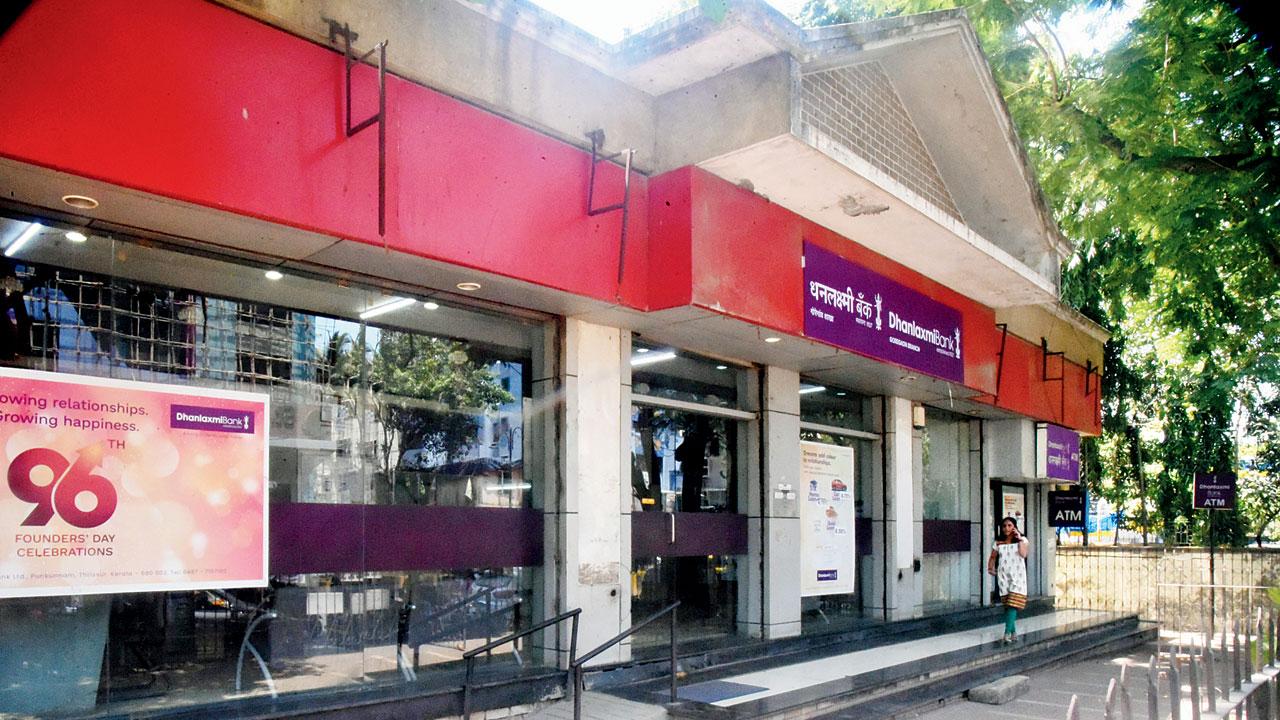 It was just another day at the Dhanlaxmi Bank branch in Goregaon West, on Tuesday. Pic/Sameer Markande
Seventy-year-old Sunita Rane managed to deposit Rs 40,000 in 20 notes at the Juhu Galli branch of Syndicate Bank. "It was a hassle-free process and after standing in a queue I was able to deposit all the money without any issues. The whole thing took 20 minutes," she said. Calmness also prevailed at various branches at Goregaon West, including those of SBI, Axis Bank, Bharat Bank, Bank of India, South Indian Bank, Dhanlaxmi Bank and HDFC Bank. A bank employee told this reporter that people were using ATMs to deposit their notes. 
'You must accept all notes'
A circular issued by the president of the Federation of Retail Welfare Association read,  "No need to panic about receiving Rs 2,000 notes. No shops should refuse customers handing over these notes. Mind you, this will only affect those who are holding large amounts of black money in Rs 2,000 notes. At the retail level, we all should be accepting Rs 2,000 notes without arguments as we have to deposit them in the bank."
Viren Shah, president, Federation of Retail Traders Welfare Association (FRTWA) stated, "This will affect those who pay large amounts of cash in dealing. In the next few months, retailers will see more Rs 2,000 notes being circulated than digital payments, especially from those who have saved such notes."
FRTWA members have been advised to check the watermark on every Rs 2,000 note in order to avoid getting duped. A note issued to them reads, "Check the watermark, an embedded image that is visible when held against the light. Examine the watermark of Mahatma Gandhi's image and the denomination of the note. If the watermark is missing or blurry, the note is likely a fake."  
19 May
Day RBI announced move 
Sept 30
Last day for depositing notes