Anyone in this age group can now get inoculated at centre by taking a prior appointment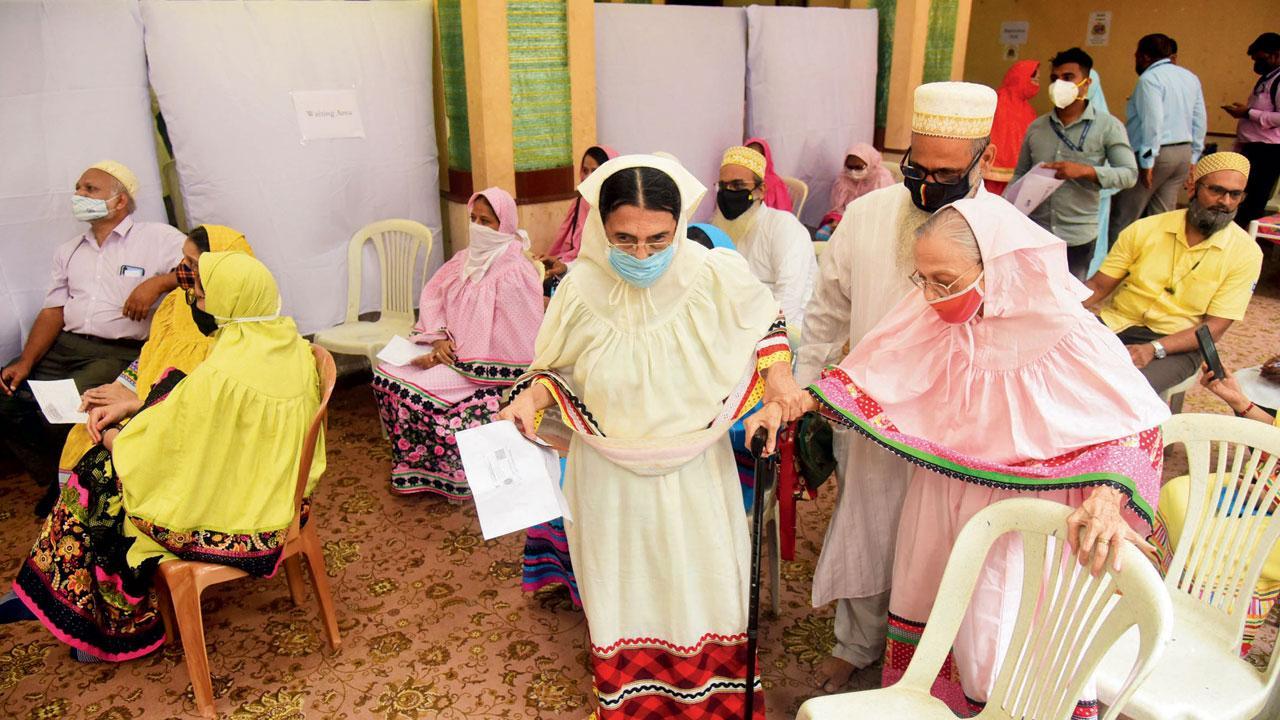 People wait at the Mohammedi Masjid Complex to get vaccinated. Pic/Suresh Karkera
Post inauguration on Monday morning, the Dawoodi Bohra community announced that its Covid-19 vaccination centre set up at Mohammedi Masjid Complex, Mohammed Ali Road in South Mumbai, was open for those above 45 years of age. Irrespective of their religion, people from the particular group can now get inoculated free of cost at the centre by taking prior appointments.
Nationalist Congress Party leader Supriya Sule, MP Arvind Sawant and Mumbai Congress President Bhai Jagtap inaugurated the centre in the presence of senior BMC representatives and Dawoodi Bohra community members. Under the community's 'Project Rise', Anjuman Shiate Ali, the organisation that manages the Bohra community's affairs in Mumbai, has set up the centre. 
The centre has a capacity to accommodate more than 300 people at a time. Fakhruddin Palanpurwala, who is in charge of managing the centre, said, "The entire Masjid complex has been divided into different zones to ensure proper social distancing. The first zone is a registration spot, the next one a waiting hall and then another an examination hall where doctors can examine people after they take the shot." 
Also Read: Mumbai: Students panic over insufficient vaccine doses, BMC says enough available
Palanpurwala further said that they would receive 200 or more doses every day from the BMC — 100 doses of Covishield and 100 doses of Covaxin (for second dose). "We received 200 doses today. The number of doses we get depends on the BMC. It is in their hands since they are the ones who allot them. We have a capacity to accommodate 300 people at a time, so even if we get 400 doses every day, we can easily manage it."
NCP leader Supriya Sule acknowledged the work and effort of the Dawoodi Bohra community in opening up the vaccination centre and also thanked them for setting up the state-of-the-art Saifee Hospital, which has been instrumental in fighting Covid-19 cases and vaccinating people. MP Arvind Sawant spoke about the BMC's 'My Family, My Responsibility' campaign and said that although the government was doing all it could to flatten the curve, it is the responsibility of each and every individual to do their bit and get vaccinated at the earliest.
Bohras encourage people to take jab
The Dawoodi Bohra community has launched a global #RiseToVaccinate campaign to sensitise and encourage people to come forward and get vaccinated. "Our Dawoodi Bohra volunteers in Mumbai and other parts of the world continue to support and expand the government's vaccination efforts while also educating locals on queries related to their health and vaccine hesitancy," shared Ammar Tyebkhan, a member of Bohra's global 'Project Rise' initiative.