With govt moving sale of cattle online ahead of Eid, 35 trucks full of goats, buffaloes and chicken are starving at the state border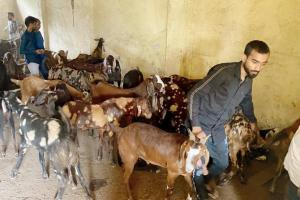 Some of the traders managed to travel till Vasai-Virar where they are now stuck. Pics/Hanif Patel
With the Maharashtra government banning the sale of goats in the open markets ahead of Bakr Eid, those dealing in the business are in a fix. Several truckloads of goats, buffaloes, and chicken collectively worth Rs 10 crore are stuck at the Gujarat-Maharashtra border since 2 am on Monday, as they have not been allowed entry in view of government guidelines, which have permitted only online sale of livestock.
Some others, who managed to cross the border earlier, have not been allowed to travel beyond Vasai-Virar, where they are currently stuck.
Speaking to mid-day, Khwaja Ibrahim Qureshi, exporter of goats, said, "I bought the goats from Ajmer and was supposed to sell them at markets in Mumbai, Mira Road, Jogeshwari, Mumbra and other locations. But the cops are not allowing us to enter the state saying there is a restriction on transporting cattle till August 5."