Police sources say accused confessed to killing Shabbir Shaikh over the latter's matka (gambling) business and his refusal to lend money to one of them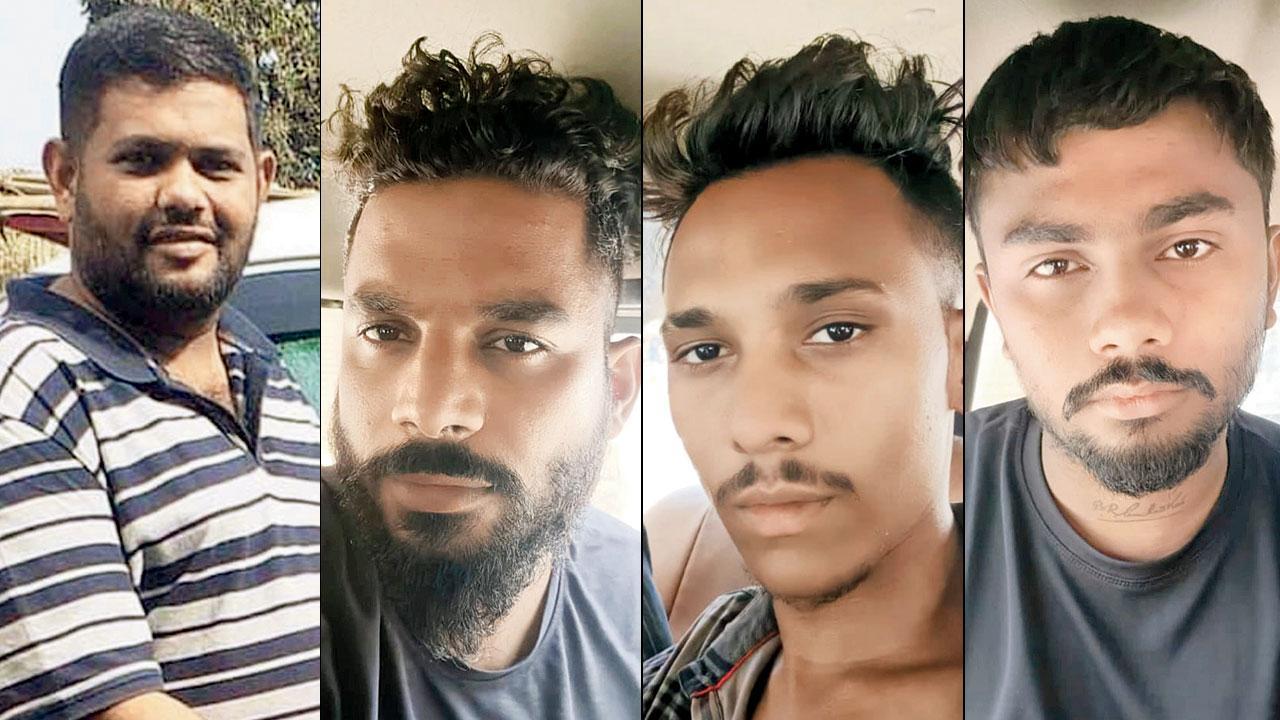 Shabbir Shaikh, the Ulhasnagar city president of Eknath Shinde-led Shiv Sena, died on Friday. (From second-left) accused Vikram alias Viki Rajendra Kavthankar; Santkabir Borade; Prashant alias Salad Tayde. Pics/Navneet Barhate
The Thane police have arrested five residents of Ulhasnagar following the murder of Shiv Sena leader Shabbir Shaikh, who, according to sources, ran a matka (gambling) business. According to police, Shaikh, who was recently appointed the Ulhasnagar city president of Eknath Shinde-led Shiv Sena, was attacked at 11.30 pm on Friday at Jai Janata Colony in Ulhasnagar. Five men, with faces covered with handkerchiefs, came and stabbed him more than 40 times with knives, said police sources.
Police arrested the five accused with the help of CCTV footage. Three of them have been identified as Vikram alias Viki Rajendra Kavthankar, 39, Prashant alias Salad Tayde, 24, Santkabir Borade, 23. A police officer told mid-day, "During the investigation, we traced all the accused to Ulhasnagar and found out that they have criminal records of assault and making threats. During interrogation, they revealed that they killed Shabbir Shaikh over the gambling business and had a fight a few days ago."
ADVERTISEMENT
Another cop said, "Around 10-15 days ago, one of the accused came to Shaikh, asking for money, but he refused. The man returned with four others and had a heated argument over money. Thereafter, they plotted to kill Shaikh." A case has been registered against the five men at the Hill Line police station under Sections 302 (murder) and 34 (common intention) of the IPC. Cops said they have recovered the weapons used to kill Shaikh. The Thane police had previously filed a case against Shaikh for running matka (gambling) business, a police officer said, adding that he was even arrested and released on bail.
"Exciting news! Mid-day is now on WhatsApp Channels

Subscribe today by clicking the link and stay updated with the latest news!"
Click here!