The foreigner was arrested by Mumbai airport authorities after he opened the door of Jet Airways aircraft on arrival from Abu Dhabi; another passenger was arrested for smoking in the plane's washroom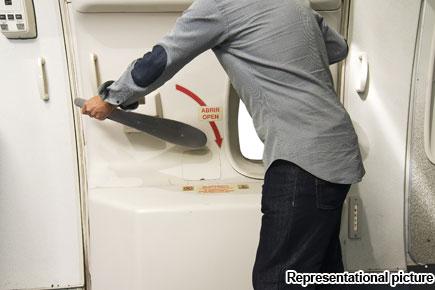 Business was not as usual for Jet Airways on Sunday as they had to report two of their passengers to the police for breaking rules.
Also read: Man tries to open jet door at 30,000 ft, mistakes it for loo!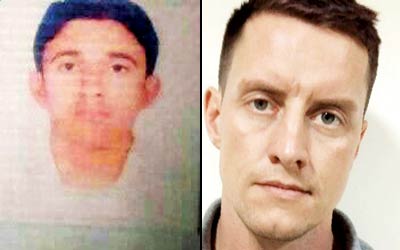 (Left) Ravi Dhankar and Steve Titschler
Germany's Steve Titschler, who arrived in Mumbai by Jet Airways 9W 585 from Abu Dhabi, opened the aircraft's emergency door while it was parked in the bay. When interrogated by the crewmembers, who rushed to the spot on seeing this, Titschler said he did that "just for fun".
The Central Industrial Security Force (CISF) was then called in to take the passenger to Sahar police station. Titschler also had to board Jet Airways' flight to Delhi at 3 pm, which he wasn't allowed to do. An FIR was registered against him under IPC Sections 336 and 29 of Aircraft Rule, 1937.
Up in smoke
Ravi Dhankar, who was on his way back to Mumbai from Singapore on flight 9W 09, was arrested after he was found smoking in the flight washroom on Sunday.
Also read: Chinese man opens plane door, mistaking handle for handrail!
An airline official said Dhankar was so inebriated that he could not answer the crewmembers questions. "Dhankar started smoking near the lavatory and was noticed by his co-passengers, who informed the crewmembers, who then asked him to put out the cigarette immediately," said an airline source.
After the flight landed at Mumbai airport, the airline's security team took Dhankar to Sahar police station. An FIR was registered against him under IPC Sections 336 and 29 of Aircraft Rule, 1937.
Airline says
A Jet Airways spokesperson said, "A guest travelling on Jet Airways flight 9W 09 from Singapore to Mumbai on Sunday was found smoking in the toilet by cabin crew. He was immediately warned and his cigarette packet and lighter were confiscated. On landing in Mumbai, the guest was handed over to the security agencies. Jet Airways accords highest priority to safety of its guests and all our crew members are trained to handle such situations."
Also read: Drunk Sri Lankan cricketer tries to open plane cabin door at 35,000ft
"A guest, who travelled from Abu Dhabi to Mumbai by Jet Airways flight 9W 585, on Sunday opened the emergency exit after the aircraft was parked at the bay. The matter was reported to the security agencies," said the spokesperson.