Processions are held in different parts of Mumbai and Thane, but one of the main attractions is Girgaon's Shobha Yatra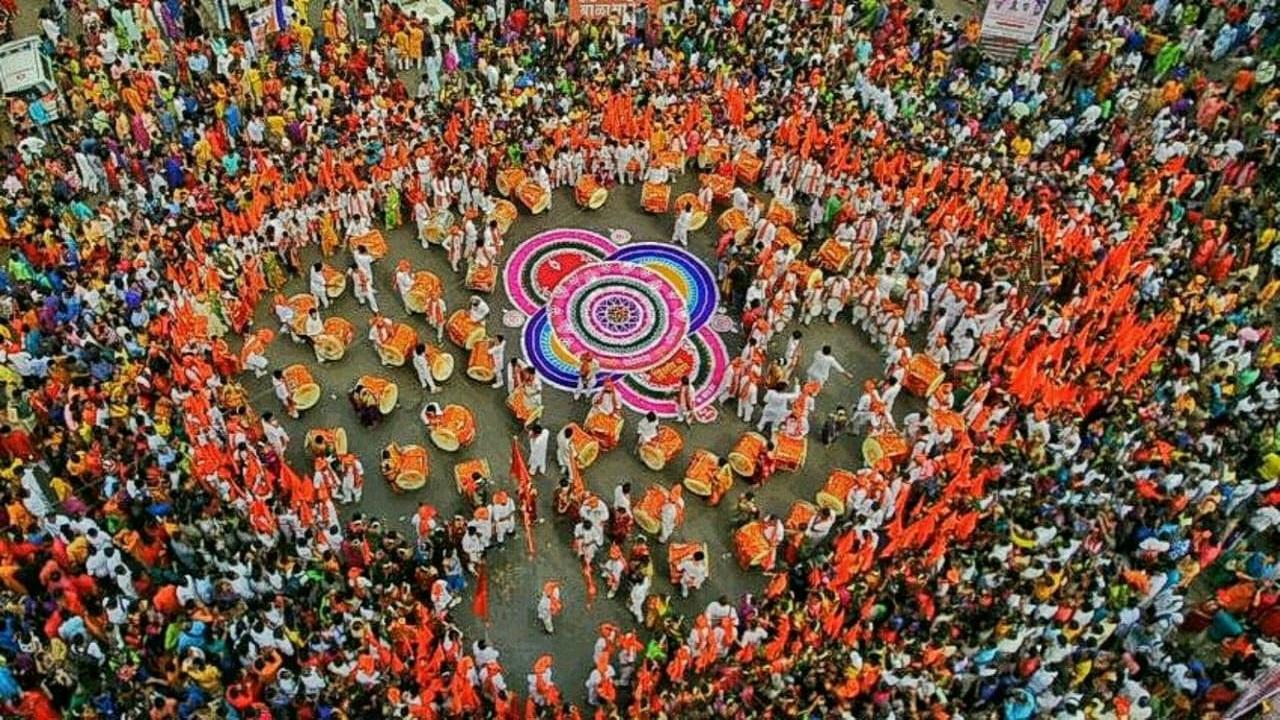 Girgaon's Shobha Yatra. Pic/Swami Vivekananda Yuva Pratishthan
Gudi Padwa marks the beginning of the New Year for the people in Maharashtra and some parts of India. It is marked on the first day of the Chaitra month, according to the Hindu lunisolar calendar, which falls on March 22 this year. The day is considered auspicious and is celebrated with great enthusiasm and joy. 
The key attraction of the festival is the processions. People dress up in traditional attire and take part in a procession celebrating the Hindu New Year. Such processions are held in different parts of Mumbai and Thane, but one of the main attractions is Girgaon's Shobha Yatra. It attracts a large number of people every year. 
ADVERTISEMENT
This is the 21st year of Girgaon's Shobha Yatra, which is also known as the 'Hindu Nav Varsha Swagat Yatra'. 
The 22-feet tall Arya Chanakya, sculpted by sculptor Yogesh Iswalkar, will be the main attraction of the procession. And a majestic idol of Lord Ganesha sculpted by sculptor Pradeep Maduskar will be at the forefront of the procession. 
Also Read: Gudi Padwa 2023: Date, timings, significance, here is all you need to know
Swami Vivekananda Yuva Pratishthan's working president Shridhar Agarkar told mid-day.com, "Only in 2021 and 2022 we did it on a very small scale. But this year since there are no Covid-19 restrictions, the Yatra will be held on a large scale. This year more than 50 mandals have confirmed to participate in the procession."
The theme for this year is 'Samarth Bharat Vishwaguru Bharat'. "The theme aims to show how India's progress, lifestyle and culture, like yoga, etc, have been adopted by the world," Agarkar said.
Speaking about public participation in the Yatra, Agarkar said, "The Yatra not only sees the participation of Maharashtrians, but people from other communities as well. This year, Kashmiri pandit students studying in Mumbai will also participate in Shobha Yatra. Even Telugu community people will participate. Around 8,000 to 10,000 people participate in the procession." 
Motivational speaker and life coach Gaur Gopal Das will also be a part of the Yatra. "At 11.30 am, a New Year's resolution meeting has been organised at Thakurdwar Naka. Motivational speaker and life coach of ISKCON, Gaur Gopal Das, will be the keynote speaker and will address the session. It is a matter of great joy for all Girgaonkars," Agarkar said.
Shedding light on the Shobha Yatra's route amid Metro 3 construction in Girgaon, he said, "We spoke to MMRCL they have agreed to help us and are trying to clear the route for the Yatra. The route will remain the same as before. It will start at 8.00 am from Phadke Shri Ganesha Temple in Girgaon and end at Princess street. The Yatra will conclude with the Sri Siddhivinayak darshan ceremony and maha aarti at Princess street."