Three major Ganesh mandals celebrate 350th year of Chhatrapati Shivaji Maharaj's coronation by basing their mandap design on Raigad Fort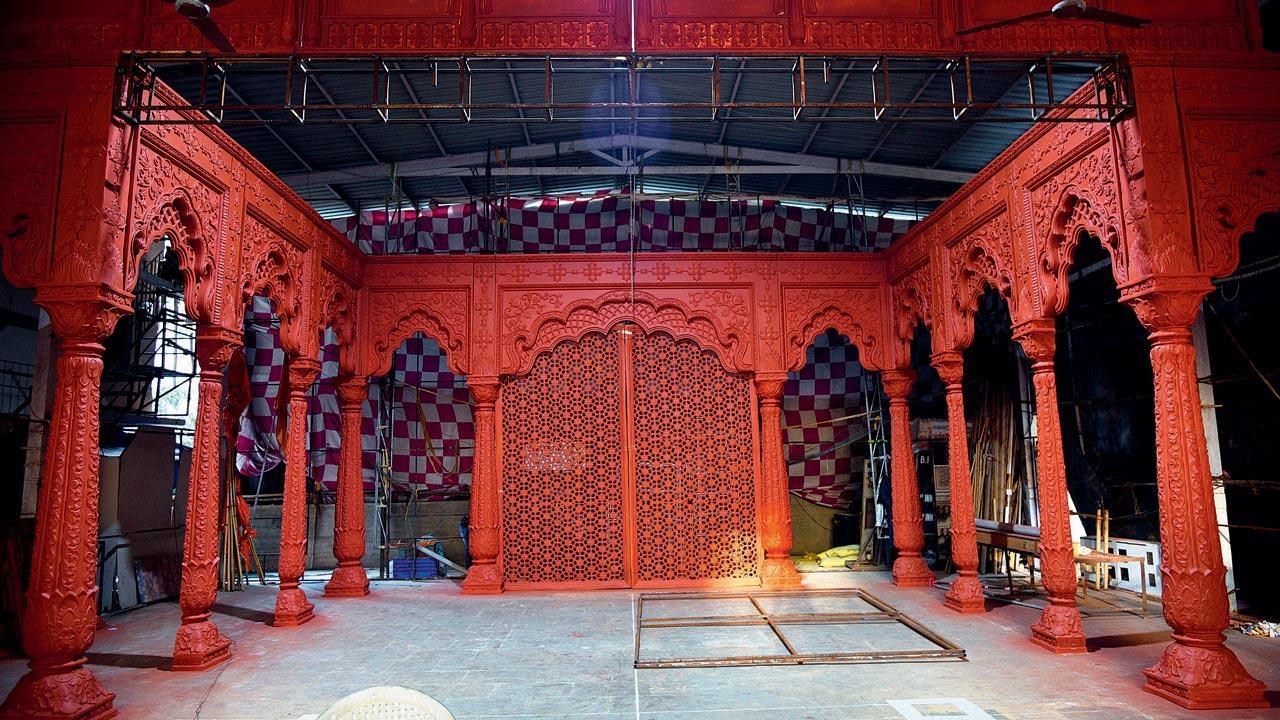 The Andhericha Raja mandap at Veera Desai Road in Andheri West on September 4. Pics/Satej Shinde
Three major Ganesh mandals—Lalbaugcha Raja, Ganeshgallicha Raja and Andhericha Raja—have chosen to design their mandaps to resemble Raigad Fort to commemorate the 350th year of the coronation of Chhatrapati Shivaji Maharaj. Balasaheb Kamble, president of Lalbaugcha Raja Sarvajanik Ganesh Utsav Mandal, said, "This year marks 350 years since the coronation ceremony of Chhatrapati Shivaji Maharaj. That's why a replica of the Meghdambari [umbrella] at Raigad has been created as well as one of the Nagarkhana Darwaja [main doorway] at the entrance. This is how respect has been paid to Shri Chhatrapati Shivaji Maharaj, the founder of Hindu Swarajya."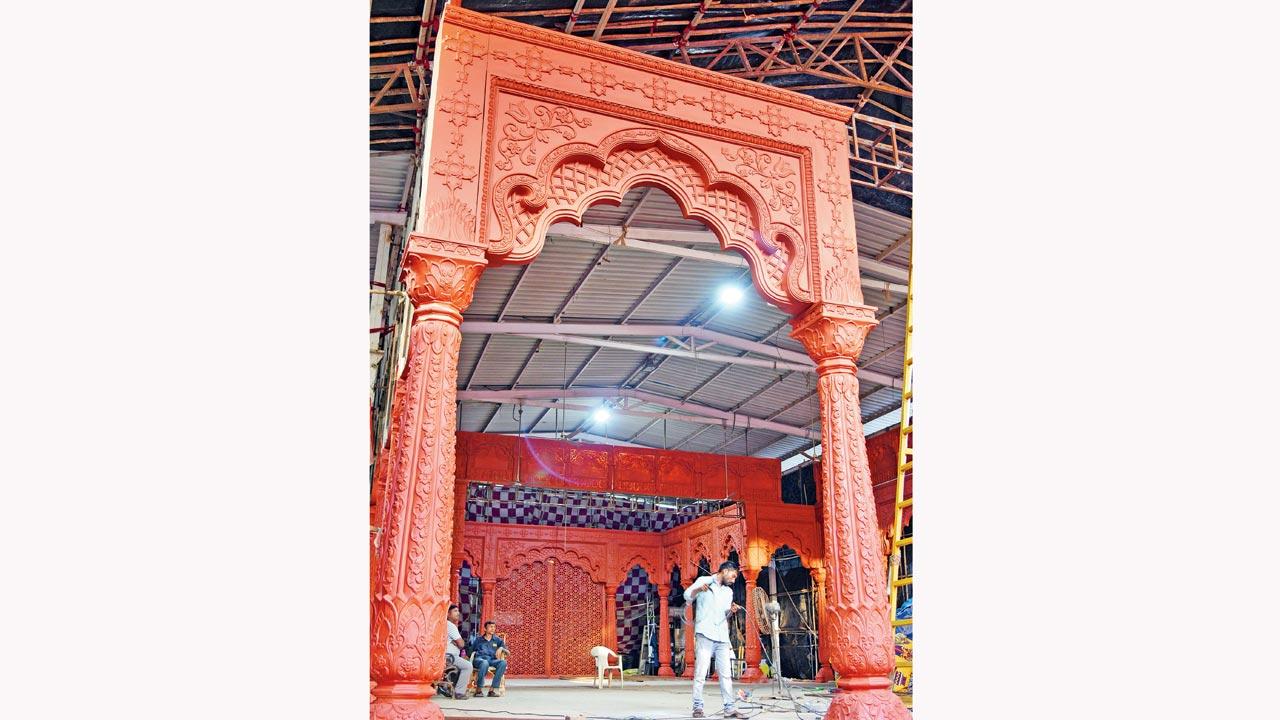 ADVERTISEMENT
Swapnil Parab, secretary of the Lalbaug Sarvajanik Utsav Mandal [Ganeshgallicha Raja, also known as Mumbaicha Raja], said the decision to base the mandap on Raigad was to celebrate the faith the masses have in the 17th century Maratha emperor and the sovereign state he built. "The forts of Maharaj are the real assets of Swarajya and we should keep them clean and preserve them because it is in the hands of every person. Let us do this and ensure a prosperous Maharashtra," he said.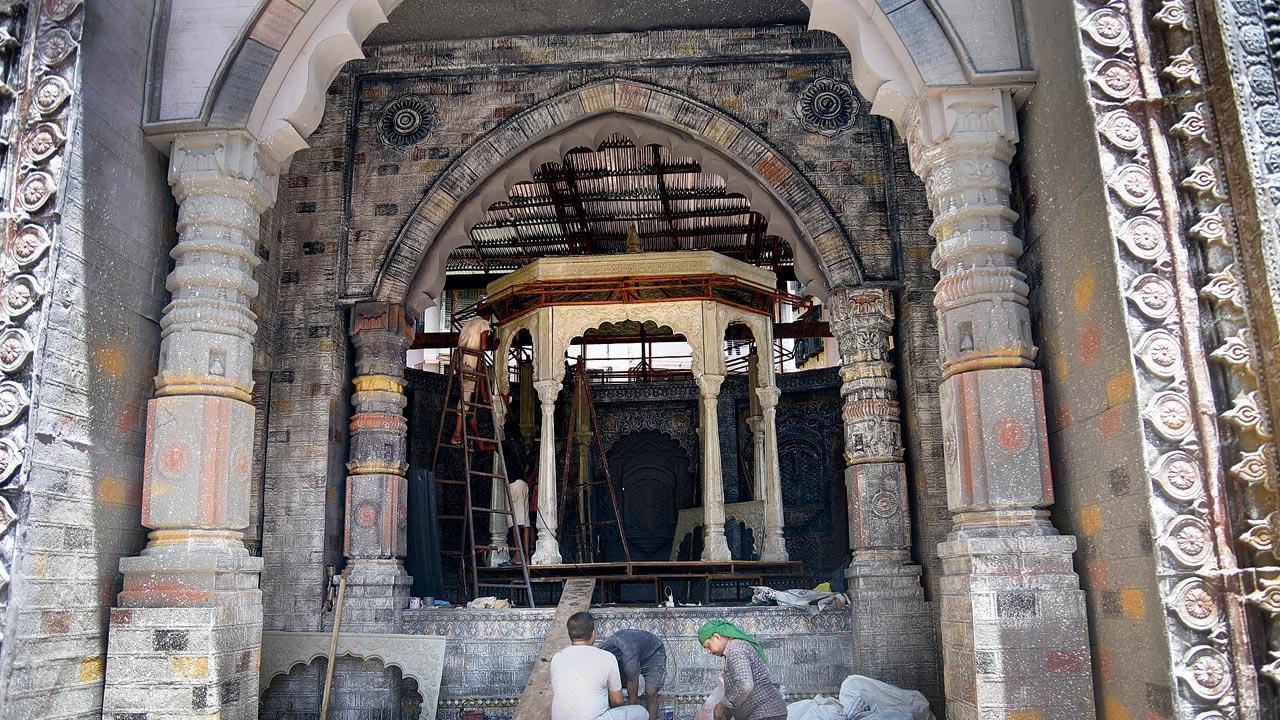 Workers set up the Mumbaicha Raja mandap at Ganesh Galli in Lalbaug on Tuesday. Pic/Pradeep Dhivar
Udhay Salian, spokesperson of Azad Nagar Sarvajanik Utsav Samiti [Andhericha Raja] said, "There are many lesser-known parts of Chhatrapati Shivaji Maharaj's history which are not taught in schools or colleges unless you are a history major and have selected Chhatrapati Shivaji Maharaj as a part of your research subject. Through the platform of Ganesh Utsav, we can reach out to the younger generations as well as people who are not completely aware of history. Parents will be able to explain to their children what happened during Chhatrapati Shivaji Maharaj's time via our decoration. This will definitely increase the curiosity of youngsters about the subject, which may lead to them looking up the history of Shivaji Maharaj. We also hope that the young generation will be able to understand clearly how the coronation ceremony of Chhatrapati Shivaji Maharaj took place. In today's world, Chhatrapati Shivaji Maharaj is well known all around the world and this is an honest attempt from our side to make people aware about culture and history."
Also read: Rare Chhatrapati Shivaji Maharaj artefact to be brought back from UK, says govt
Dharmesh Shah, art director of Azad Nagar Sarvajanik Utsav Samiti, said the organisers made sure the material used for recreating the fort is not harmful to the environment. "We have used material that can be reused for future events and made sure that thermocol was not used for decorative purposes. We are trying to adhere as closely as possible to the concept of reduce, reuse and recycle to make sure the environment isn't damaged while celebrating the festival."
1674
Year Chhatrapati Shivaji Maharaj was coronated
"Exciting news! Mid-day is now on WhatsApp Channels

Subscribe today by clicking the link and stay updated with the latest news!"
Click here! Do you read regional literature?