Locals allege illegal office of former NCP MLA Milind Kamble on footpath has hindered drain cleaning work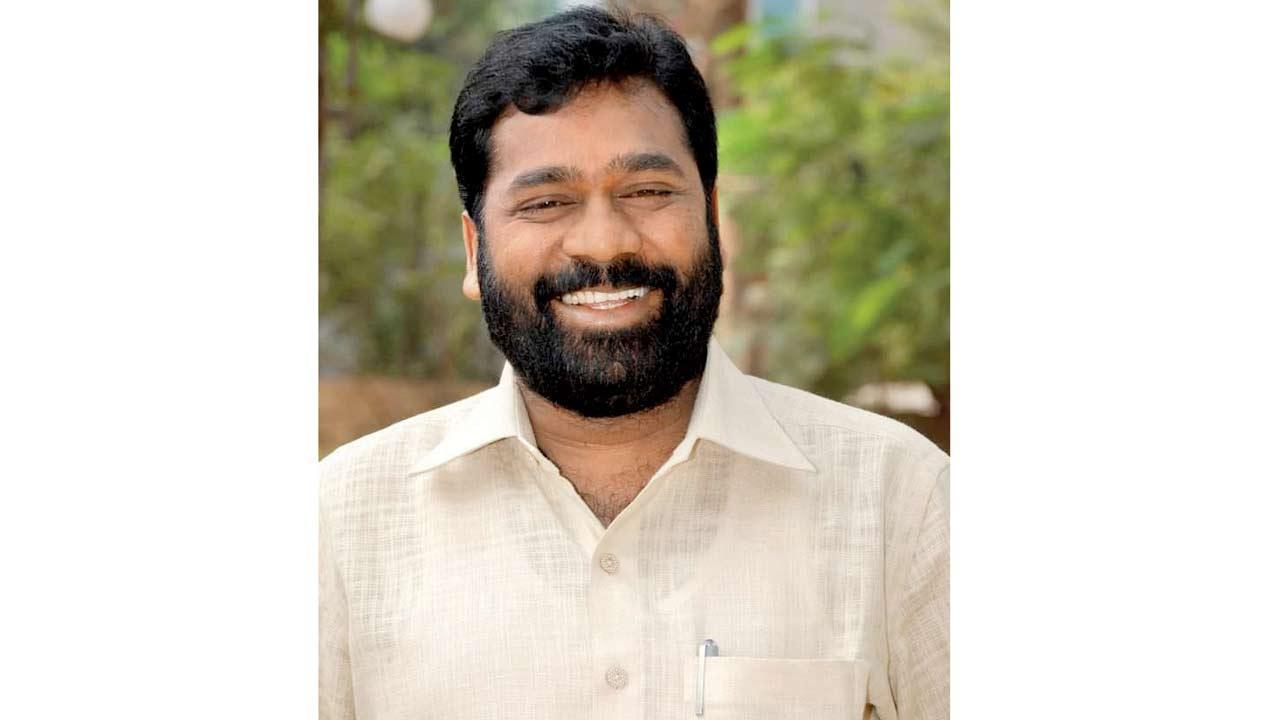 NCP MLA Milind Kamble
The office of a neta is literally in the way of a solution to a chronic flooding spot at Lal Bahadur Shastri Road in Kurla. While the BMC has declared the structure illegal, it has still failed to remove it, posing itself a problem, as the office covers two chambers connected to a stormwater drain, that must be cleared before the monsoon. If this is not done, this year too, thousands of office-goers, especially to BKC, and local residents will be affected.
The office belongs to former NCP MLA Milind Kamble, who claims it is 'protected'. People are wondering whether the BMC will think about Mumbaikars or spare the Shiv Sena alliance partner member's office.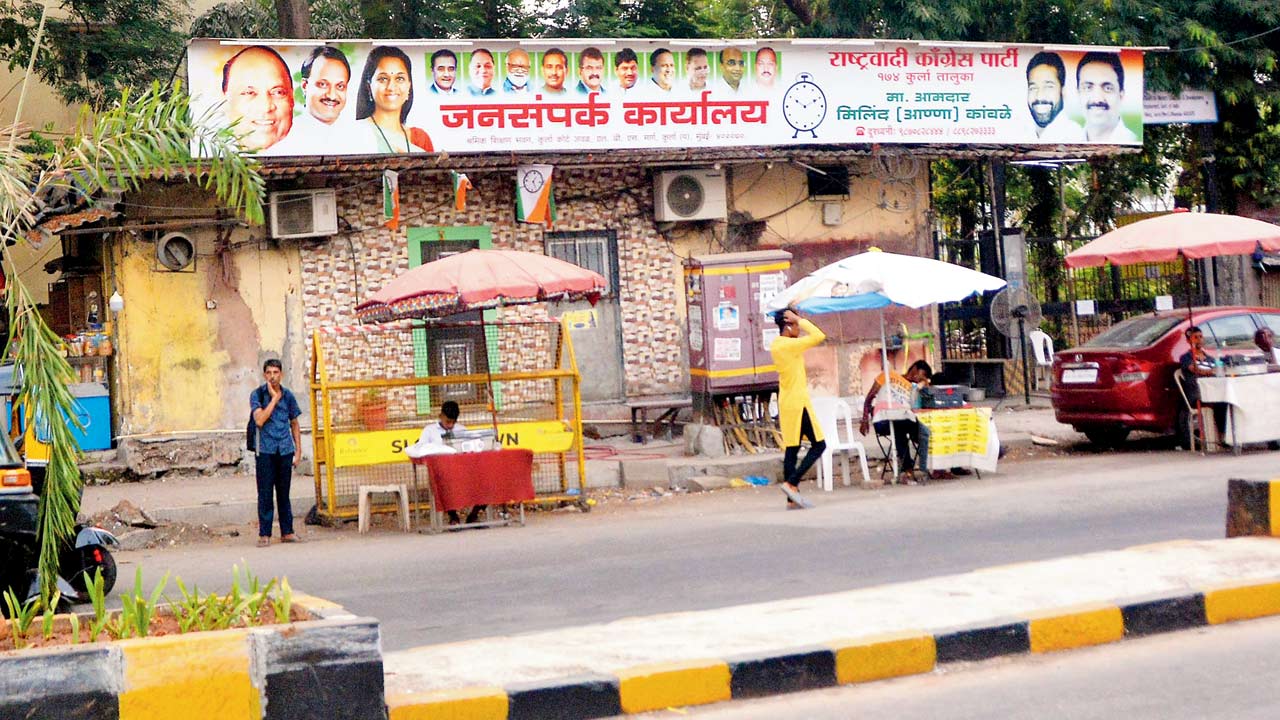 What happened
The Brihanmumbai Municipal Corporation (BMC) had declared the office illegal, in November 2021 and tried to demolish it on February 5 this year. It could not do so due to a large crowd that gathered and allegedly protested. On May 9 BMC issued a notice to Kamble directing the removal of the office in 48 hours but it is still in place. After getting BMC's notice, Kamble had claimed the structure was protected as it existed from before the year 2000 and he submitted electricity bills as proof. However, when the BMC verified them, it was found that they were dated after 2001.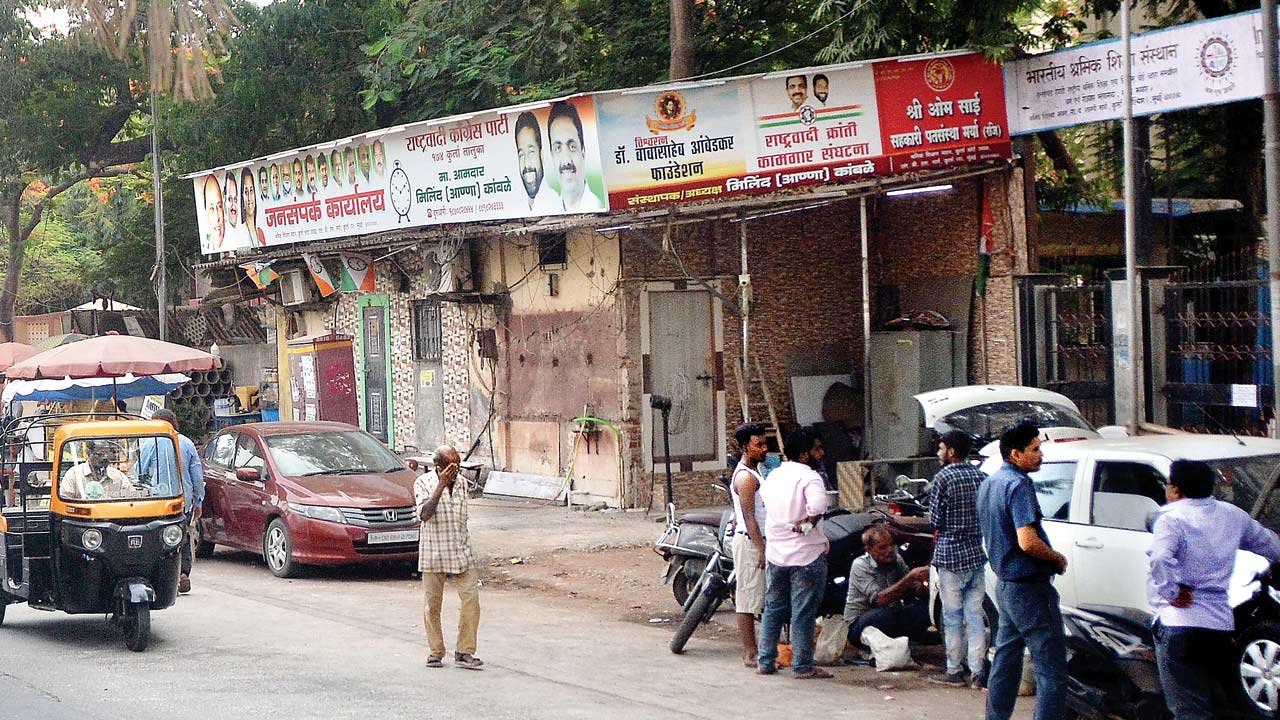 Milind Kamble's office at Lal Bahadur Shastri Road in Kurla. Pic/Sayyed Sameer Abedi
Kamble again approached the BMC's L ward office and submitted another electricity bill to prove the structure was protected. Once again the BMC found the bill was post 2001. This is noted in a BMC document in possession of this reporter. Kamble claimed there was no problem. "The issue has been resolved now and I didn't receive any notice on May 9. I am currently out of station and not aware of updates regarding the office," Kamble said. Asked about the issue, L ward Assistant Municipal Commissioner Mahadev Shinde said, "'I will take an update and let you know."
"LBS Road has an underground roadside drain and its two chambers are under the office. It is not possible to clean the drain in the area without opening these chambers. This is a major flooding spot, and it is necessary to desilt every inch of the drain but we are facing a hurdle because of this office," said a BMC official.
Locals worried
LBS Road is the approach to Bandra Kurla Complex from the eastern suburbs. Due to waterlogging, lakhs of residents and office-going people suffer every year. "Every monsoon the road witnesses waterlogging as it is situated near the bank of the Mithi river. The flooding also damages our property," a local resident said. "The BMC spends crores of rupees on desilting, But we will face problems this monsoon also because it has failed to remove this illegal office," another local said.
2021
When in November  BMC declared the office illegal