Aaditya Thackeray trains guns at BJP over remarks on Shivaji and BJP-led Karnataka CM's claim over two Maharashtra villages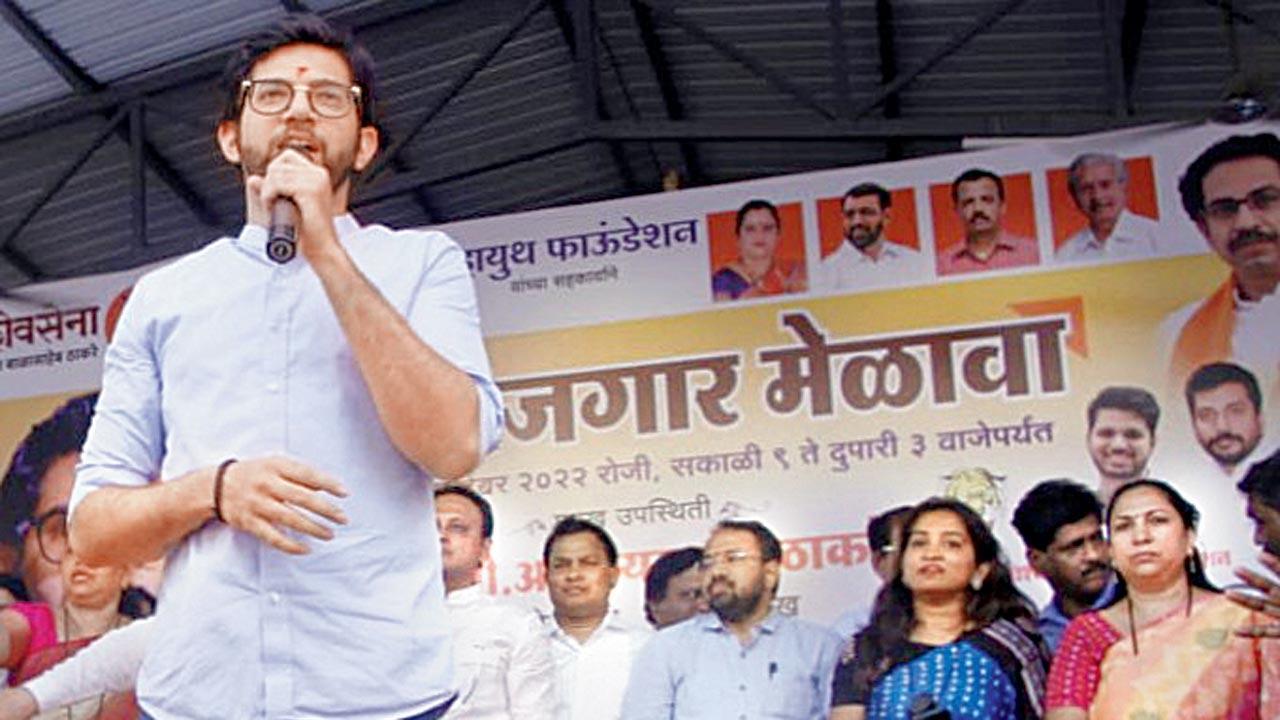 Yuva Sena chief Aaditya Thackeray at a party event in Borivli on Saturday
Wading into the Maharashtra-Karnataka border row, Yuva Sena chief and former state minister Aaditya Thackeray dubbed the Karnataka chief minister's remarks as a "scripted move". This, he said, was done to divert public ire from the controversy sparked by the recent remarks on Maratha King Chhatrapati Shivaji Maharaj made by Maharashtra Governor Bhagat Singh Koshyari and BJP spokesperson Sudhanshu Trivedi.
Thackeray Junior, speaking at a party function in Borivli on Saturday, said that one should see the timing of a statement made by Karnataka Chief Minister Basavaraj Bommai claiming rights on a few villages from Maharashtra's Sangli and Solapur districts.
"Recently a BJP leader [Trivedi] and Maharashtra governor made derogatory remarks against Maratha King Chhatrapati Shivaji Maharaj. Admirers and followers of the great Maratha King in Maharashtra and across the globe are upset with such derogatory statements. Aware of escalating public ire on this issue, a section of people have consciously raked up Maharashtra-Karnataka border row to divert the public attention from the controversy over Shivaji Maharaj remarks," Thackeray said.
Koshyari had, during a recent function in Aurangabad, referred to Maratha King Chhatrapati Shivaji Maharaj as "hero of the past era". Meanwhile, during a television debate on Vinayak Damodar Savarkar, Trivedi, defending the freedom fighter's clemency petition, stated that in pre-independence days people used to write mercy petitions in a prescribed format to come out of jail. The BJP leader had cited that Shivaji Maharaj had written five letters to Aurangzeb, as an example of the same.
Also Read: Gujarat elections: The scribe who wants to be CM
At a time when these statements had started snowballing into major controversies in Maharashtra, a new row was sparked when the CM of neighbouring BJP-led Karnataka claimed rights on two villages in Maharashtra located near the state border.
CM Eknath Shinde and Deputy CM Devendra Fadnavis have since stated that Shivaji Maharaj will always be an idol for everyone and that the government would not give an inch of land to Karnataka.
The issues, however, served as an opportunity to corner the Shinde-Fadnavis government. In view of this, Aaditya Thackeray urged all political parties to oppose the derogatory remarks against the Maratha warrior as well as Karnataka CM's claim. "Both the issues—insulting our idol and territorial claims made by the Karnataka CM—are against Maharashtra. All should come together as this fight is about Maharashtra's pride," said the grandson of late Sena founder Bal Thackeray.
'Even I am jobless now'
Speaking on the sidelines of a youth fair organised by the Shiv Sena (Thackeray-led) in Borivli, Aaditya Thackeray said that with the Maha Vikas Aghadi government, where he was the tourism and environment minister, pulled down, he was unemployed. "Now, even I am jobless. The only job I have is to ensure growth and development of Maharashtra," he said on a lighter note. 
Thackeray, an MLA from Worli Assembly, was also the guardian minister for Mumbai Suburbs. After the change in government, six-time BJP MLA Mangal Prabhat Lodha now holds the post.
He also said that the nature of jobs is changing. "Educational institutes should quickly adapt to the changing requirements of services, and accordingly prepare students to meet the skills and nature of the job," he said.