As per an ICMR report, Maharashtra recorded 1,39,118 deaths in 2019 due to premature air pollution, which accounts for 16.7 per cent of overall deaths in the country due to air pollution. The state has the second-highest air-pollution related deaths in India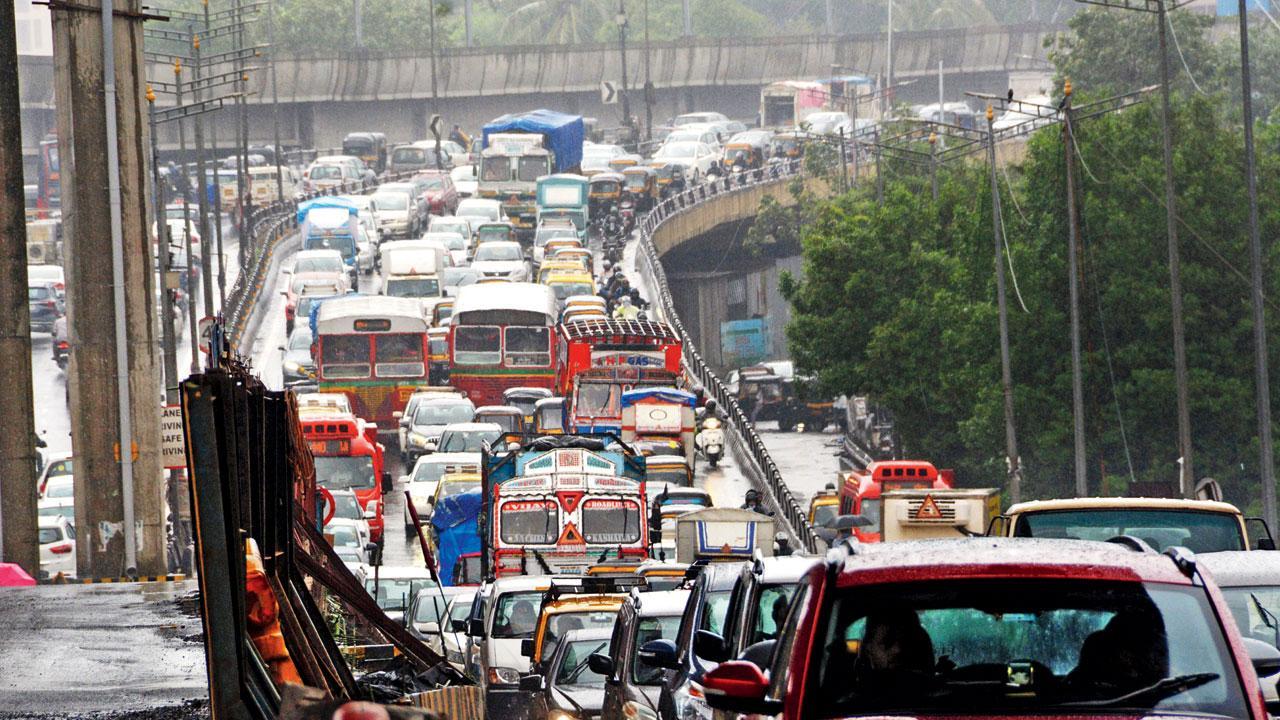 Traffic congestion on WEH at Kurar, Malad. Vehicular emissions have become a major contributor to air pollution. File pic
Vehicular emissions, which have doubled since 2016 and became a major contributor to rising air pollution; and localised pollution including garbage burning are causing frequent deterioration of air quality in some parts of the city, even as its overall air quality index saw an improvement to moderate level. 
On Tuesday, the System of Air Quality Weather Forecasting And Research (SAFAR), based on the readings from 10 air air quality monitoring stations in the city, recorded an overall AQI of 197—which falls in the moderate category (101–200). However, of the 10 stations, Andheri recorded an AQI of 228 (poor), while Malad and Mazgaon crossed the 300-mark recording an AQI of 301 and 312, respectively. An AQI between 201 and 300 falls under the poor category and above 300 falls under the very poor category. 
Gufran Beig, founder and project director of SAFAR, said areas that have been recording poor and very poor AQI have maximum vehicular congestion and pollution, open lands full of dust and spots where garbage is burnt in the open. "The poor AQI in selected areas is definitely due to vehicular emissions, localised pollution, etc. Garbage burning is hazardous to health and also deteriorates the air quality. The civic body needs to work on this issue," Beig said.
While localised air pollution may not increase the overall AQI of a larger area, it is severely harmful to the locals. As per an ICMR report, Maharashtra recorded 1,39,118 deaths in 2019 due to premature air pollution, which accounts for 16.7 per cent of overall deaths in the country due to air pollution. The state has the second-highest air-pollution related deaths in India.
Roadside garbage, along with organic biomass from households and agriculture, also contains a high volume of plastic, which releases harmful chemicals like carbon monoxide, formaldehyde and arsenic when burnt. This not only leads to respiratory disorders but also cancer, liver and immunity disorders, according to the Massachusetts Institute of Technology (MIT). 
"Dry air from the northeast at lower levels coupled with low temperature and dust storms from the gulf had led to deteriorating air quality in the city, but the situation has now changed. Currently, due to dry weather, AQI is improving to a moderate level but in selected areas AQI is poor or very poor due to localised and vehicular pollution," said Mahesh Palawat, vice-president of  Skymet Weather, a private weather forecaster.
AQI on Tuesday
. Bhandup: 149 (Moderate)
. Colaba: 146 (Moderate)
. Malad: 301 (Very poor)
. Mazgaon: 312 (Very poor)
. Worli: 110 (Moderate)
. Borivli: 183 (Moderate)
. BKC: 162 (Moderate)
. Chembur: 173 (Moderate)
. Andheri: 228 (Poor)
Mumbai 124th most polluted city in the world: IQAir survey
India's air pollution worsened in 2021, according to the World Air Quality Report released by IQAir, a Swiss firm. 
Among the megacities in India, Kolkata ranked 60 globally with an average PM2.5 concentration at 59 μg/m³ followed by Mumbai (ranked 124th) with 46.4 μg/m³. Hyderabad, Bengaluru and Chennai ranked 232, 505, and 681 with PM2.5 levels at 39.4 μg/m³, 29 μg/m³, & 25.2 μg/m³. Navi Mumbai ranked 71 globally with PM2.5 levels at 56 μg/m³.
No cities in India met the WHO air quality guideline of 5 µg/m3 and In 2021. In addition, 48 per cent of Indian cities reported PM2.5 concentration more than 50 µg/m3, 10 times the WHO guideline, the IQAir report pointed out.
"The PM2.5 concentration in Mumbai fell closer to the national safe level in 2020 as a result of successive lockdowns. Nonetheless, it was nearly three times higher than the current WHO criteria. There is an immediate need to put in place the tough steps that the Mumbai Clean Air Action Plan recommended as well as the recently launched Mumbai Climate Action Plan, which includes air pollution as a key sector with focused action tracks. The current state administration must increase efforts to combat air pollution, which are currently insufficient," said Bhagwan Kesbhat, founder, Waatavaran Foundation.