The Mahaparinirvan Diwas is observed on December 6 and a large number of people visit Chaitya Bhoomi in Dadar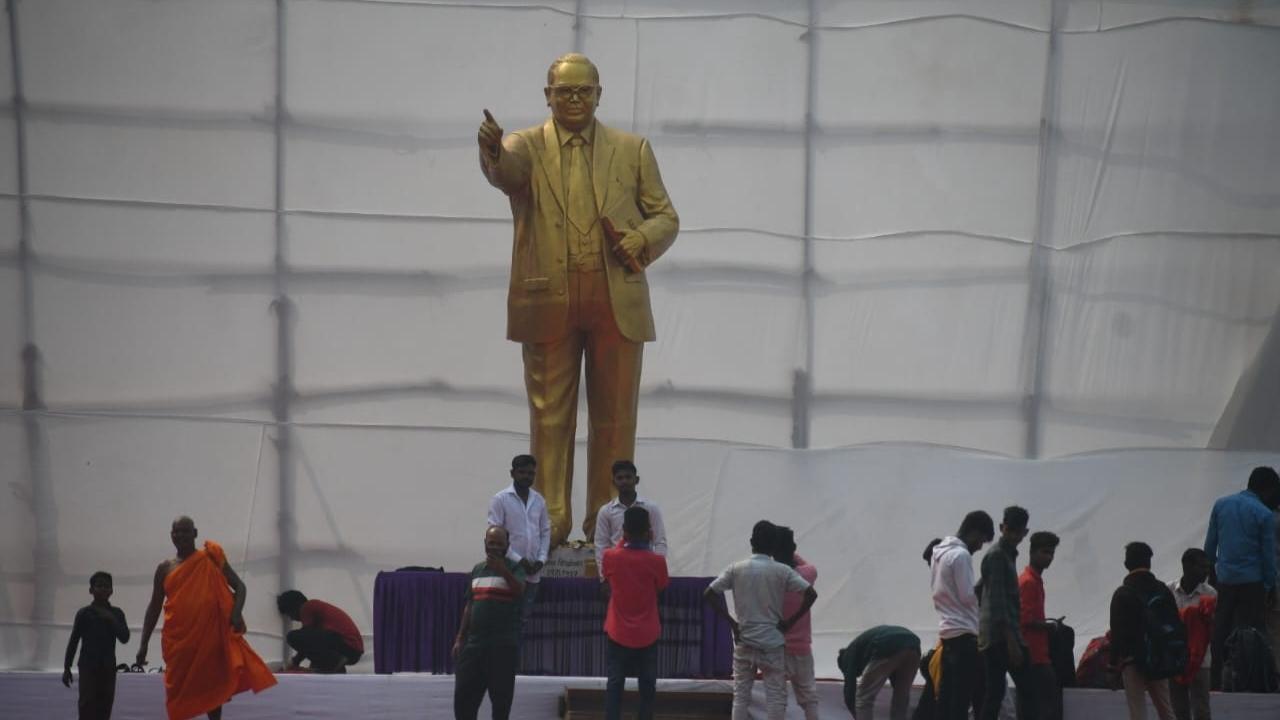 Preparations in Dadar to mark the Mahaparinirvan Diwas. Pic/Ashish Raje
On the occasion of Mahaparinirvan Diwas which is observed on December 6 and a large number of followers of Bharat Ratna Dr. Babasaheb Ambedkar visit Chaitya Bhoomi in Dadar to pay their homage. The Western Railway (WR) has made elaborate arrangements to manage the extra rush of passengers as well as to avoid any untoward incident.
In a press release issued by Sumit Thakur, CPRO, WR, the details of the arrangements made by WR for the convenience of the railway commuters.
ADVERTISEMENT
1.    Commuter Convenience:
•    Helpdesks have been set up at Dadar station to guide the public. 
•    Signage Boards have been provided at Dadar station indicating directions towards Chaitya Bhoomi and towards Rajgriha Memorial in Marathi, Hindi & English.
•    Directional Signage Boards are also provided at entries, exits, directions and other public utility areas for the guidance of the passengers. 
2.    Crowd Management:
•    Proper plan and map made for smooth movement of crowd.
•    Adequate RPF/GRP staff (approx. 450 personnel) have been deployed to monitor crowd movement at Dadar station.
•    Regular announcements using megaphones done to guide the public.
•    24X7 availability of railway supervisors is ensured at Dadar station to attend to any emergencies.
•    FOBs and Platforms are being regulated for guided flow of passengers.
IN PHOTOS: Hundreds gather at Dadar to mark Mahaparinirvan Diwas
3.    Ticketing & Facilities:
•    Additional booking counters set up at Dadar station and at nearby stations have been informed to operate extra counters.
•    Additional Facilitators will be available at the ATVMs in addition to existing facilitators. 
•    Extra staff at booking counters, as well as Ticket Checking staff has been provided to facilitate and guide passengers round the clock. 
4.    Train Operations:
•    Motormen and Train Managers have been sensitized about followers boarding/deboarding at Dadar station as well as to remain extra alert & vigilant. 
5.    Passenger Amenities:
•    Arrangement for drinking water, additional lighting, fans, glow sign boards and adequate catering facility has been made available at suburban stations.
•    Catering units are also instructed to operate their stalls till the last train and open them early morning. 
•    Additional toilet blocks are provided at Dadar station.
•    Parking Lot beside Platform No. 5 at Dadar station made available for commuters. 
•    Manpower for the operation of lifts and escalators deployed.
6.    Medical Assistance to Public at stations:
•    Doctors and associated staff have been made available with emergency kits 24 hours at Dadar station 
•    Bandra Ambulance with Portable Medical Kit for Accident (POMKA) is made available till 7th December, 2022.
•    EMR facility at Dadar station on Platform No. 6.
•    Details of medical team has been made available with SS/SM at stations.
The WR said, "passengers are requested to cooperate with railway administration by keeping the trains and stations clean and traveling with proper tickets to avoid any inconvenience during their travel."