The efforts taken by the forest department along with the wildlife lovers in Mangaon at Raigad district have helped in the successful rescue of a huge crocodile that has ventured into the city following heavy rains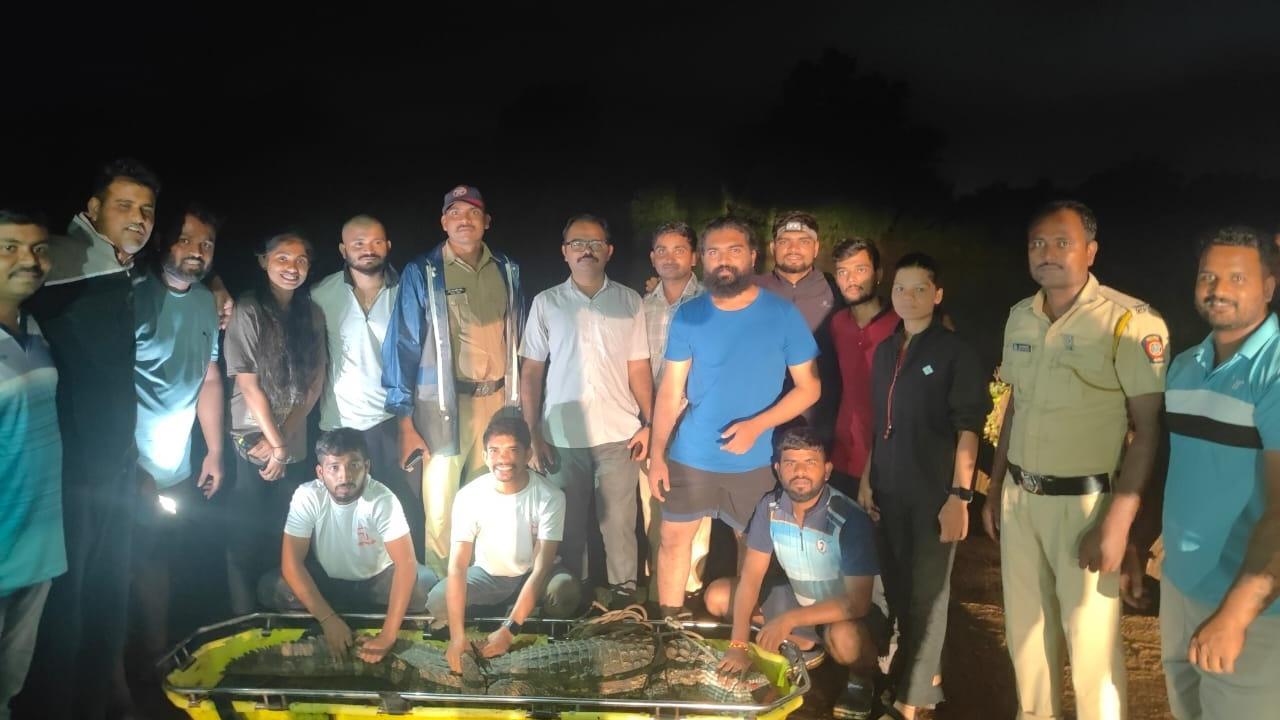 Crocodile rescued by Forest Department, Police and Kolad Rescue Team (Pic/Pratik More)
The efforts taken by the forest department along with the wildlife lovers in Mangaon at Raigad district have helped in the successful rescue of a huge crocodile that has ventured into the city following heavy rains. 
Naturalist and Wildlife Photographer Shantanu Kuveskar told mid-day that on Thursday night, a 7-feet long huge crocodile was seen roaming freely on the road in front of Mangaon Kacheri Road, Mangaon Murthy Complex. 
ADVERTISEMENT
It may be noted that this is the first time in Mangaon city that a crocodile was found roaming on the street in a residential area creating panic among the citizens.
A huge crowd of onlookers gathered and due to the commotion, this huge crocodile entered Om Apartment in front of the place.
Mangaon police constables Ramnath Doifode, Mayur Patil, Bharat Vaman, Vikas Shinde, Pranav Lande, Yuvraj Dahiphale, and Vinay Patil immediately rushed to the spot and tried their best to bring the crowd under control.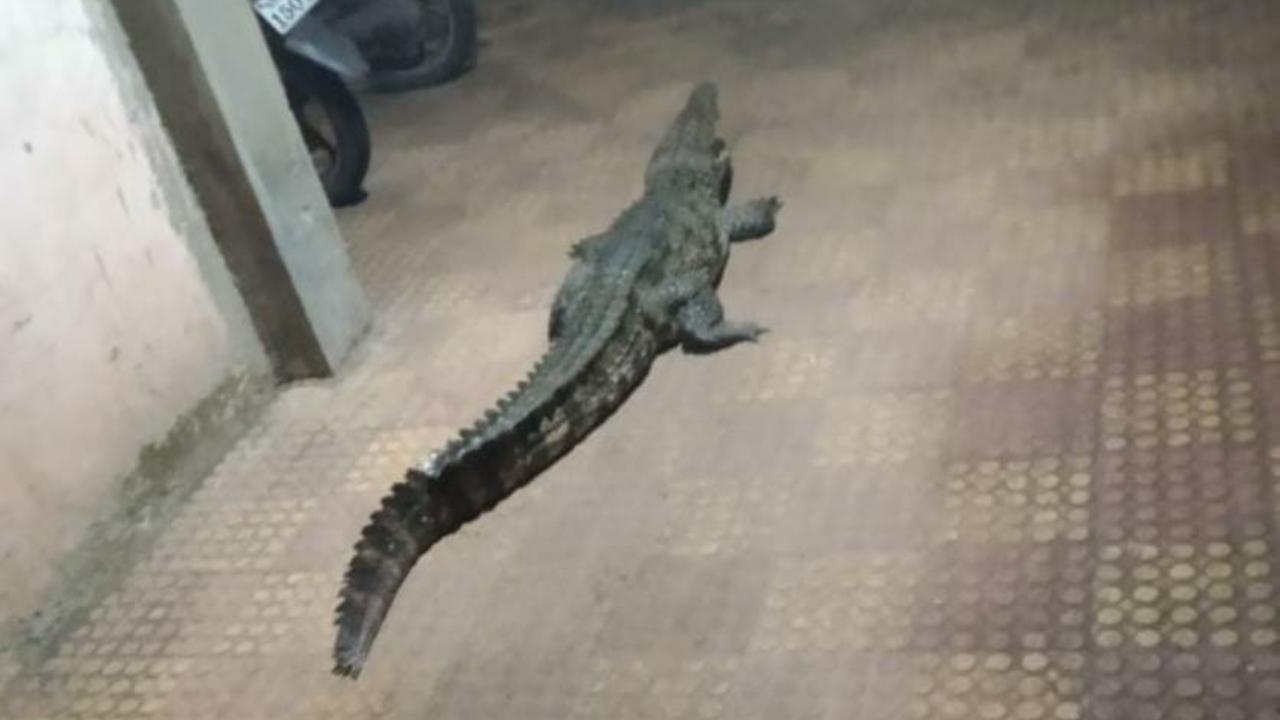 Crocodile rescued from Mangaon city (Pic/Pratik More)
Mangaon-based wildlife researcher Shantanu Kuveskar, and forest range officer Aniruddha Dhage immediately rushed to see the overall situation and brought the situation under control by keeping the enthusiastic crowd away from the crocodile.
Harshada Kale, a social worker from ward no 6, and activists Sumit Kale, Sarpamitra Shubham Patil, and Kedar Jadhav also helped in controlling the situation. 
Under the guidance of Roha Deputy Conservator of Forests Appasaheb Nikat and Assistant Conservator of Forests Vishwajit Jadhav, Mangaon Forest Range Officer Aniruddha Dhage, Forest Guards Anil More and Vaishali Bhor, Driver Vivek Jadhav, Sagar Dahimbekar of Sahyadri Wildlife Conservation Society Kolad, Nilesh Lokhande, Suraj Dahimbekar, Pranay Sagavekar, Shweta Vishwakarma, Prayag Bamugade, Ajay Rajivale, and Manga, the crocodile was safely rescued with the help of Naturalist and Wildlife Researcher Shantanu Kuveskar.
"More than the Crocodile, the challenge was to handle the gathered crowd of people. Due to the efforts taken by everyone the crocodile was safely  rescued from Om Apartment and released back in its natural habitat in Mangaon Kal River at 1 am,"  said Shantanu Kuveskar
Around 12:15 in the night, the rescue team from NGO SVRSS - Raigad arrived and under the leadership of Sagar Dahimbekar, safely rescued the crocodile.
Range Forest Officer Aniruddha Dhage has appealed to the citizens to immediately contact the local forest department without causing any harm to the wildlife if such a situation arises due to the current flood situation.
"In wildlife rescue work, obstacles arise due to unnecessary crowding of people, so the rescuers also have to think about the safety of the people in the crowd gathered with the wildlife. I would like to appeal to the people to understand and calmly stand aside and allow the rescuers to do their work properly during the wildlife rescue work." Shantanu Kuveskar added.
"Exciting news! Mid-day is now on WhatsApp Channels

Subscribe today by clicking the link and stay updated with the latest news!"
Click here! Will you take intranasal vaccine as a precautionary dose?