Dr Kalyani Thakur, senior veterinarian, RESQ, told mid-day that the pangolin was dehydrated and had deep wounds over the right side of the face near the eye, under the arm and on the back of the body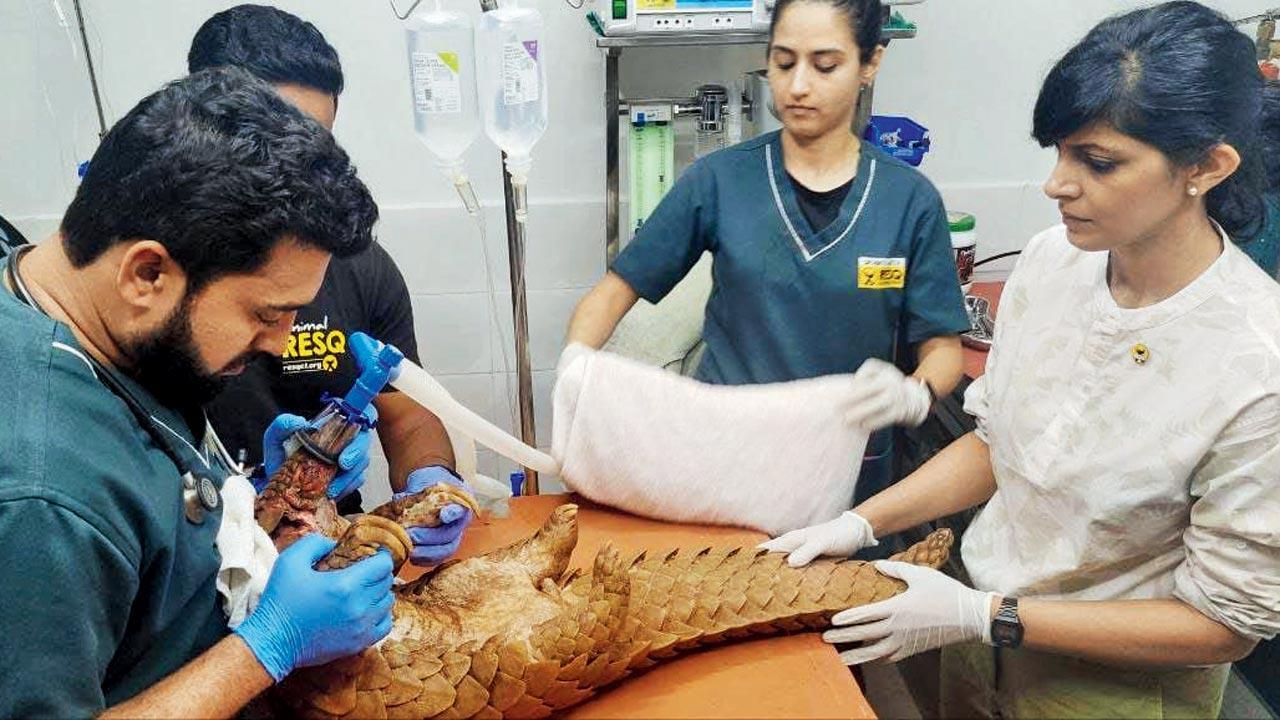 The adult male pangolin being treated at the Pune centre of NGO RESQ Charitable Trust
The efforts by Chiplun forest department and NGO RESQ Charitable Trust helped save the life of an injured pangolin. The animal was nursed back to health and released into his natural habitat on Thursday. Pangolins are one of the highest trafficked species in the world. 
Chiplun Divisional Forest Officer Deepak Khade told mid-day, "We found the male adult Indian pangolin on September 4. As it had extensive wounds all over its neck, we gave him first aid. We also contacted Neha Panchamia from RESQ Charitable Trust, requesting their help with its treatment and rehabilitation. It was on the same day that we transported the pangolin to RESQ Pune. After it recovered, we released it back into its natural habitat on Thursday."
ADVERTISEMENT
The fully recovered mammal was released into its natural habitat on Thursday. Pics/Maharashtra Forest Department 
Dr Kalyani Thakur, senior veterinarian, RESQ, told mid-day that the pangolin was dehydrated and had deep wounds over the right side of the face near the eye, under the arm and on the back of the body. "Emergency stabilisation, wound cleaning and tube feeding was immediately provided to him. The deep puncture bite wounds could have been inflicted by another domestic or wild canid [a mammal of the dog family]. X-rays showed that he had no orthopaedic injuries but his blood tests were abnormal," said Dr Thakur. 
It may be noted that RESQ Founder and President Neha Panchamia was also instrumental in the pangolin's recovery.  "Pangolins are sensitive animals. While the veterinary team was focused on his medical condition, the rehabilitators were focused on ensuring it remained stress free while under captive medical rehabilitation. His enclosure was enriched to suit the species. He was monitored 24 hours using live cameras and besides medical treatment or basic cleaning of the enclosure, he was allowed to recover undisturbed," Panchamia said, adding, "Designated handlers would take him to an anthill to ensure he was feeding naturally, in addition to the tube feeding." 
Dr Chetan Vanjari, senior veterinarian, told mid-day that the pangolin recovered in around two weeks and its blood test reports came back normal. Following this, they along with the forest department decided on releasing it.
Under threat
According to the Wildlife Crime Control Bureau website, "Major threats to pangolins in India are hunting and poaching for local consumptive use and international trade. There is now greater evidence of its inclusion in illicit international trade, in particular its scales, from India through Myanmar to China and south East Asian countries as the most likely final destinations. Inadequate information on population and distribution further accentuates the threats arising from hunting and poaching."