10 high-speed diesel vehicle models to be fitted with green fuel kits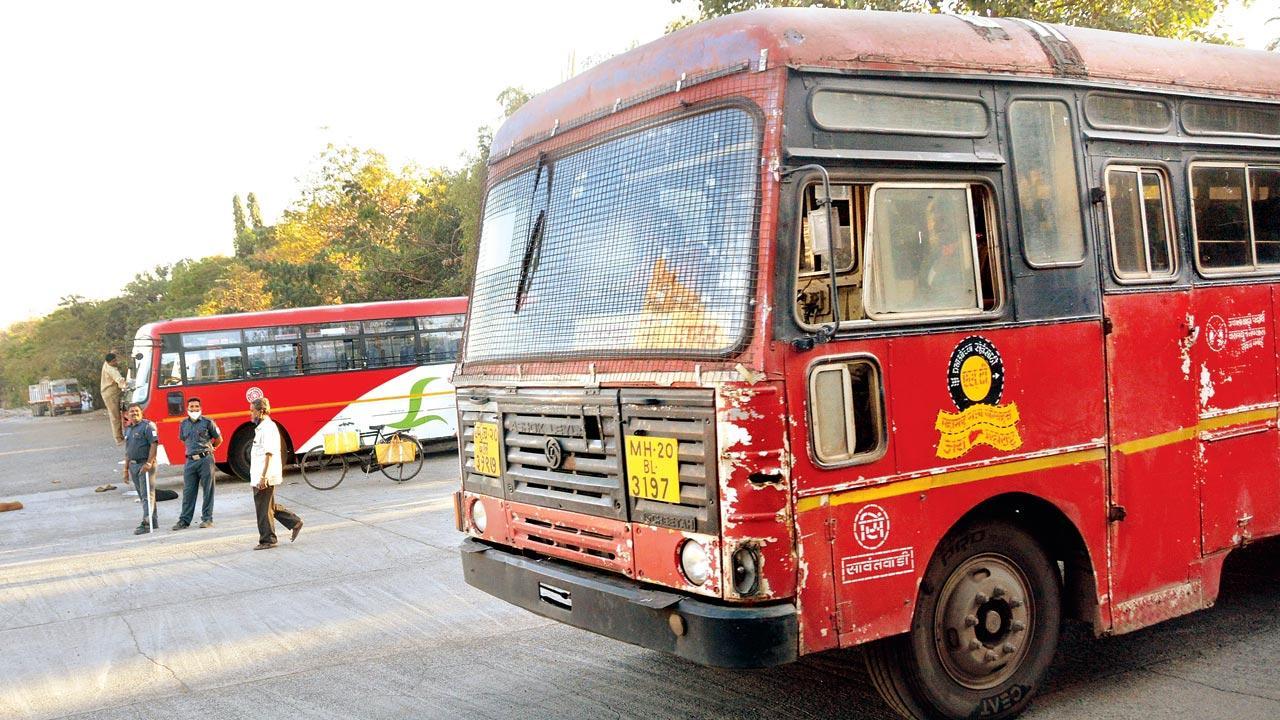 The MSRTC operates approximately 85,000 bus trips daily. File pic/Sayyed Sameer Abedi
Listen to this article
Maharashtra: MSRTC embarks on green plan, 5,000 buses to run on LNG
x
The MSRTC has invited bids this month for companies who can pull off this feat effectively
A senior official said that the idea is to get certification for 10 different models
The project includes installation of the equipment and supplying LNG
Maharashtra State Road Transport Corporation (MSRTC), which has one of India's largest bus fleets, has embarked on an ambitious green-energy programme under which 5,000 of its buses will run on liquified natural gas (LNG). The MSRTC has invited bids this month for companies who can pull off this feat effectively.
A senior official said that the idea is to get certification for 10 different models of existing high-speed diesel buses to be retrofitted with LNG kits. The project includes installation of the equipment and supplying LNG to them along with providing a comprehensive warranty for each lot of buses with at least 50 per depot. A list of 82 depots has been short-listed for the project. "The ten-year project also includes making provisions for and setting up LNG setup supply arrangements at respective locations to be kept ready before deployment of converted buses. An approximate space of 40x40 metres will be made available for building LNG-dispensing stations in bus depots," he added.
ADVERTISEMENT
"We are positive about the project. The successful bidder will have to make the facility available at the depot level," MSRTC managing director and vice-chairman Shekhar Channe told mid-day.
Industry experts said that LNG as a transit fuel is more economical than CNG. "Buses using LNG can ferry a heavy load at low costs and they can travel up to 600-700 km on a single tank refill, which is up to 2.5 times more than CNG buses. Also, they emit fewer greenhouse gases and pollutants than traditional fuels like diesel," an expert said.
The MSRTC has over 17,000 buses and operates approximately 85,000 bus trips daily with more than 65 lakh passengers, on an average, availing themselves of its services daily. 
Paresh Rawal, public policy (transport) expert, said, "The plan to shift some part of the fleet to LNG is indeed promising. Procurement of LNG is one of the key green fuel and energy security plans for India as a country as we have recently signed a $7-9 billion deal with the UAE to import the gas for the next 14 years, starting 2026."
17,000
Fleet strength of MSRTC 
"Exciting news! Mid-day is now on WhatsApp Channels

Subscribe today by clicking the link and stay updated with the latest news!"
Click here!