Apex court allows the national election commission to continue proceedings in the matters related to the party's symbol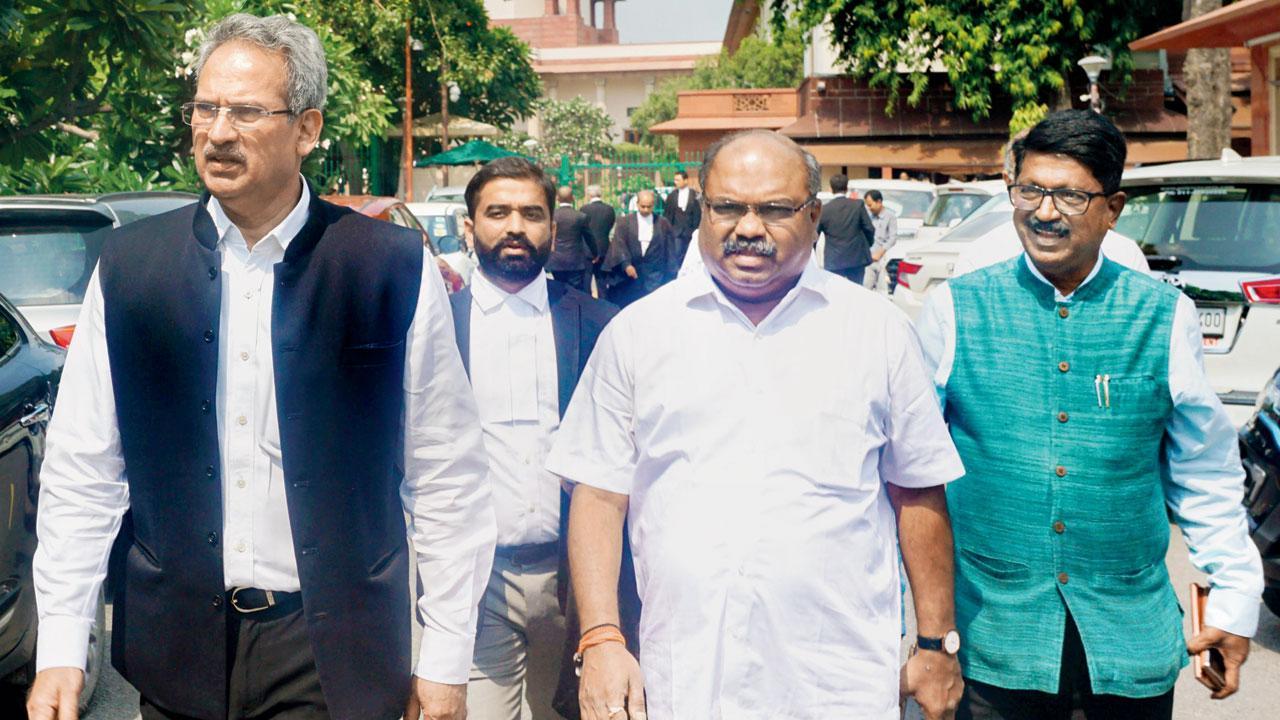 Shiv Sena (Uddhav faction) general secretary Subhash Desai (left) with party leaders Anil Parab, Arvind Sawant at SC on Tuesday. Pic/PTI
The fight for the Shiv Sena's official symbol has shifted entirely to the Election Commission of India (ECI), after the Supreme Court permitted it to continue the proceedings that will decide the electoral fate of the warring factions, on Tuesday. Both the Uddhav Thackeray-led and Chief Minister Eknath Shinde-led factions claim to be the real Sena, ahead of the local body polls in Mumbai and Maharashtra.
The five-member constitution bench of the SC vacated a verbal stay on the ECI's functioning in the applications made by the Shinde and Thackeray factions. The SC is hearing several petitions filed by the two groups after the Sena split and the MVA government was replaced with the Shinde-headed alliance with the BJP.
On Tuesday, the Thackeray group wanted the SC to decide the matters before it, while staying ECI's, arguing that all issues were interrelated. A battery of lawyers represented both sides while anxious people watched the live webcast of the SC's proceedings.
The established symbol of bow and arrow is the one each faction wants. The Sena came to power twice in alliance with the BJP, and once with the Congress and NCP, by contesting the polls on this symbol. 
Also read: 'Real' Shiv Sena case: Will apply 'rule of majority' principle, says CEC
The ECI has decided similar cases in the past preferring the factions that had more elected members to allot the party symbol. People in the know said in some cases, the recent one being Lok Janshakti Party (LJP) in 2021, the commission had frozen the party symbol.
While his camp saw the development as a reason for celebration, a couple of days after a decision in the Shivaji Park allotment for Dussehra rally went in favour of the rival faction, CM Shinde welcomed the directive. "The directive is with the principles of democracy in which the majority is valued. The ECI's work is different from the SC. We haven't taken any illegal decision and we are confident of winning in the ECI," he said.
Sena leader Aaditya Thackeray said it was neither a shock to his party nor a boost to the Shinde group. "Our fight for the truth will continue. We have faith in the judiciary. The further decisions will be very important for democracy," he added.