Devendra Fadnavis serves a mashed up Panchamruta while making welfare announcement for every section imaginable
Deputy Chief Minister and Finance Minister Devendra Fadnavis and state Marathi Language Minister Deepak Kesarkar with the State Budget 2023-24 flank CM Eknath Shinde. Pic/ANI
Deputy Chief Minister Devendra Fadnavis tabled the state's annual budget on Thursday, which is based on the Panchamruta (five-elixir) principle, including sustainable farming and prosperous farmers, inclusive progress of women, backward classes and other backward classes, capital investment in creating infrastructure, employment generation and environment-friendly development in view of global warming and climate change. He did not put additional burden on the people or sectors that the government wants to develop in the state.
In his and the Eknath Shinde-led government's first budget, that is the fuller one before the government faces the next big election, Fadnavis covered almost every social group and economic sector, giving out a financial outlay or scheme or two for them ahead of election year 2024. The budget has a revenue deficit of Rs 16,122 crore for the year 2023-24, but the FM was confident of mitigating it at the end of the year. He said the total outlay was Rs 1,72,000 crore. The state's tax revenue is expected to be Rs 2,98,181 crore. An amnesty scheme was announced for paying taxes that have not been paid after the GST regime came into effect. Taxes or levies that are beyond the GST scope were not increased. The tax rate on aviation fuel was decreased to 18 per cent to offer the sector a competitive field for refuelling.
ADVERTISEMENT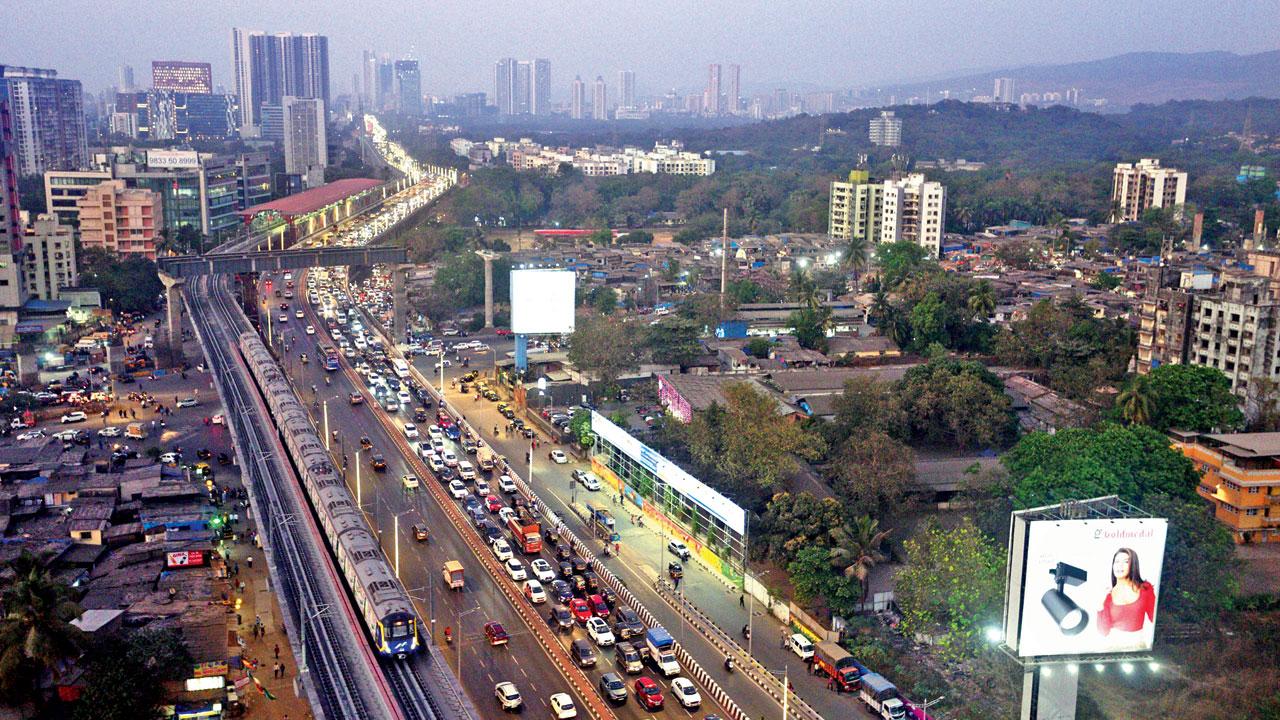 Of the 337 km metro network in the Mumbai Metropolitan Region, 46 km lines are operational, another 50 km metro line will be made operational this year, said Devendra Fadnavis. Representation pic/Rane Ashish
Under the NaMo Scheme, 1.5 crore farmers will be able to buy crop insurance only for Rs 1 because the government will be paying the entire premium from this year. Sustainable water conservation and resource programmes have been boosted with a scheme to create farm ponds, river grids, and diversion of water that otherwise flows out. The farmers who have been getting grains, will now be given money through direct bank transfer. The state government has announced an additional R6,000 crore for the farmers who have been getting an equal amount from the Centre.
Also Read: Maharashtra Budget: Election-oriented budget, nothing for common people, says Rohit Pawar
Women employees who earn Rs 25,000 per month will not pay professional tax. The previous ceiling was Rs 10,000. They have been offered a 50 per cent discount on expenses if they travel by the state transport buses. Working women will get 50 hostels. 'Shakti Sadan', a new scheme, will provide 50 shelters, legal aid, medical care and counselling to survivors of sexual exploitation or domestic violence. 
The honorarium of Asha and Anganwadi volunteers has been increased substantially. The fixed deposit scheme for girl children has been extended for yellow and red ration card holders. Women homebuyers will get a one per cent stamp duty waiver.
Effort has been made to bring underprivileged caste groups into the mainstream by forming a financial board for them. In addition to expanding the Balasaheb Thackeray Aapla Dawakhana (local clinics), the state proposes to construct new academic and hospital buildings for about a dozen government medical colleges. In a major respite for people who seek financial assistance for medical emergencies, the treatment cost to be covered under the government health insurance scheme has been increased to R5 lakh from R1.5 lakh. The treatment cost aid limit of kidney transplant has also been increased.
Fadnavis said the government has proposed to construct 10 lakh homes for the underprivileged from all social groups. A scheme named after Prime Minister Narendra Modi will be implemented to create more such housing units.
More metros for Mumbai
Specific thrust has been given on infrastructure like new greenfield highways, metros, modernisation of bus stations and airports. Of the 337 km metro network in the Mumbai Metropolitan Region, 46 km lines are already operational. Additionally, another 50 km metro line will be made operational this year, said Fadnavis. The work on Metro line 10 (Gaimukh to Shivaji Chowk, Mira Road with a total length of 9.2 km and estimated cost of Rs 4,476 crore; Line 11 from Wadala to Chhatrapati Shivaji Maharaj Terminus (CSTM) with a total length of 12.77 km and estimated cost of R8,739 crore; and Line 12 from Kalyan to Taloja with a length of 12.77 km and estimated cost of R5,865 crore, is expected to be completed soon. A sum of R250 crore has been allotted to the city's urban transport project (MUTP). The second phase of the CCTV network will take off as early as possible.
NaMo mantra
Fadnavis told mid-day that he worked on a five-elixir principle as per PM Narendra Modi's mantra of creating a budget that ensures the progress of all. "This is the country's amrit kaal (75 years). The five things may have been treated separately, yet they will create a collective impact, because they are supplementary and complementary to one another in ensuring overall development. I have put in all my experience as a legislator and keen student of finance, especially budgetary matters. I am confident that my budget is in tune with a welfare state that is bound to face a deficit," he said.
Chief Minister Eknath Shinde said the budget would take away the spell of darkness the previous government's bad policies had cast. "It takes us to a brighter future of a sustainable state," he added.
Opposition unhappy
Opposition leader Ajit Pawar said the FM lacked foresight and reality. "It was all about flowery language, daydreaming and a spurt of announcements. Fadnavis has clearly failed in writing a budget," he said, adding that the state's growth has slowed and per capita income dropped. State Congress president Nana Patole said the budget was jugglery of big figures. Do you agree with the management`s decision of only letting devotees offer jal abhishek at Babulnath temple?