In all, three dangerous stretches on Mumbai-Ahmedabad Highway on the Maharashtra side saw 262 accidents that killed 62, grievously injured 78, with 73 people sustaining minor injuries from January to August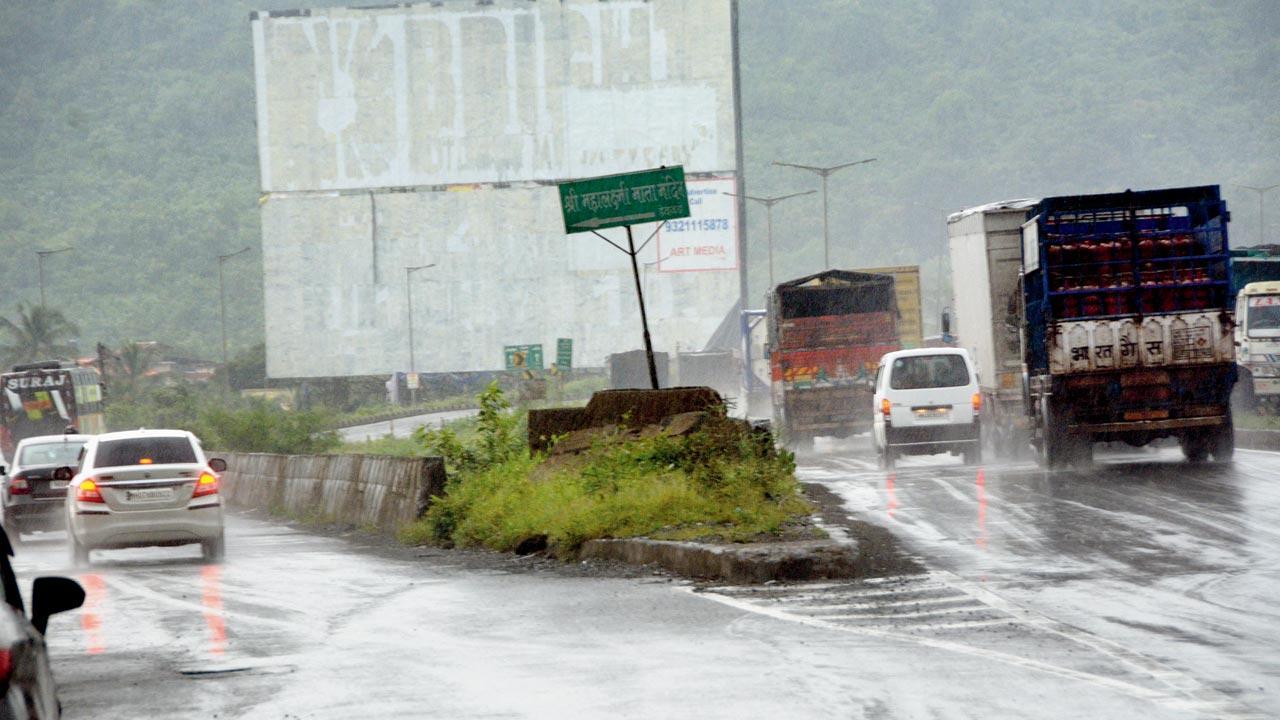 The Mumbai-Ahmedabad Highway diverges near Tansa river flyover but adequate signage informing motorists of this was missing during mid-day's test drive. Pic/Satej Shinde
Seven people die in road mishaps every month, on average, on the three stretches of the Mumbai-Ahmedabad Highway, including the one where former Tata Group chairman Cyrus Mistry lost his life in an accident, as per data from the Highway Traffic Police. The data, accessed by mid-day during its investigation and visits in the past week, shows that the Mumbai to Charoti stretch witnesses 32 accidents a month on an average. 
The Mumbai-Charoti stretch of the highway from Versova bridge till Charoti falls under the jurisdiction of three highway traffic police stations—Chinchoti, Manor and Charoti. This entire stretch saw a total of 262 mishaps this year till August, wherein 62 people lost their lives, 78 suffered major and 73 sustained minor injuries.
As per the data provided by the Highway Traffic Police, the 51 km of the highway from Wada Khadkona to Acchad, which falls under the jurisdiction of Charoti Highway Traffic Police, saw a total of 77 accidents from January to August this year wherein 26 people died, 24 suffered grievous injuries and 29 sustained minor injuries. This is the stretch where Mistry's car met with an accident near Surya river bridge.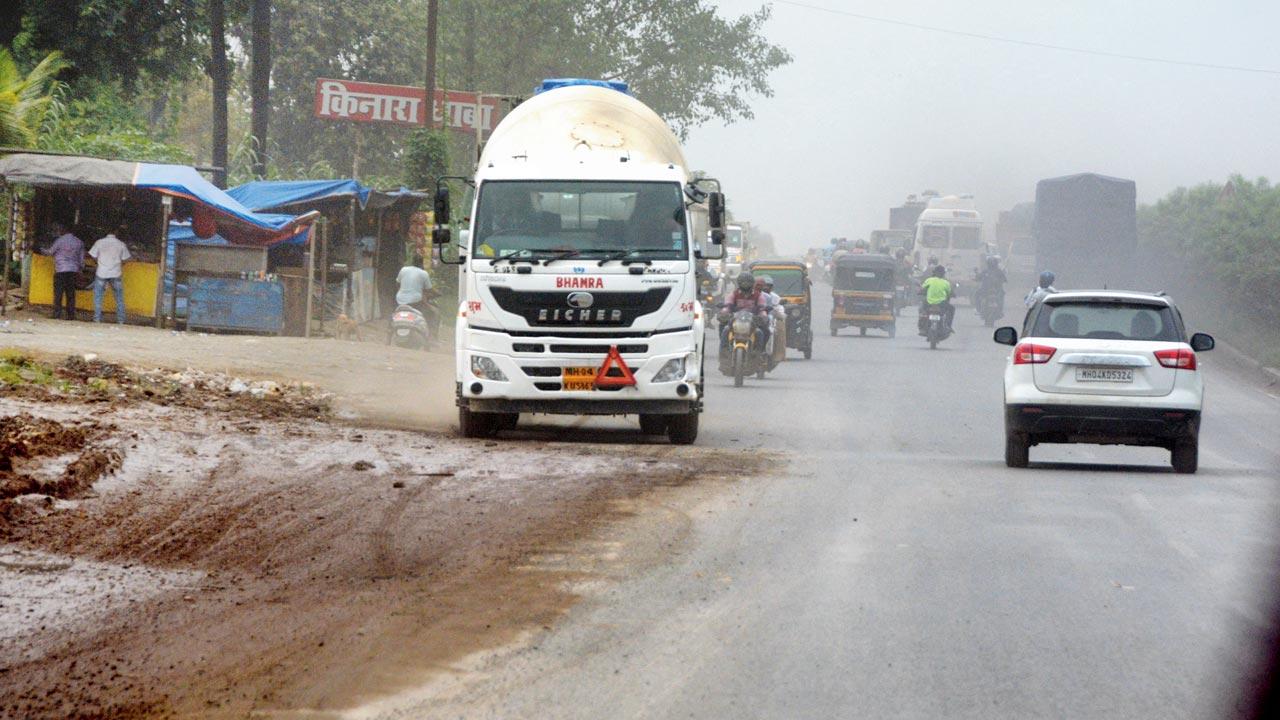 Vehicles were seen driving on the wrong side on the Mumbai-Ahmedabad Highway near Sasunavghar, Palghar. Pics/Satej Shinde
During the same period, the 48-km Manor stretch from Virar Phata to Wada Khadkona reported 100 mishaps in which 11 people died, 27 were grievously injured and 32 sustained minor injuries. Similarly, the Chinchoti stretch from Dahisar to Virar Phata covering a distance of 27.5 km saw 85 accidents and 25 deaths, while 27 sustained grievous injuries and 12 minor injuries.
Also Read: The 'V' and 'L' on the road that claimed Cyrus Mistry's life
Measures taken
After Mistry's death, Highway Traffic Police authorities have done an audit of the highway from Dahisar toll plaza to Achad, near Maharashtra-Gujarat border. The Maharashtra Highway Traffic Police have also written a letter to the project director of the National Highways Authority of India (NHAI) in-charge of the highway.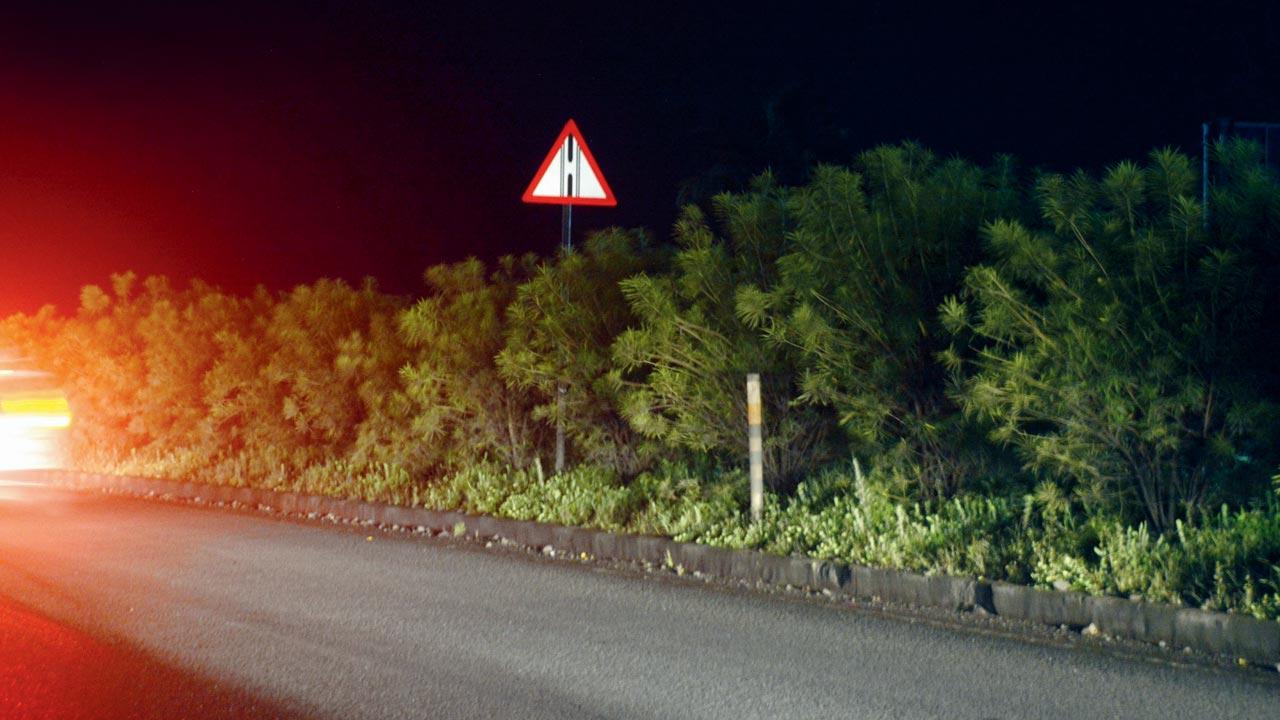 Lack of lighting along the highway makes the signage difficult to spot near Vasai flyover
Deputy Commissioner Police (Highway Traffic Police) Mohan Dahikar told mid-day, "There are four aspects we work on. The first is raising awareness among the masses through various activities, reaching out to motorists on the road and to youth in colleges, and making people aware of signage and traffic rules. It doesn't matter how many boards you install if a person doesn't know the meaning of it. The second aspect is enforcement. We are there on the road to make sure that the one who violates rules faces punishment. The third is road engineering. We identify blackspots and write letters to NHAI to place rumble strips, signage boards and other safety provisions. We also see if street lights are operational. The last one is emergency services. Many times, people are not even aware of helpline numbers. We coordinate with agencies to mobilise those injured in mishaps to make sure they get medical intervention. It's a continuous process and our aim is to bring down fatality." 
A senior officer, on the condition of anonymity, said, "Lack of knowledge about traffic rules is there, but we also need high-end road engineering and technology."
Mitigation measures
Chinchoti, Manor and Charoti traffic police stations have submitted separate lists to NHAI, suggesting mitigation measures to prevent further accidents on the highway. 
Charoti Highway Traffic Police in its letter to NHAI stated that they have identified 26 blackspots on the highway under their jurisdiction and recommended that rumble strips, blinkers and cat's eye or road studs be installed at these spots to help avoid accidents. The letter also mentioned that there are a few road crossing junctions on the highway which need to be closed and proper signage needs to be put up informing heavy vehicles to ply on only the extreme left lane. 
The Manor traffic police station in its letter mentioned that there are 24 blackspots in their jurisdiction and suggested measures specific to each of these locations. Apart from installing rumble strips and blinkers, Manor traffic cops have also suggested signage informing motorists of sharp turns, bridges, and permitted speed limit. They also added that the median and reflectors need to be cleaned at regular intervals so that signboards and the road periphery are clearly visible. 
As per the letter sent to NHAI by the Chinchoti traffic police, there are 16 blackspots on the 27.5-km stretch of the highway under their jurisdiction. They asked the highway authority to take measures to address these spots.
32
Avg. no. of mishaps on Mum-Charoti stretch per month 
26
No. of blackspots on the highway that falls under Charoti traffic police station