According to the Right to Education (RTE) Act, neighbourhood schools must be within a one kilometre radius for children between Classes I and V, and 3 km for children studying in Classes VI-VIII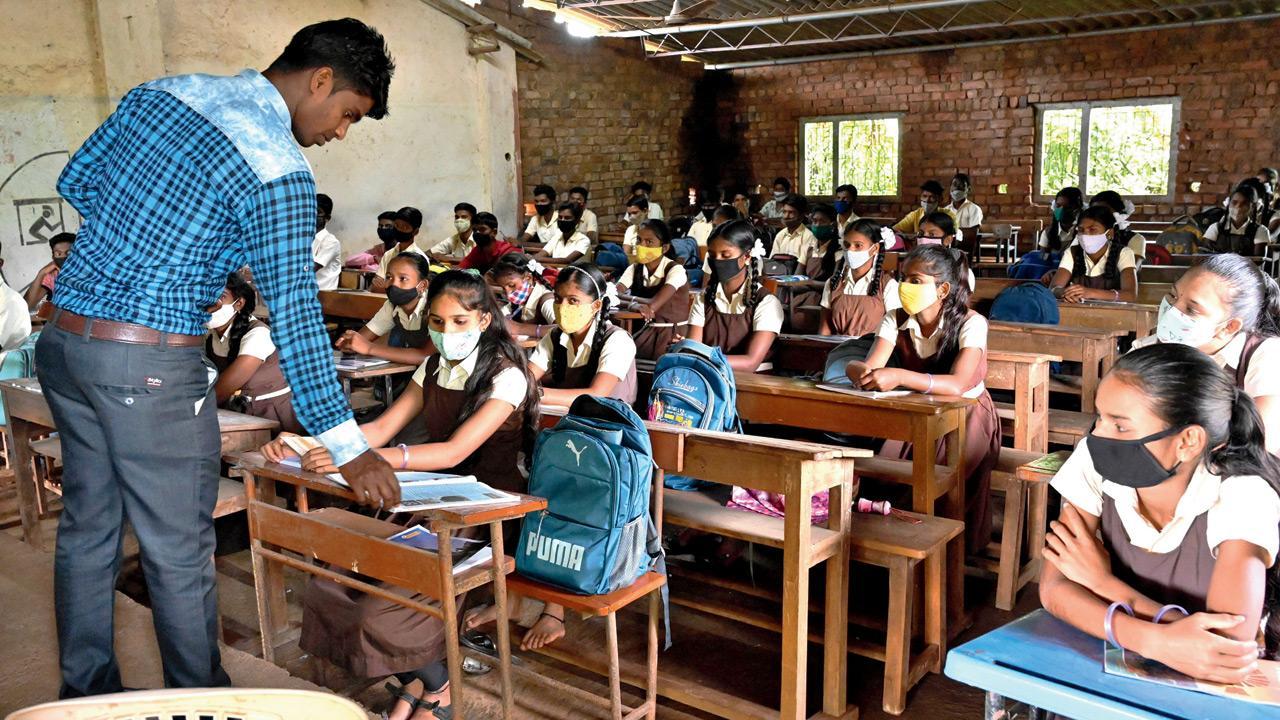 Students from over 35 different villages and padas study at Chhatrapati Vidyalaya and Junior College, Sakhare village
Even as schools have reopened in several Covid-free zones in rural Maharashtra since mid-July, students in several tribal villages in Palghar district are facing the "unavoidable punishment" of having to travel long distances, navigating dangerous roads, seasonal rivers, treacherous weather, and snakebite fear, to reach school daily.
According to the Right to Education (RTE) Act, neighbourhood schools must be within a one kilometre radius for children between Classes I and V, and 3 km for children studying in Classes VI-VIII. However, the Act does not mandate defined limits of neighbourhood schools for children studying in classes IX and above.
When this reporter visited different talukas in the Palghar district last week, he noticed several students walking 14 to 20 km daily to and from home and school. "It is like a punishment for me. It takes me more than an hour to reach school in Sakhare village," said Class VIII student Tejas Fadwale, who lives in Umbarwogan village of Vikramgarh taluka of Palghar district. Fadwale, who wants to become an engineer, is joined by five other students, including his classmate Pardeep Navasu.

While girls can avail free bus services to school as part of the Manav Vikas Yojana, there is no such facility available for boys. Pics/Hanif Patel
When asked why they don't board a bus to reach school, one of them said, "Paisa nahin hain." 
The students study at Chhatrapati Vidyalaya and Junior College, which is run by an 11-member trust. "Students come to this school for education from 35 different villages and padas located within the radius of around 8 km from here," said Vitthal Gore, principal of the school.
"All the schools were shut during the pandemic. We only reopened after securing permissions from the gram panchayat as the villages from where these students come, have not had any Covid-19 positive cases in the last one month," he added.
The school, which reopened on July 19, runs in two shifts. The first shift begins at 7.45 am for Class IX to XII students and ends at 12.15 pm. "The second shift starts at 12.30 pm for those in Classes VI-VIII and ends at 5 pm," Gore said.
The principal admitted that most students have to walk long distances to reach the school. "There is a Central government scheme [Manav Vikas Yojana], under which female students can get free bus services. But, at this point, due to the pandemic, bus services are yet to start. I   have written to the block education officer regarding the same."