According to the release issued by CM Eknath Shinde's team, their party induction was completed in the presence of Chief Minister Eknath Shinde on Sunday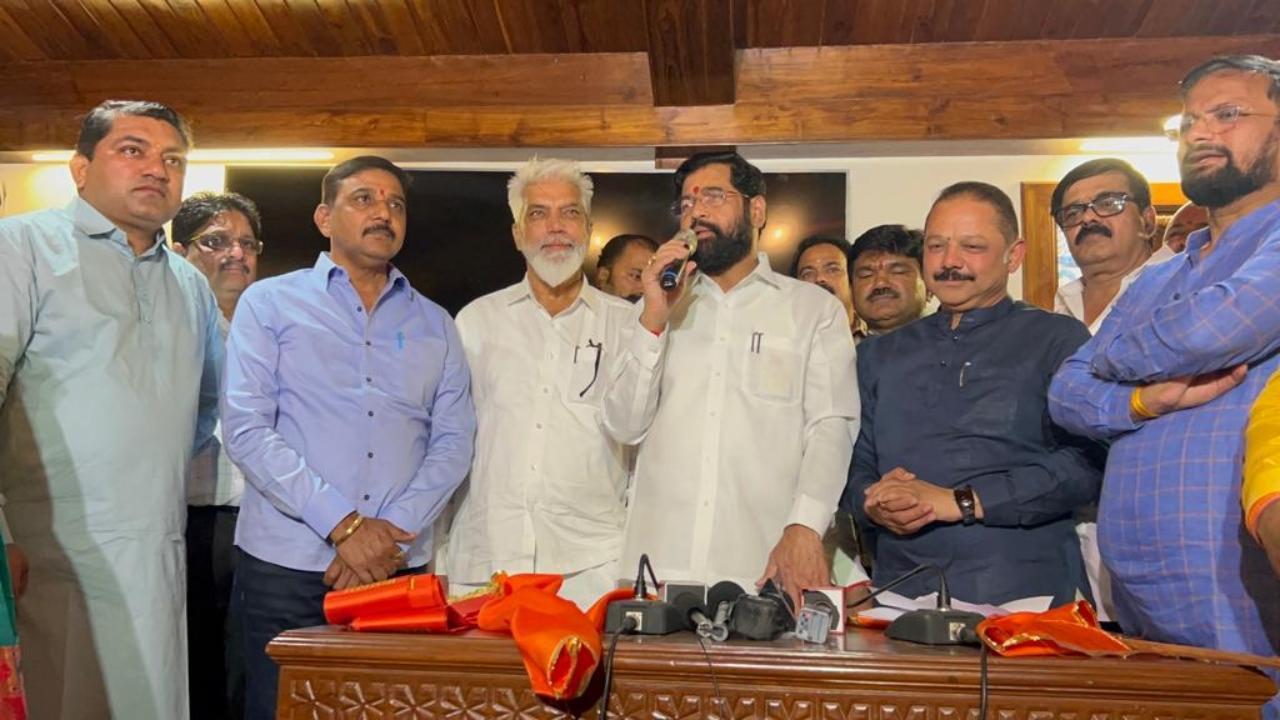 CM Eknath Shinde along with party leaders on Sunday. Pic/Eknath Shinde's team
Several office bearers and former corporators of Uddhav Thackeray camp from Nashik, Maharashtra joined Eknath Shinde's faction, said an official press release. 
According to the release issued by CM Eknath Shinde's team, their party induction was completed in the presence of Chief Minister Eknath Shinde on Sunday. Some of them are key office bearers and former corporators who joined Shiv Sena (Eknath Shinde camp) on Sunday. All of them entered the party with a saffron flag in their hands in the program held at Anand Ashram in Thane.
ADVERTISEMENT
It said, Mahila Aghadi district chief Shobhat Magar, Mangala Bhaskar, Shobha Gatkal, Shyamala Dixit, ex-corporator Uttam Donde, ex-corporator Prabhakar Palde, Mahila Aghadi city coordinator Jyoti Deore, Shashikant Kothule, Sharad Devere, Kumar Pagare, Pintu Shinde, Anita Patil,
Asha Patil, Seema Patil were among the many who joined the Eknath Shinde camp on Sunday.
It further said, ever since the coalition government came into existence in Maharashtra, many decisions have been taken considering the common man as the norm. Decisions have been taken to give justice to farmers, labourers, workers, women and students. The same was reflected in the recently presented budget of the state government.
Also Read: Uddhav Thackeray calls Rahul Gandhi's disqualification 'murder' of democracy
It said, an attempt has been made to give justice to different sections of the society through the state budget. 
Speaking on the occasion, Chief Minister Shinde said that this government is working on the ideas of late Balasaheb Thackeray and that is why many people are joining Shiv Sena. He clarified that the pending issues in Nashik district will also be resolved by his government.
Nashik District Guardian Minister Dada Bhuse, Maharashtra Pradesh Coordinator Shiv Sena Spokesperson Naresh Mhaske, Secretary Bhausaheb Chaudhary, Joint Liaison Chief Raju Anna Lovete, MP Hemant Godse, District Chief Ajay Boraste, Bhaulal Tambade, Metropolitan Chief Praveen Tidme were also present during the event, the press statement said. Should housing societies be more cautious with their elevators and sewer lines?