Cops arrest techie who stalked woman for eight years and went to the extreme of slyly deleting all her 'likes' even before she could see them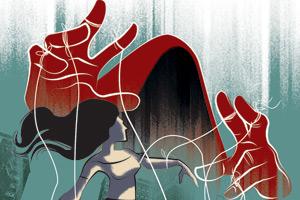 Illustration/ Ravi Jadhav
Love is blind? Very much; and according to this Romeo, it is also being obsessed with someone for eight years. A 25-year-old IT professional stalked a woman online, sent her the first request the day she opened a Tinder account, and hacked into it to swipe left for anyone trying to befriend her.
Shocked, the 26-year-old woman approached the police and got the man, who works at a BKC branch of a multinational company, arrested.
The Mumbai Crime Branch arrested the youth, identified as Abhijit Mukherjee, a Malad resident, on Thursday, based on a complaint lodged by the 26-year-old woman last month.
Tinder trouble
Police sources said the woman opened a Tinder account on March 1, and within hours, Mukherjee sent her a 'like'. She swiped right, and he asked her to meet him near Haji Ali dargah. Officers said the woman didn't want to meet him but agreed after he persisted.
When the two met on March 4, he started describing to her events from her personal life, college happenings, etc. He even accurately revealed her bank account details. Seeing her shell-shocked about him having so much private information about her, he told her that he worked in a multinational software company. A police officer said, "During their meeting, he told her that he had been working in the company's technical department since December 2017 and even described to her how he had been monitoring her on Tinder and, with the help of a flash link, would swipe left on every 'like' she received from other men."

The accused described to her how he had been monitoring her on Tinder. Representational Image
Utterly scared, the woman deleted her Tinder account that same day as soon as she reached home. She met him two more times later to find out in detail how he stalked her and what else he knew about her. During those meetings, he professed his feelings for her, saying he was in love with her and hence had been following her for eight years.
After that, she tried to stay as far away from him as possible, refusing to meet him or entertain any talk. Mukherjee, in the meanwhile, kept trying to catch her off guard by using different SIM cards. One of the times he managed to get through to her, he posed as a journalist and said wanted to interview her, but she refused.
Things also got ugly, when he abused and threatened her, warning her not to talk to anybody else because he loved her and wouldn't leave her "at any cost".
Behind bars at last!
Finally reaching breaking point, the woman approached the DN Nagar police, who filed an FIR under sections 354 (assault or criminal force to woman with intent to outrage her modesty), 354D (stalking), 419 (punishment for cheating by personation) and 506 (criminal intimidation) of the Indian Penal Code and 66D of the Information Technology Act.
He was arrested on Thursday night and produced in court yesterday. He has been sent to police custody till May 6. The police have found out that in 2016 Mukherjee had created a Facebook account under the name 'Munna Bhai Macho' and sent her abusive messages, adding his mobile number in them and telling her to call on it. One more FIR has been registered against him at BKC police station under IPC sections 354 and 354D and IT Act sections 67 and 67A.
Also Read: Mumbai Crime: Suspended Mumbai Cop Stalks Same Woman One Year On; Held
Catch up on all the latest Mumbai news, crime news, current affairs, and also a complete guide on Mumbai from food to things to do and events across the city here. Also download the new mid-day Android and iOS apps to get latest updates