Devastated family of the MBBS student, who the police have said was murdered in November 2021, raises several crucial questions about the way the case was handled and the probe conducted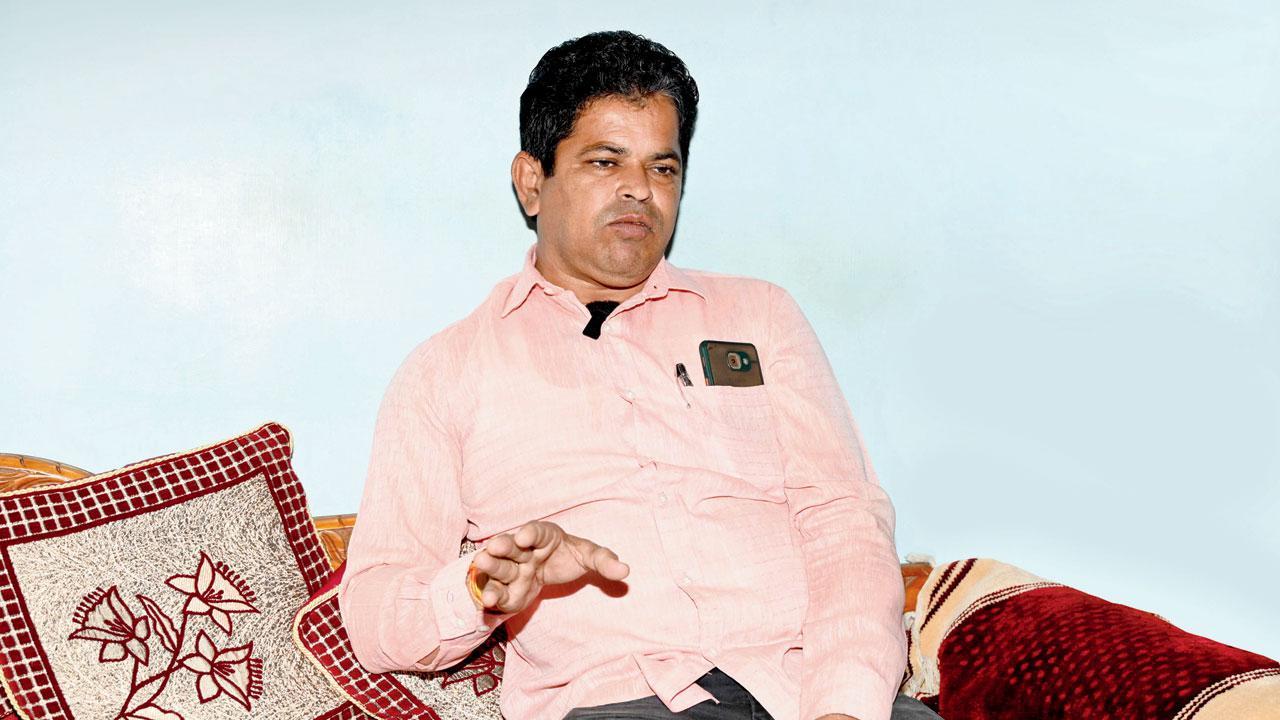 Father of the MBBS student who went missing from Bandra Bandstand on November 29, 2021. Pic/Hanif Patel
How can Mumbai be safe for women when cops have failed to find my daughter," said the father of the MBBS student who went missing in November 2021. The Mumbai Crime Branch has claimed that it has cracked the alleged kidnapping and added the woman was murdered by one of the two arrested accused. The woman's father, a journalist by profession, however, said the cops are drawing conclusions without gathering evidence as the accused's confession while in custody is not admissible before the court. He also pointed out how the same accused was given a clean chit in September 2022 by the cops after conducting a slew of tests.
The woman had left her home in Boisar on November 29, 2021 to appear for her second-year exam at Sir JJ Hospital. However, she went to Bandra Bandstand instead and has been missing since. Cops have arrested two accused in the case, one of whom had taken a photo with the student around 3 am that night. The same accused, Mithu Singh, recently confessed to killing her and dumping her body near Bandstand. 
No evidence yet
Her father said, "The Mumbai police first gave a clean chit to Mithu Singh after conducting several tests, including brain mapping, lie detection test and narco analysis, in September 2022. Three months after that, the cops called me and my son and daughter to sign a document seeking to close the case, but we refused."
"And now, they are claiming that they solved the case and that Singh and his friend, who we have been suspecting from Day One, murdered my daughter. Now the question is: should I believe in the earlier narco analysis, lie detection test reports or the cops' current claims?" he told mid-day.
Also Read: MBBS student case: Two crucial witnesses led to duo's arrest
He also questioned the lack of evidence to support the cops' claims and said, "The police are claiming they have solved the case, but where is the evidence? They have neither found her body nor her belongings yet. They are calling divers to search the area now, but a thorough search was done for eight days in December 2021 too, from Bandstand to Ratnagiri, but there was no result. What other outcome are they expecting this time?"
"As per media reports, Singh killed my daughter and disposed of her body near Bandstand. I wonder why none of it was captured in the CCTV footage? Even Singh's confession is not admissible as he can later claim he made the confession under police pressure. I need concrete evidence to get convinced. As a journalist, I have closely monitored a lot of crime cases and have seen how cops botch up probes for their own interests," the father said. 
He told mid-day, "The government claims that they are making the city safe for women, that they are going to promote nightlife, but all of these claims fall flat when it comes to actually protecting the women."
Delay by Boisar police
The father of the woman also claimed that the Boisar police registered a case 10 days after he complained about his daughter's disappearance. "The Boisar police wasted precious time as they registered a zero FIR of kidnapping on December 11, 2021 that too after I mounted political pressure on them," he said.
"The zero FIR was transferred to the Bandra police on December 12 but the cops there also could not do anything. The case was finally handed over to Mumbai Crime Branch Unit 09 on December 24, while my daughter went missing on November 29. Had the Boisar cops taken my complaint seriously, there are chances that my daughter would have been traced," the father told mid-day.
'Cops should quiz classmate'
mid-day has learnt that the woman was apparently actively avoiding a male classmate. The woman's brother confirmed this, telling mid-day, "One of her classmates had been asking her to meet him even when she was here with us during the month-long holiday. The cops should question that classmate, but they have only confiscated his phone so far. Though we are yet to ascertain why she got down at Bandra instead of going to her campus, it may be because she was trying to avoid that male friend."
No leads from private eye
The woman's father had pasted thousands of posters to find  the whereabouts of his daughter at railway stations on the Western, Central and Harbour lines soon after her disappearance, but did not get any leads. He had also hired a private detective apart from taking help of the transgender community in and around Mumbai to look for his daughter, but nothing came out of it. 
He said, "The private detective had told me back then that talented girls are often kidnapped and trafficked to other countries by human trafficking racketeers, and I believe that Singh and his accomplice did the same to my daughter. The cops have not explored this angle so far but are making claims about her death without any evidence. They should find substantial proof before making such conclusions, and make efforts to trace her and solve the case."
Nov 29
Day in 2021 when the woman went missing
8
Day in December 2021 when cops searched the sea for her body Should Joshimath subsidence be declared as a national disaster?