The bustling central suburbs, with their outstation train connectivity, see auto mafia charge way more than even their notorious counterparts in Bandra
For 1.5 km, from Kurla station to LTT, auto drivers charge Rs 50 more per person. Pic/Sayyed Sameer Abedi
In the second part of our investigation, mid-day has found the most outrageous fleecing by auto drivers in the eastern suburbs occurs at Kurla Terminus. Here, for a distance of 1.5 km from the suburban station to the terminus, an autorickshaw packed with four to five passengers earns its driver about Rs 500 per trip. Those new to the city or those who want to catch a train in a hurry are easy targets, and all this happens in front of the police and RTO posts at either ends of the station.
LTT, Kurla
ADVERTISEMENT
The distance of less than 1.5 km from Kurla suburban station to Lokmanya Tilak Terminus, which should cost commuters Rs 23 as per the RTO meter fare chart, costs from Rs 70 to Rs 80 per person and additional money if there is luggage. At Bandra station, the rate is Rs 20 per head and additional money if there is more luggage. With three to four passengers (sometimes five) per trip, automen illegally earn Rs 400-Rs 500 for a single trip. In fact, the autos that operate here too, commuters said, are mostly assembled pieces of jugaad and don't have permits or licences. The terminus is the entry point to Mumbai from many states, but despite this there is no administration, whether it is the RTO, traffic police or public transporters like BEST, focusing on it.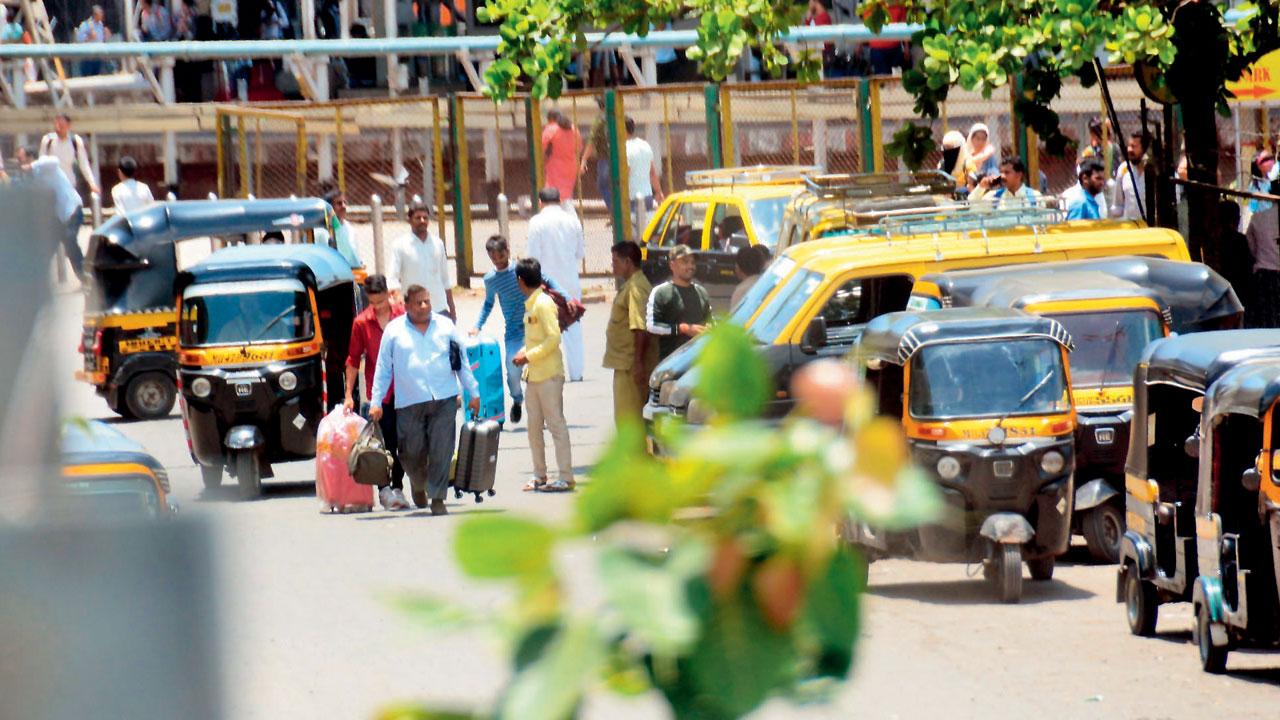 The auto-rickshaw stand at LTT. Pic/Sayyed Sameer Abedi
Back to square one
mid-day had run a campaign against errant autos at Kurla Terminus a few years ago, after which the station surroundings improved for a while, but now it is back to square one. When mid-day visited the station, we found that the only thing that remains from then is the fencing around the station. Autos and taxis now wait beyond the fence, unlike earlier when they would barge onto the station platforms and premises.
"Today I came from Goa by Duronto 12224. I got down at LTT and was searching for a rickshaw for 30 minutes. All rickshaw drivers kept demanding extra cash over the actual fare, so I approached the traffic police," a commuter, Aedy Shaikh, said. "Outside Lokmanya Tilak Terminus, Kurla, the majority of auto-rickshaw drivers are not willing to go by meter and charge over Rs 150 to travel 2-3 kms to the Ghatkopar metro stations," said another commuter, Saswat Kumar Nayak.
"Yesterday the rickshaw drivers refused to ply from LTT to Kurla station demanding high fares ranging between Rs 80 and Rs 100. This was the same with drivers standing in queues. What action will you initiate against such mass refusals?" asked a passenger, Vainta Nigoo. "The BEST should start its services from LTT. Most of the passengers are overcharged by local auto-rickshaw and taxi drivers every day," another commuter, Vinod Kumar Shukla, said.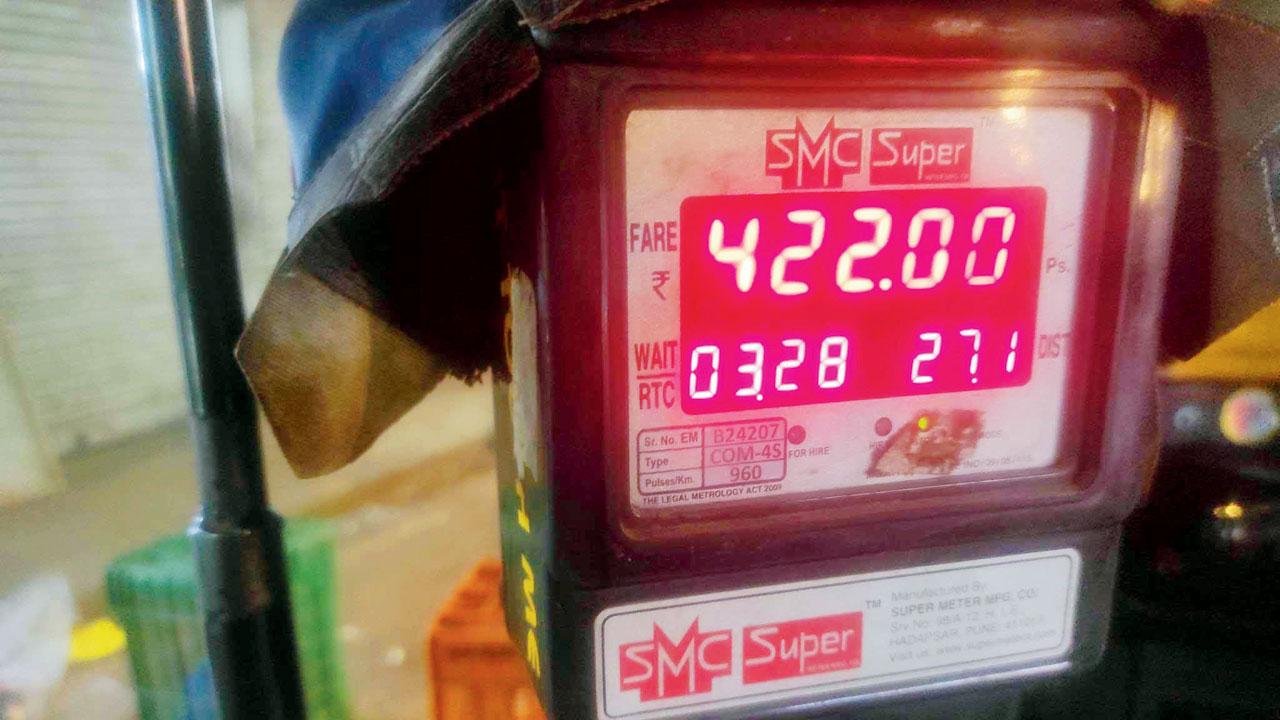 A commuter, Sumit Bhadoriya, said he paid Rs 422 for a journey of 11 km from Terminal 2 to the Kurla railway station in March. The meter showed 27 km for an 11-km journey
"Regulating the auto-rickshaws outside Kurla station is important. These rickshaw drivers bully the passengers and charge three times the metered fare," a commuter, Vishal Chheda, said. "In March this year, I ended up paying Rs 422 for a journey of 11 km from Terminal 2 to the Kurla Railway Station. The meter showed 27 km for an 11-km journey as per Google Maps," another commuter, Sumit Bhadoriya, said. The ideal meter fare should be around Rs 160 for 11 km.
Also Read: Mid-day Investigation: Mumbai's thieves on three wheels
Ghatkopar to airport
The most economical way for Ghatkopar-based Priyal Parekh to travel to the international airport was taking a Metro from Ghatkopar to Airport Road station. From there, the airport (T2) is close so it would be easy to cover the distance by auto or so she thought. But when she asked one of the auto drivers who  was parked right outside the Metro station, she was told the fare was R100 for an approximately five-minute route. The stretch from the Airport Road Metro station to the Chhatrapati Shivaji International Airport (T2) is 1.5 km—a distance which is usually supposed to be the minimum fare of R23. On asking more auto drivers she finally managed to get one after 15 minutes, who agreed to go by the meter fare.
Vikhroli station
Residents of Vikhroli station (west) also face a lot of mistreatment by rickshaw drivers. "Rickshaw drivers misbehave with passengers including physically challenged people and the elderly. Many times they are quite abusive to the passengers and bully them saying nothing can stop them and one can go and complain anywhere," Rakshit Sonawanae, a local resident said. mid-day found the rickshaw drivers at the spot had their own fare system and the share rickshaws for popular local destinations like R-City mall were more expensive than regular routes. Students from St Joseph High School just opposite the Vikhroli station and parents face this problem everyday with the rickshaw drivers.
Vidyavihar station
Vidyavihar station (west) is another place where rickshaw drivers ply with their own meter. The popular location of Phoenix mall between Kurla and Vidyavihar, provides an opportunity to many auto drivers to fleece passengers. The college students and shoppers are easy prey. Commuters said that to reach Phoenix Mall it costs about Rs 35 to Rs 40 but the drivers ask for Rs 50 and more. "It is a regular feature that auto drivers harass people outside Phoneix Mall. They refuse to ply over short distances and demand way above meter charges. It is an old problem and the traffic police and RTO should find a permanent solution to the problem," Ghatkopar resident Deepa Panjwani said.
'No inspection'
"Almost outside every suburban station one will find a long queue of passengers as well as share auto-rickshaws which provide last mile connectivity at exorbitant rates. I have seen this outside Vikhroli station on the west side. Why have the traffic police and RTO not put up signboards at this location to inform passengers the per person share rate as prescribed by law?" said Jitendra Gupta of Citizen Transport Committee. "Auto drivers have their own fare system with share autos to R City Mall being the most expensive. There is no inspection by the police. One of my colleagues hired an auto from Paper Mill bus stop Vikhroli West to Kanjurmarg East near Bajrang hotel some months back. She found that the meter was very fast,"  said Mario Rodrigues, chairman, Bombay Catholic Sabha, Vikhroli.
'Our actions are on against traffic violators'
The RTO has opened up a number of share-auto stands, but many illegal ones have now outnumbered the official ones. Official and recognised auto union members said they too are aware of this and have been warning the authorities about them. "Give us a dedicated squad and we will have one of our representatives identify such vehicles and areas," an auto union leader said. Transport department officials said that a huge number of auto stands have been mandated by the Regional Transport Authority with a fixed fare structure. Many others have come up due to people's demands with local politicians and political parties patronising them. "These are illegal stands, but they are opened on local demand. In such cases, we try and legalise them. However, at many other places, the rates are quite absurd and we act on complaints, but there is a genuine issue of enforcement due to lack of staff," a transport department official said. "Our actions are on against traffic violators. We publish information about them on social media," Joint Commissioner of Police (traffic) Pravin Padwal said.
Rs 23
Min official auto fare
Rs 80
Excess fare of share autos
Rs 23
Minimum auto fare as per RTO chart
Rs 150
Fare an auto driver in Ghatkopar asked for 1.5 km
(By: Sameer Surve, Nidhi Lodaya and Rajendra B. Aklekar)