A case has been registered against 60 candidates; inquiry also finds 21 candidates cheated during the recruitment tests conducted early this year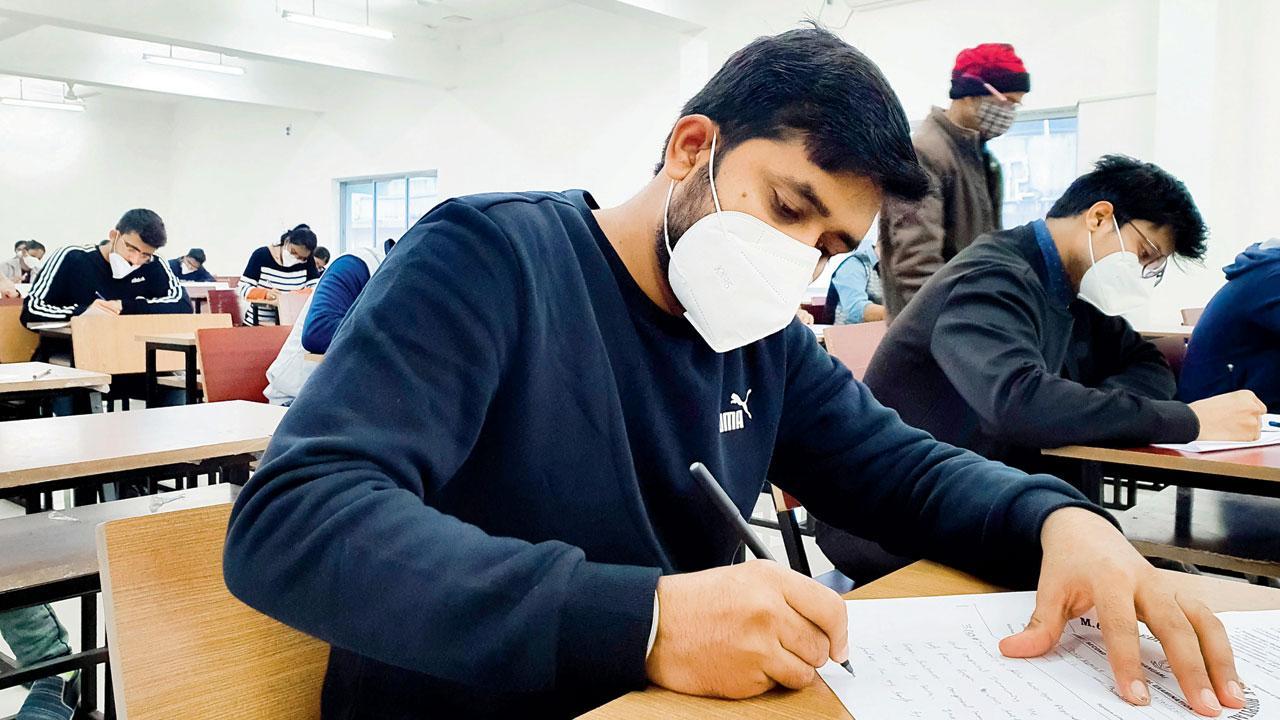 The candidates had sent proxies for the exam conducted in January and February. Representation pic
The government might not have realised the misuse of facemasks, which were mandated during the Covid-19 pandemic, until nine people were caught while appearing for MHADA's recruitment exams as proxies early this year. An inquiry later found 30 more proxies.
According to police sources, the Maharashtra Housing and Area Development Authority (MHADA) declared vacancies for the recruitment of 579 posts in 2021. Due to COVID-19 restrictions, the exam was conducted online at 106 centres across the state in January and February this year through an IT company. At nine exam centres, including in Thane, Mumbai, Satara, Nagpur, Nashik, Nandgaon and Amravati, proxies of nine candidates were caught. Police in each district filed an FIR.
The MHADA then formed an inquiry committee and asked the IT company to check all the records and CCTV camera footage. The company checked the records of 1,633 candidates, including the online forms and login and logout details. Meanwhile, MHADA's exam result was published a few days ago, and it called all the 1,633 candidates for document verification. While cross checking the records filled in the forms and the hall ticket, 60 people were found suspicious.
Although the biometrics of the candidates were not taken at the centres owing to the COVID-19 rules, their photographs were recorded. Of the 60 candidates, 39 had sent their proxies, who were wearing a mask, to the exam centres. Even though they had their masks on, the photos taken at the exam centre did not match with those submitted with the form.
Also read: Gujarat election results: Flipping Kutch and Saurashtra helped BJP to record win
The remaining 21 candidates used electronic gadgets or cheated in some other way, as they solved 20 to 25 questions in the first hour and more than 100 in the second hour and they were all correct, found the inquiry. Officials said they checked the CCTV camera footage and noticed that nine people went to the toilet six to seven times.
The inquiry committee submitted a 150-page report to MHADA on Tuesday. A MHADA official filed a complaint with the Kherwadi police, who registered an FIR on Wednesday. "Based on the complaint given by the administrative officer of MHADA, we have registered a case against 60 candidates and the investigation is underway," a cop said. Have you converted your home furniture to suit the hybrid working culture?