They say green patches are being cleared by land mafia to raise hutments but Milk Colony authorities doing nothing to control the situation, claim a recent fire took place near CEO's home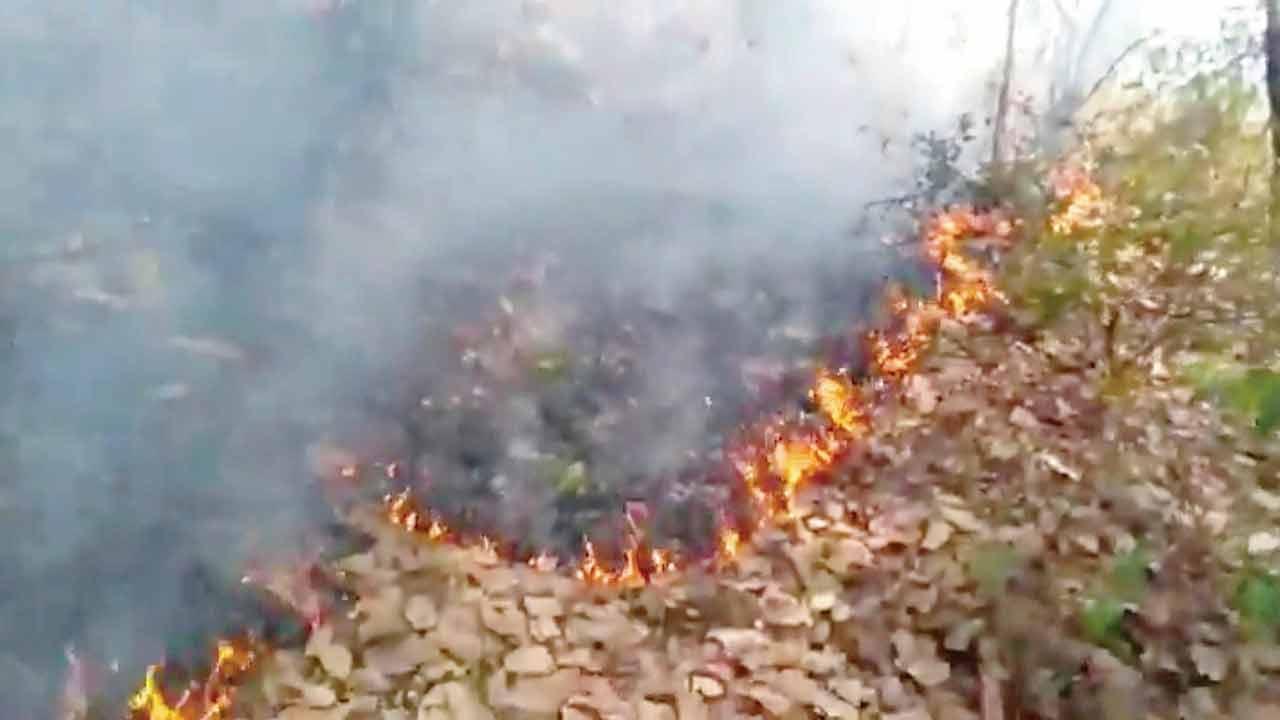 Activists say their claims can be verified as some of the fires must have been captured by a police CCTV camera installed in the area
Fed up of what they call deliberate fires inside the Aarey Milk Colony, activists and nature lovers have accused dairy authorities of ignoring attempts to clear green patches in the eco-sensitive pocket.
One of the recent fires was in the vicinity of Aarey CEO Nathu Rathod's official home but he did not report it, said a nature lover. Activists have reported at least 11 instances of fires inside Aarey since February, with most seen in March. The destruction is being done by the land mafia to raise hutments and facilitate growth of slums, they said. "If it's happening right in front of Nathu Rathod's bungalow and his dairy department premises and still he doesn't bother to call the Fire Brigade, it is obvious that he is turning a blind eye," said activist Sanjeev Valsan.
ADVERTISEMENT
He added, "Ordinary citizens like us have been doing more to put out the fires than he has, even though it's his job. The dairy dept doesn't even keep a proper record of the fires in the area under their jurisdiction. Is it a mere coincidence that so many slums have been allowed to come up in Aarey over the years?"
Valsan said there was a huge fire on March 14 at Unit 16 near Aarey dairy. On the night of March 13, a big fire was witnessed in the area, but neither Rathod nor dairy officials alerted the Fire Brigade. Two days before that another fire was allegedly started near Unit 22, opposite the now-abandoned Metro car shed site. He said one can go through the footage of a CCTV camera installed by the police to verify their claims.
Environmentalist Stalin D called the fires the outcome of government apathy towards conservation inside Aarey. He said the government is yet to act on their request to hand over the Aarey jungles to the Forest Department. "We had better expectations from the present regime. Simple steps like restarting the Aarey fire station have not been done. Even the Fire Brigade has stopped responding. Even the orders of the Hon'ble Supreme Court seems to have no effect on the government machinery," said Stalin. Environmentalist Zoru Bhathena said, "It's time authorities stepped up and protected the forest."
'We do call Fire Brigade'
Aarey CEO Rathod countered the charges, saying, "It will be wrong to say that we are turning a blind eye to the fires. Whenever we come across a fire in a forested patch, we immediately inform the Fire Brigade. I am not aware of any fire that took place behind my bungalow." He said one fire had been reported near Aarey hospital and they had alerted the firefighters. 
Aarey fires
March 7 - One near Jambori Maidan and another in front of Khadakpada
March 6 - In forested patch near Modern bakery during daytime 
March 5 - In forested patch near Modern bakery at night
March 5 - Near Unit 1, close to Oshiwara river 
March 3 - In forested patch opposite to Tapeshwar temple 
March 2 - Near Kombadpada in front of Khadakpada
Feb 21 - On a hillock (one in the evening, another at night) 
Feb 8 - Opposite Tapeshwar temple near MMRCL transplantation plot
Feb 7 - Opposite Tapeshwar temple near MMRCL transplantation plot
11
No. of fires in Aarey since Feb