Modi to also launch 7 sewage treatment plants, concretisation of 397 km of roads, 20 health clinics, loan scheme for 1 lakh hawkers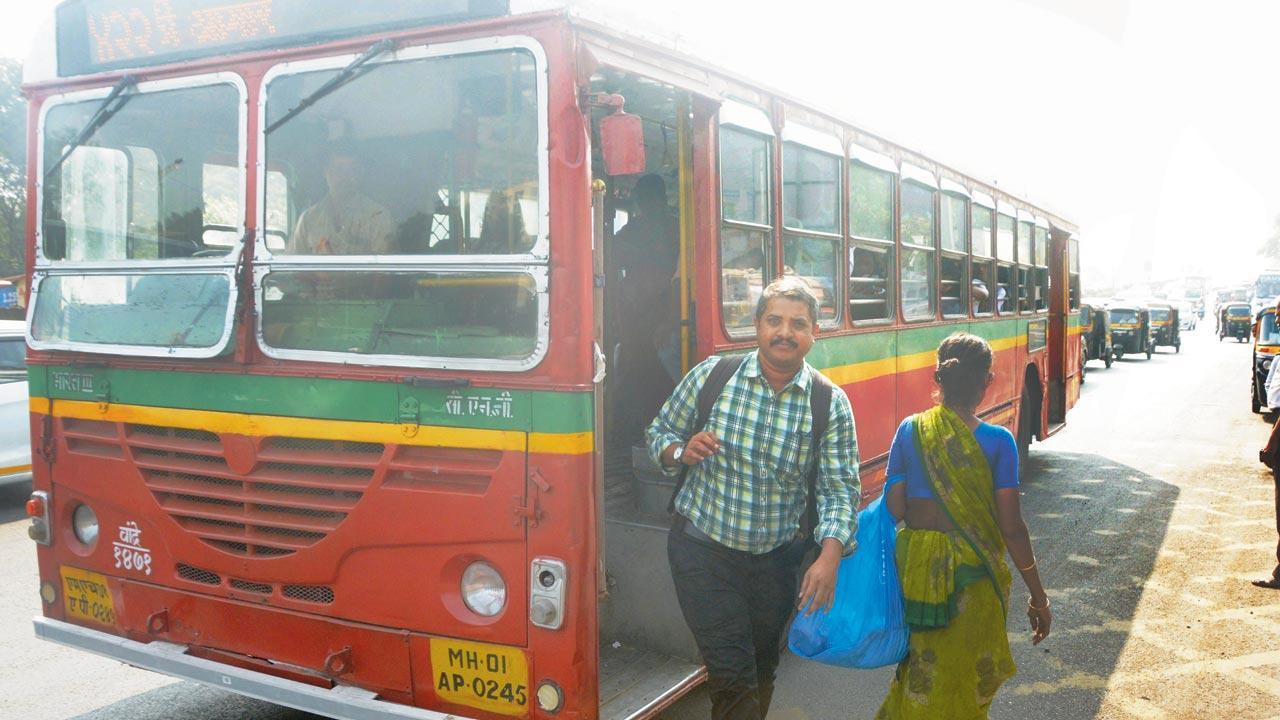 Route no A-216 is in sync with Yellow Line 2A and Red Line 7. Representation pic
The BEST on Wednesday announced new bus routes to sync with the two Metro rail corridors that are to be inaugurated by Prime Minister Narendra Modi on Thursday.
The prime minister will flag off various civic projects, including sewage treatment plants, hospital buildings, concretisation of roads and 20 health clinics, at a rally on the Mumbai Metropolitan Region Development Authority ground at Bandra Kurla Complex in the evening. He will also initiate the Pradhan Mantri Pathakreta 
Atmanirbhar Nidhi (PM SVANidhi) Scheme under which loans will be disbursed to more than one lakh hawkers.
ADVERTISEMENT
The soon-to-be-inaugurated Metro corridors are Yellow Line 2A, which starts from DN Nagar in Andheri West, and Red Line 7, which originates at Gundavli on Western Express Highway in Andheri East.
"The BEST will be starting a few routes for last mile connectivity from these Metros from Thursday," a BEST spokesperson said.
Route no A-295—which is in sync with Line 2A—connects Shanti Ashram and Charkop. Buses on this route will halt at Borivli Metro station on Gorai Agiary road and will be diverted to Pahadi Metro station road. The first and last buses on route no A-295 will depart at 7 am and 10.30 pm respectively.
Also Read: Rumours fly thick and fast ahead of PM Modi's Mumbai visit today
Route no A-283, which is in sync with Line 7, starts from Dindoshi bus station and ends at Damunagar. It runs along the Dindoshi, Kurar and Akurli Metro stations. The first and last buses on this line will depart at 6.30 am and 10 pm respectively.
Route no A-216—which is in sync with both Metro lines—will run from N L Complex to Saraswati Complex along Line 2A as well as on the stretch between Line 7's Dahisar (East) Metro station and Borivali Station (East) via Ovaripada. The first and last buses on the route will depart at 6.30 am and 10.30 pm respectively.
Meanwhile, a civic official said, "Modiji will do the bhumi pujan of sewage treatment centres at Worli, Bandra, Dharavi, Versova, Malad, Bhandup and Ghatkopar under the BMC's sewerage disposal project. The combined capacity of these plants is 246.40 crore litres per day." 
The prime minister will also launch the concretisation of 397 km of roads. The BMC will spend Rs 6,079 crore on this and the work will be completed in the next 24 months. Under this project, 72 km of roads will be constructed in the city, 71 km in the eastern suburbs and 254 km will be built in the western suburbs. 
The PM SVANidhi Yojana was launched in June 2020 to provide hawkers with easy access to capital in the wake of the COVID-19 lockdown.
The clinics are to be inaugurated under the Hinduhriday Samrat Balasaheb Thackeray Aapla Davakhana scheme while Modi will also launch the Bhandup Multispeciality Municipal Hospital at Nahur, Siddharth Hospital at Goregaon and the Oshiwara maternity hospital.
20
No of health clinics to be launched by PM