The highest noise level Eid-e-Milad processions in the city was 116.3 dB, even higher than pre-COVID times; activist writes to CM raising concern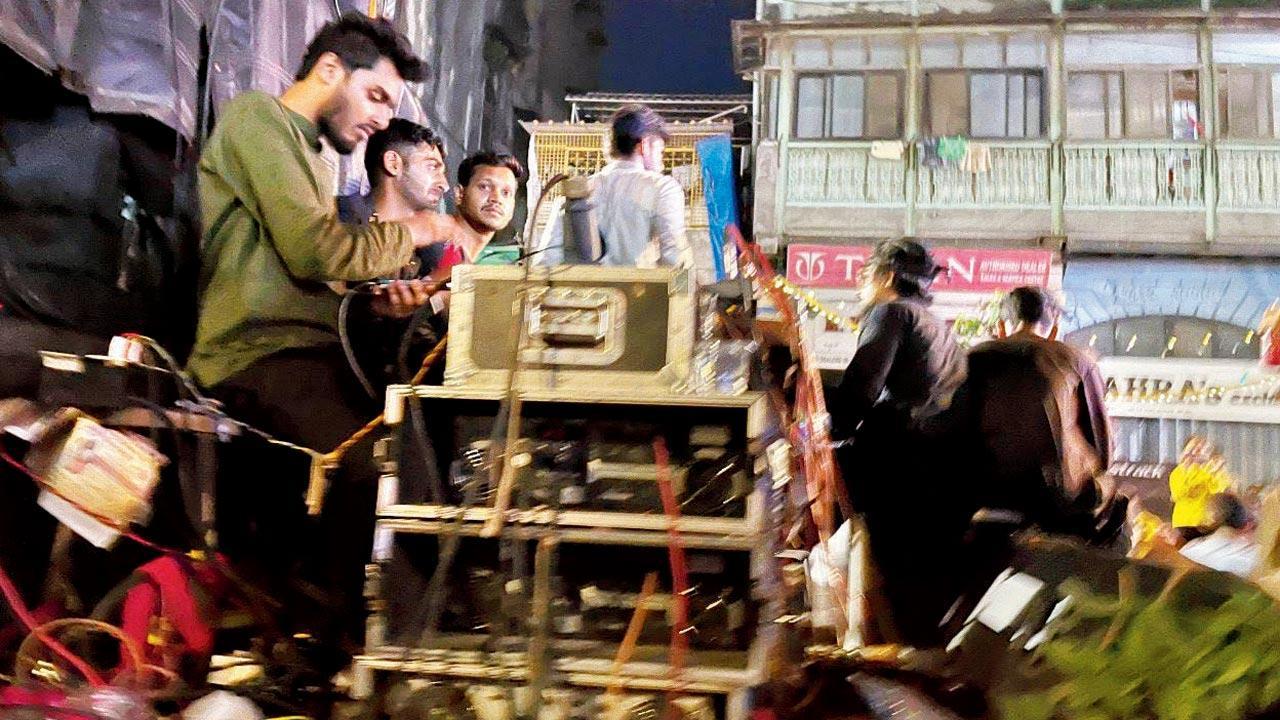 The sound system with Sunday's procession on Mohammed Ali Road
On Sunday, Mohammed Ali Road near Sir JJ Hospital recorded the highest noise level in the city during Eid-e-Milad procession, at 116.3 decibel (dB). This has crossed the earlier highest noise level recorded during the processions, which was 113.6 dB in the same area, in 2015.
The foundation also recorded noise levels at Byculla at 112.5 dB, which too was higher than previous years.
ADVERTISEMENT
Anti-noise pollution crusader and convenor of Awaaz Foundation Sumaira Abdulali sent the noise report to Chief Minister Eknath Shinde and Commissioner of Mumbai Police Vivek Phansalkar. She has sought appropriate action against noise rules violations. As per Supreme Court and Bombay High Court orders, maximum zone-wise permissible noise levels are required to be maintained at all times and religion is not a ground for violation of the rules, Abdulali said.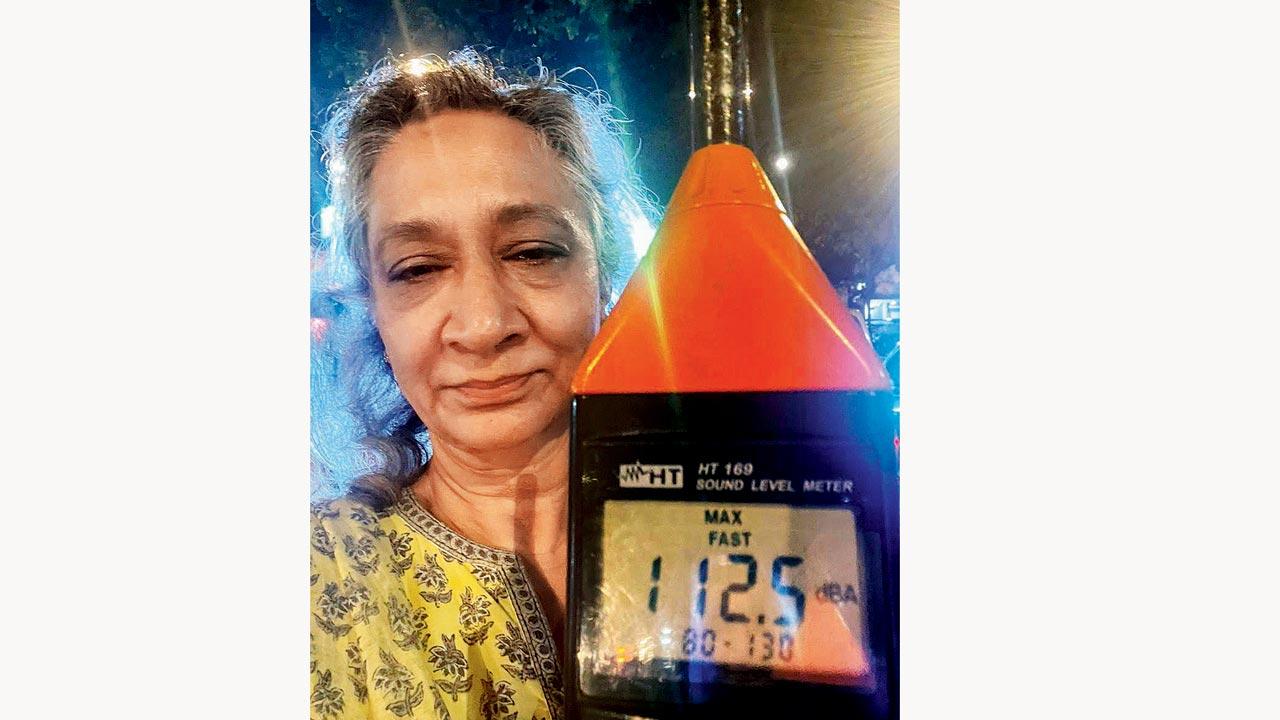 Awaaz Foundation's Sumaira Abdulali with a sound meter during the procession
She added, "The highest noise level recorded was 116.3 dB, at Mohammed Ali Road near JJ hospital. The DJ stereo sound system that was being played had mixers, amplifiers and loudspeakers mounted on decorated trucks. Police have banned such DJ systems and even the high court has refused to stay the police order. So, the use of this sound system was in gross violation of the rules."
Also Read: Mumbai: CM Eknath Shinde's Dussehra rally creates grand mess on MU campus
Experts and anti noise pollution activists have voiced concerns about blatant violations of noise rules this year during every festival. This year, noise levels from processions on Anant Chaturdashi, the final day of Ganpati immersion, reached pre-COVID levels too. This year the highest noise level was recorded at 120.2 dB near Royal Opera House junction, that too past midnight.
"There was a slight dip in noise levels during festivals and processions for the past couple of years, which made us hopeful. This reduced even further in the past two years of COVID-19 pandemic. However, this year the noise levels had increased and even surpassed pre-pandemic levels. It felt like there was a competition to be the louder one," Abdulali said.
Activist Dr Mahesh Bedekar, who has filed various petitions against the increasing noise pollution in Thane and Mumbai, said, "The noise levels increased because a wrong message has reached people from the government and local bodies this year. As COVID cases declined this year and things opened up, it was publicised as 'Nirbandhmukt Utsav' [unrestricted celebration]. It was the government's responsibility to clarify that only COVID-related restrictions were relaxed, and that the rules pertaining noise pollution, etc. were not. This coupled with the frenzy of celebrating events after two years, people were unhindered, resulting in rising noise levels."
"If the state government continues to be lenient, our years-long efforts will be futile. These anti-noise pollution campaigns are not for the benefits of the activists, but are in public interest," he added.
Noise levels during Eid-e-Milad over years
December 2017
105.2 dB
Dockyard Road
November 2018 
105.3 dB
Mazgaon
October 2020 
66.1 dB
Nagpada Circle
October 2021 
109.7 dB
Mohammed Ali Road
October 2022 
Near JJ, Mohammed Ali Road
Effects of noise pollution and the rules
Health hazard
Noise Pollution can cause hearing loss as well as have an impact on mental health and heart conditions. As per medical studies, it affects every single organ of the body. The elderly, infants and people suffering from illnesses are the most affected by it.
 
Rules
The Noise Pollution Rules were passed in Parliament as part of the Environment (Protection) Act, 1986. The decibel level restrictions, derived from a World Health Organization Report "Community Noise", acknowledge the environmental harm caused by noise pollution and mandate the need to restrict them to within specified limits.
The Noise Pollution Rules and Statute have been upheld by the Supreme Court as a Constitutional right of citizens to enjoy peaceful life under Article 21.
As per the Section 15 of the Environment (Protection) Act, violators can be sent to jail for up to five years and face a maximum penalty of R1 lakh.
 
Noise Pollution in Mumbai
As per Awaaz Foundation, which has been measuring noise levels in Mumbai since 2002, it is a continuous hazard in the city due to traffic and other sources of noise. However, it is during festivals, processions and rallies that the noise levels reach a high.
Studies and reports by the foundation has revealed that during festive seasons or political gathering, the noise level range from 85 to 123.7 dB, which is detrimental to health.
"Exciting news! Mid-day is now on WhatsApp Channels

Subscribe today by clicking the link and stay updated with the latest news!"
Click here! There has been no strict action by authorities to curb noise pollution during festivals in city. Do you agree?