Bus no. 259 stays partly empty along a stretch of the Metro Yellow Line, but is crowded again when it proceeds to Gorai at Mith Chowky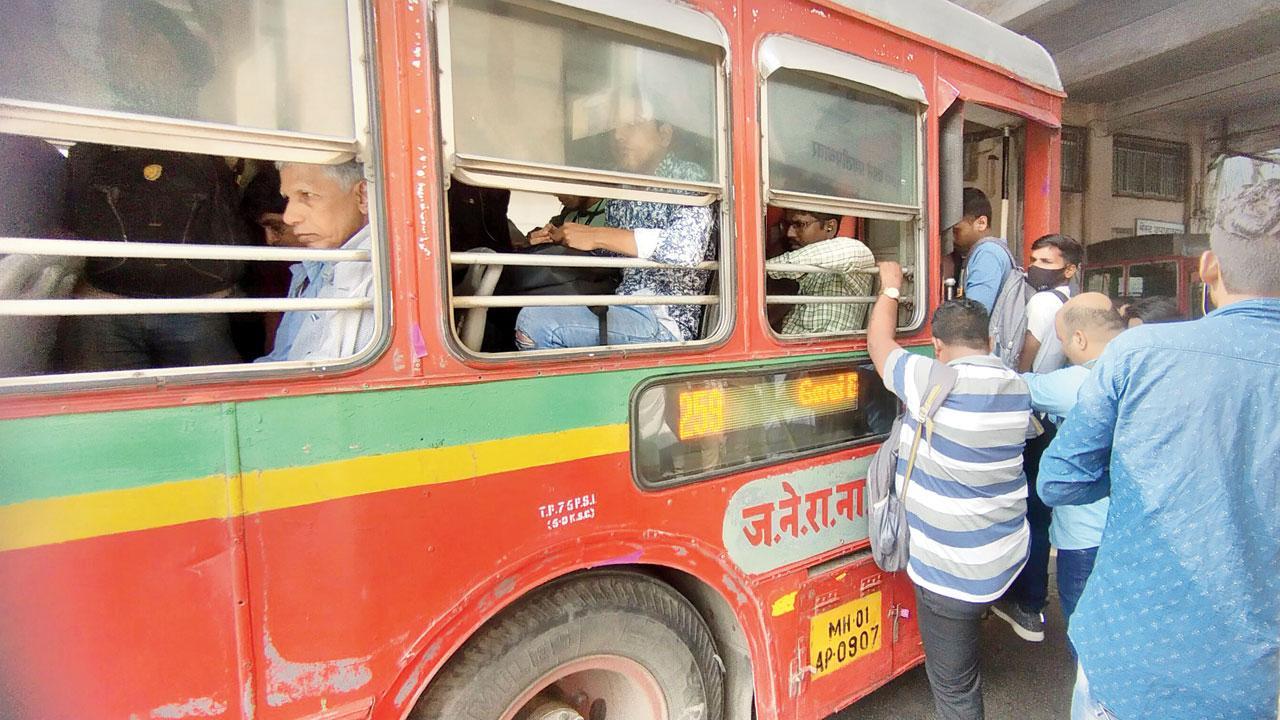 Passengers board bus no. 259, at Andheri West depot, on Monday
Has the new Yellow Line 2A of Mumbai Metro taken the load off BEST? Mostly, at least for half of the route of bus no. 259, mid-day found during a trip between Andheri West and Gorai depots in the morning rush hour, on Monday. Barring a stretch of Yellow Line 2A on the route, the bus remained packed with commuters.
 
Mid-Day chose bus no. 259, which takes the busy and narrow Link Road, as it runs parallel to Yellow Line 2A—the Metro route that runs from Andheri to Dahisar. The bus remained crowded for last-mile connectivity where Metro does not operate. The entire journey, from Andheri depot to Gorai depot, took about an hour, like always, mid-day observed. Although slightly fewer vehicles were seen on the route, there was no change in traffic, as roadwork is underway across the city.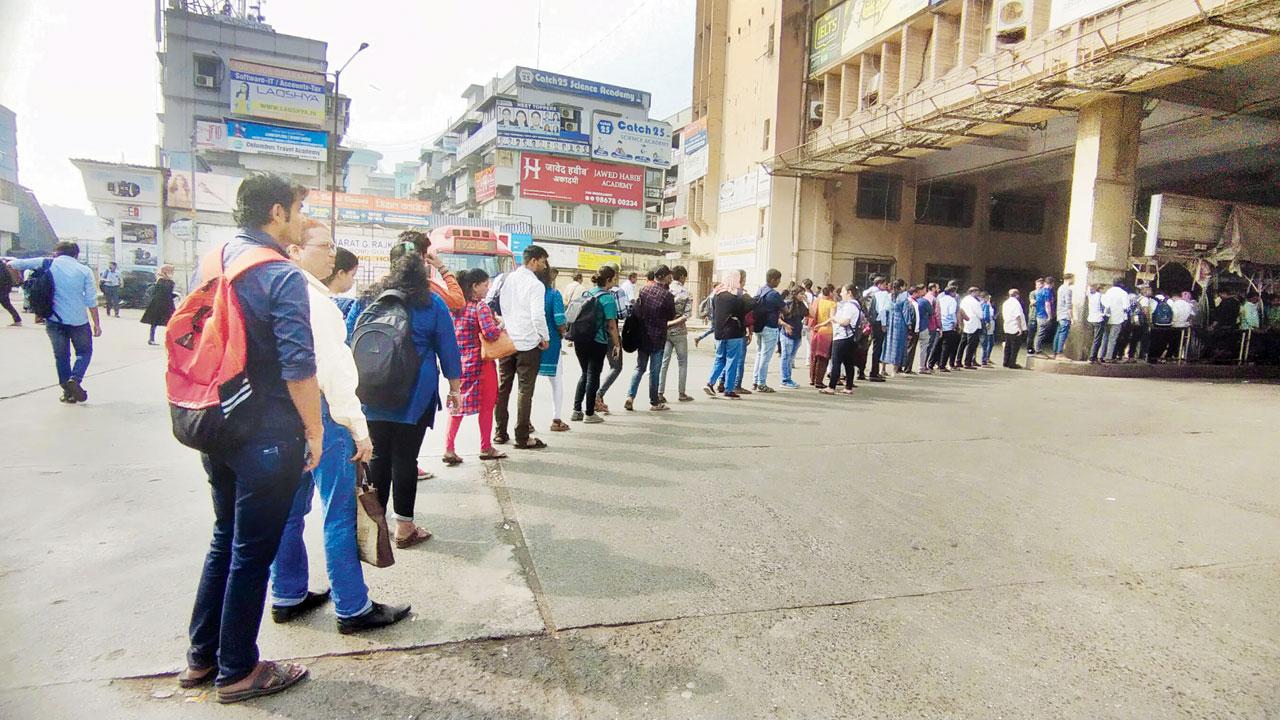 Passengers queue up to board route no. 259, at Andheri West bus station, on Monday
ADVERTISEMENT
The BEST depot at Andheri West has multiple local-connectivity buses with high frequency, but still quite crowded. These services run to local destinations, like Millat Nagar, Monginis Cake Company and Citi Mall stops. Bus no. 259, however, runs at an interval of 30-45 minutes and ferries commuters to these stops, too. Bus depot officials said they decide the frequency of long-route buses, like no. 259, depending on the crowd.
Also Read: Mumbai metro lines 2A and 7 record over 10 lakh passengers in a week
The journey
The packed bus leaves the depot and takes the route along J P Road, below the Ghatkopar-Versova Metro Blue Line. This indicates that the Blue Line is not much patronised for local commute due to high fares and lack of direct Metro connectivity in Andheri West. The bus remains packed until it takes a turn on the Link Road, below the D N Nagar Metro station of Line 1—the spot that has Indian Oil Nagar bus stop and the starting station (Andheri West) of Yellow Line 2A.
The bus gets half-empty after two to three stops from Link Road junction, with the crowd, mostly office-goers, workers of Laxmi Industrial Estate and visitors to Citi Mall, alighting. From there, along the stretch of Yellow Line 2A on the route, the bus faces severe traffic jams. The crowd on the bus remains thin all the way to Mith Chowky on the Malad-Marve road, the point where the bus route moves away from the arterial road and the Metro corridor. A fresh set of commuters board the bus now, and it moves towards Gorai.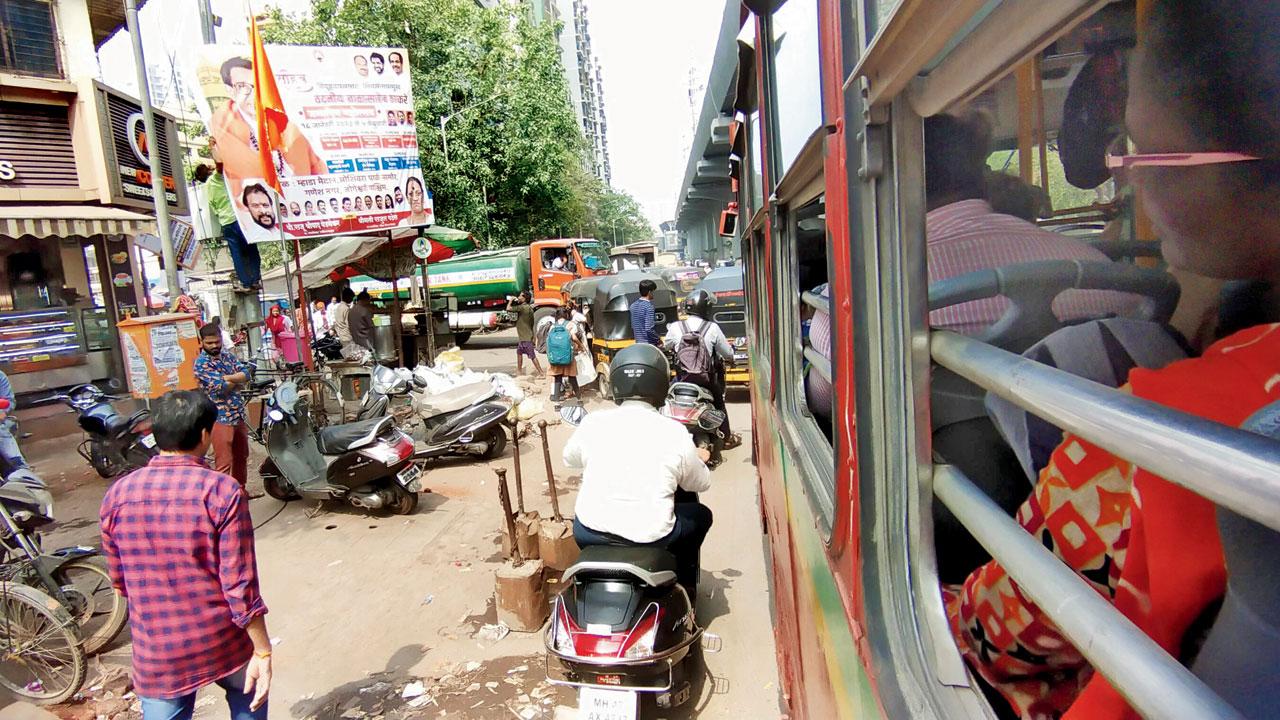 The bus navigates a congested Link Road
Local commuter and bus enthusiast Jarvik Pandya said, "Bus no. 259 will surely see a dip in long-route passengers. The bus will see an impact on Mith Chowky-Monginis (Citi Mall, etc.) leg, but it will be well patronised on Mith Chowky-Gorai route. It's the same for Andheri station to Indian Oil Nagar bus stop."
"Overall, most commuters, including workers from Laxmi Industrial Estate and schoolchildren and their parents still seem to prefer the bus. They should be pulled towards the Metro, as the fares are not too high as compared to BEST buses," said Jaideep Singh, a local resident.
'More services if needed'
BEST officials said that the existing buses are being synced with the new Metro services to improve last-mile connectivity. "We have started new routes, are tweaking existing ones taking into account the locations of new Metro stations. As passenger numbers go up, we will increase our services. BEST buses and Metro will prove complementary to each other," said an official.
"We have already started a few routes, including A-295 along Yellow Line 2A, which will connect Shanti Ashram and Charkop, halt at Borivli Metro station, Gorai Agiary and divert to Pahadi Metro railway station road. New route no. A-283 will start from Dindoshi bus station and go to Metro Line 7's Dindoshi, Kurar, Akurli Metro stations to Damunagar. Another new bus route, which will sync with both Lines Metro 2A and 7, is A-216. It will run from N L and Saraswati Complex, Metro 2A and 7, through Dahisar East Metro rail station to Borivli Station East via Ovaripada, National Park station of Metro 7," the official added. Do you often find yourself in the middle of office politics?