As MP, MLA and ex-opposition leader vie for community's attention, who will deliver the biggest hit—Falguni, Kinjal or Preety-Pinky?
Preety-Pinky: (Pravin Darekar); Falguni Pathak: (Gopal Shetty) and Kinjal Dave: (Sunil Rane)
Ahead of the BMC polls, a game of one-upmanship between BJP leaders is playing out in the form of garba—the Gujarati folk dance played during Navratri. Garba queen Falguni Pathak, noted folk singer Kinjal Dave and the duo of Preety-Pinky will perform at three different venues in Borivli West this time, but the events have one common thread: they have been organised by BJP leaders who apparently do not get along with each other. 
Falguni Pathak will perform at Navratri festivities organised by Santosh Singh and the event is backed by North Mumbai BJP Member of Parliament Gopal Shetty. Local MLA Sunil Rane has roped in Kinjal Dave—famous Gujarati singer, while the former leader of Opposition Pravin Darekar and his brother Prakash have tuned in Preety-Pinky for the nine-day Navratri performance.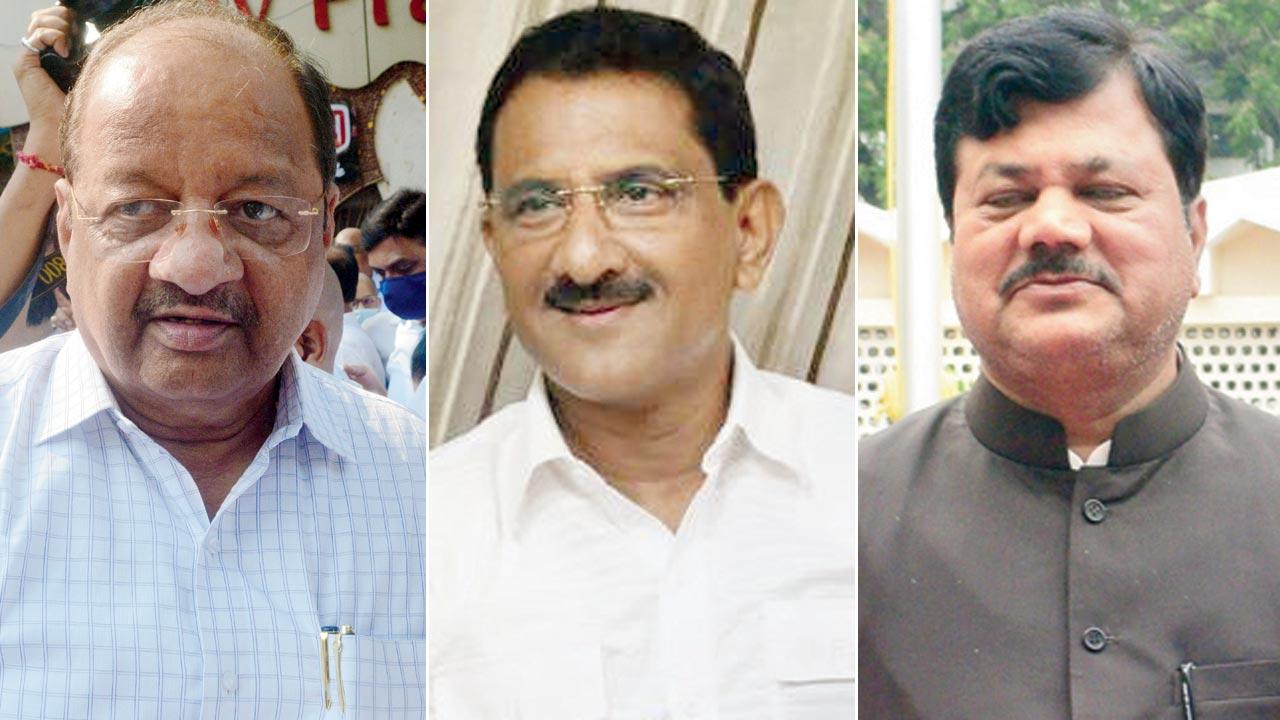 Gopal Shetty, MP; Sunil Rane, MLA and Pravin Darekar, ex-MLA
Though Shetty and Rane have denied any competition between them within the party, their statements over the celebrations suggest otherwise. In a veiled attack on Rane, Shetty told mid-day, "I am with everyone who needs my support and not with those who do not need my support."
Also Read: Mumbai: 22-year-old Borivli student loses Rs 96,000 to electricity bill fraud
Wooing Gujarati voters
Malad, Kandivli, Borivli and Daishar have a large Gujarati-speaking population. With the BMC elections barely a few months away, the BJP is leaving no stone unturned to woo these Gujarati voters from the region.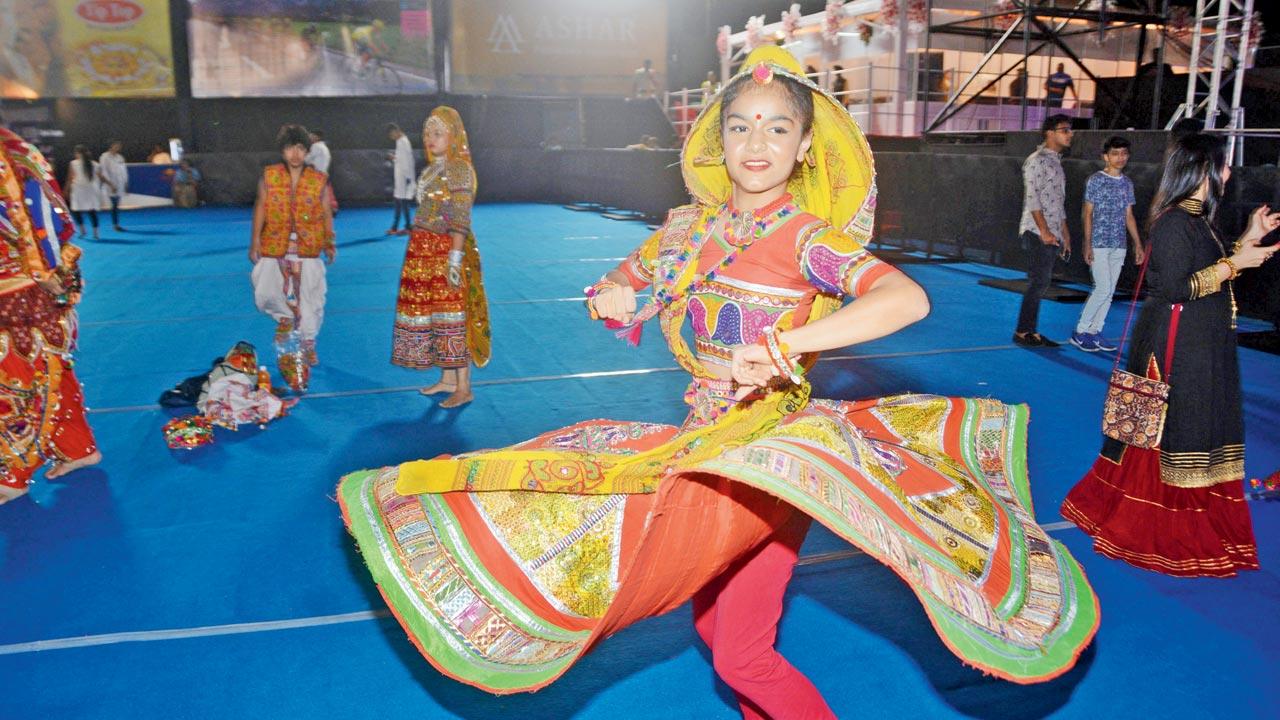 A garba session underway, at Mulund in 2019. File pic
Borivli is traditionally a BJP bastion. Expectedly, this suburb, which used to have two major garba venues, including the one backed by Shetty, until last year, has four this time—with Rane and Darekar joining the bandwagon. But, while the BJP is making attempts to woo voters through festival celebrations, the party and its leaders seem to be divided.
Local karyakartas who requested anonymity admitted that there is a competition within the BJP leadership in celebrating Navratri, which starts on September 26.
Local karyakartas confused
A local party functionary on condition of anonymity told mid-day, "Three top rung leaders…three different venues for celebration of Navratri festival. Like me, many BJP workers are confused which leader to support during this nine-day celebration."
"Especially after the unfolding of recent political development, the local party leadership is trying to make further inroads into mercantile and other communities through Navratri celebrations in the areas that have been traditionally known as saffron [read BJP] vote bank. 
But, instead of organising one big celebration, the leaders are flexing their muscles to exhibit their strength by organising celebrations at different venues in the same vicinity. This not only sends wrong signals to citizens but even leads to factions and split among the local workers," another BJP leader from the region added.
Rane denied any race among BJP leaders in the region over the Navratri celebrations. The MLA said that over the past couple of years, he has been organising cultural and festival events like Khel Mohatsav, Khadi Mohatsav, Balnatya Utsav. "I am actively involved in the celebration of events. Yes, this is my debut in Navratri celebrations at Borivli, which is known as the land of dandiya," he said.
'Dum' ki baat
Like Shetty, Rane, too, launched a veiled attack on his political rivals. "Others are not directly associated. But, I am directly involved in the celebration and organising of Navratri. Everyone is welcome to organise and celebrate such events. Jisme dum hoga wo survive karega." 
Despite repeated attempts, Darekar was not available for comment.
Shinde MLA spices up the fight
Amid the competition between BJP leaders over Navratri celebrations, the Eknath Shinde camp, the saffron party's ally, has also taken a plunge into it. Spicing up the affairs, Shinde camp Shiv Sena MLA Prakash Surve has organised a big event in Borivli during Navratri.
Surve is an MLA from Magathane (Borivli East) but has shown keen interest in organising festival celebrations in Borivali West. He told mid-day that his programme is different from others. "Navratri organised by others is in open grounds. Mine is an indoor celebration. It is an AC hall that can accommodate nearly 5,000 people," he said. Asked about the plans by saffron leaders to flex their muscles through the festival route, Surve admitted that he is also making an attempt to widen the Shinde camp's influence through this festival. "Every political party has the right to expand its base. I am organising Navratri to spread the wings of the Shinde camp in this area [dominated by their ally BJP]. I do not see anything wrong in this."