Blind runner looks at next month for milestone moment; talks about life and lessons learned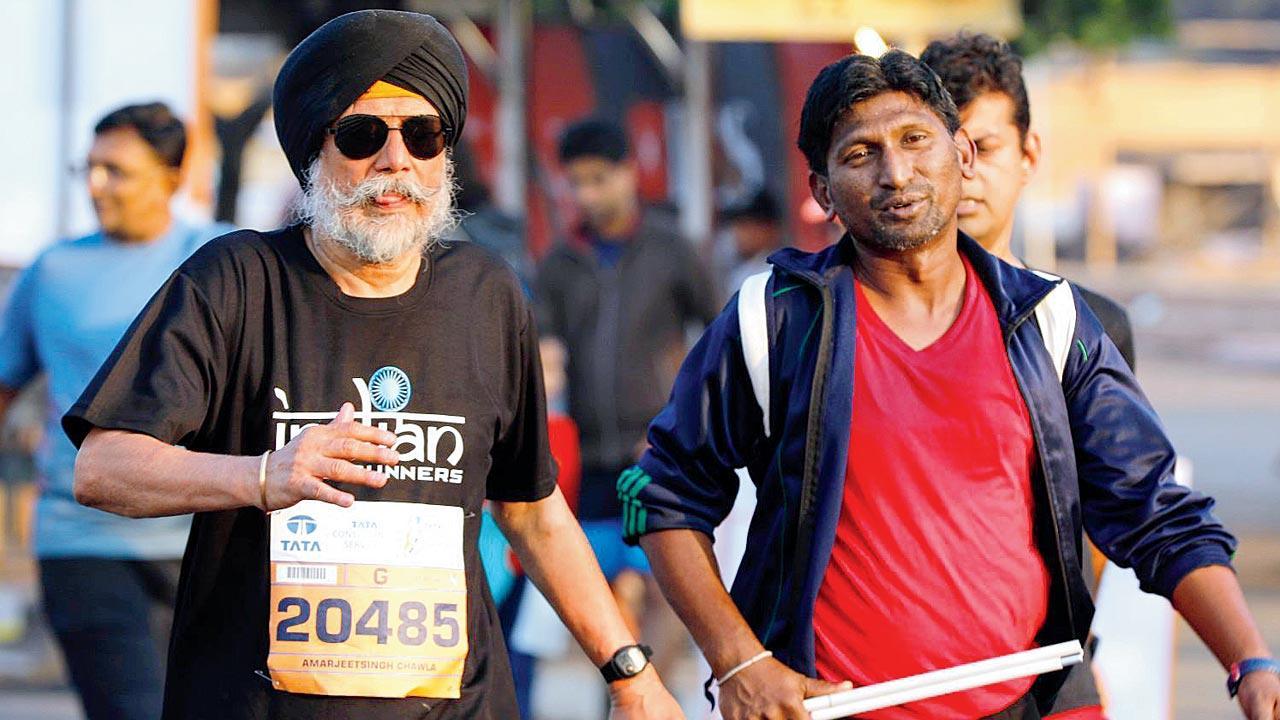 Dar ke aage Amarjeet hai. The sporty Sikh is feisty and fierce
Listen to this article
Mumbai: Blind runner getting ready to crack a 150
x
Amarjeet Singh Chawla, 67, lost his vision completely when he was 40
Chawla said he needs an escort or partner on his runs
Chawla goes by his epithet 'The Sporty Sikh`
Amarjeet Singh Chawla, 67, lost his vision completely when he was 40, but the visually impaired gentleman has refused to let that put him down and turned putting ability into disability from a catchphrase into a reality. Chawla is all set to run his 150th-timed half marathon (21 km) at the Vedanta Delhi Half Marathon scheduled for October 15, 2023.
The Kandivli resident said of his journey, "It has been such a long way since I ran the 5.9 km Dream Run at the Mumbai Marathon in 2004. That was the start, the teaser to the 'main dish' and whetted my appetite for running. Then I got addicted to running. I started running half marathons in 2005. After that, it has been mile after mile; I have taken part in marathons all over India."
ADVERTISEMENT
Partner runs
Chawla said he needs an escort or partner on his runs. "I am totally reliant on them. I hold a white cane that blind persons use, gripping it on one end, and the escort, who is guiding me, holds the other. That is how we run together." An escort or sighted running partner for the visually impaired at the marathon is like a reader/writer the visually impaired students need for their exams. "You need to be in sync with the running partner. It takes some time getting used to. Sometimes, the escort runners cannot get used to the cane, so then we hold hands and run," stated Chawla. "They too need to be comfortable as they are running, but they are also ensuring my safety. Earlier, I used to find it difficult to get running escorts. Then, as people started recognising me, they actually came up to me and said they wanted to be my escort runners."
Sport on
Chawla, who goes by his epithet 'The Sporty Sikh' added, "I train in a way that suits me as a visually challenged person. I do 30 minutes of spot jogging every single day. I follow this with freehand exercises and 75 minutes of Pranayama which is all important for lung power and endurance. My diet is flexible, but I never eat till I am absolutely full. I am 3/4th full and that is the time to stop." Chawla who now works with insurance, used to sell lottery tickets in a Malad shop earlier. He said, "I participate in many running events. I ran a 21 km in Valsad last month. I am going to run a 25 km in Borivli in the National Park on September 25. The course has several gradients, so that is good. This is how I prepare too, for long runs." The runner claimed there was a time when he ran different races on most Sundays, from 10 km to 21 km, but sometimes paying entry fees for himself and the escort runner was pricey. "Some organisers do bear the expenses and escort runners do at times pay for their entry, but at other times I have to pay and it becomes expensive for me," said Chawla. The runner has completed 231 races in all, where he has 148 half-marathons (21 km), 77 10-km runs, and six Ultramarathons. Ultras are any distance above the traditional marathon distance of 42 km. Asked why he had not attempted a marathon, the 42 km since he has done ultrarunning too, Chawla explained, "It is difficult to get escort runners for the marathon distance. I get them for shorter distances, and in the ultras, which are at times 50 and 60 km or more, several different persons do the escort running, like a relay of escorts."
Also read: Mumbai: In eco setback, no action against PoP Ganpati idols
Dance on
A fired-up Amarjeet Singh Chawla said milestones make up his big moments. "My 150th run in New Delhi will be the significant one. I have competed in 33 states in 13 cities in India, I wish I had a sponsor to run abroad. Just one race too; it will surely be thrilling." While Chawla has to stay within physical borders, nothing gets him down. The fizzy fleet of foot Sikh has even earned a label, 'The dancing Sardar from Mumbai' in a race in Hyderabad. "As when I hear dhol, music on the support route, I take a minute or two off to dance," he laughed, adding, "Running is about spirit, soul or sole whatever way you look at it and joy in your journey, so it is okay to take your eyes off the clock and turn your running shoes into dancing shoes."
"Exciting news! Mid-day is now on WhatsApp Channels

Subscribe today by clicking the link and stay updated with the latest news!"
Click here! Do you like prefer E-readers over paperback books?