She happened to be returning home from Andheri; dentist, physiotherapist provided valuable assistance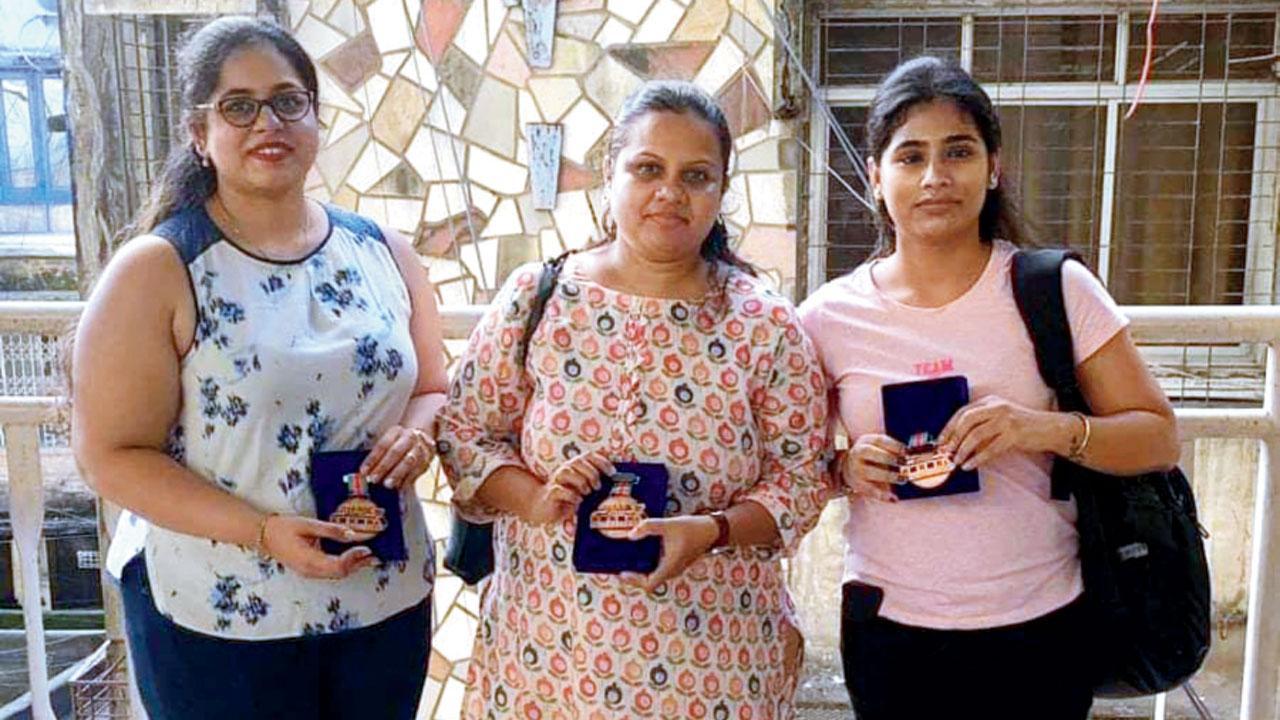 (From left) Dr Prahi Nayak, Dr Madhuri Gaikwad and Dr Chandrakanta
A 23-year-old woman's life was saved by a doctor employed by the BMC who performed cardiopulmonary resuscitation (CPR), highlighting once again the critical role of the procedure in averting fatalities.
Pratibha Raut (name changed) suddenly felt dizzy and fainted at the Ghatkopar Metro station on September 17. Co-passengers tried to bring her to her senses by splashing water on her face, but the woman was unresponsive. Meanwhile, Dr Madhuri Gaikwad, assistant medical officer at BMC's Sahar Health Centre, happened to see the crowd that had gathered around the woman while returning home from work.
Dr Gaikwad told mid-day, "I was returning from Andheri to Ghatkopar. As I got down from the Metro, I saw that a huge crowd had gathered. A watchman informed me that a woman had fainted. I saw two medical professionals, Dr Chandrakanta and Dr Prahi Nayak, physiotherapist and dentist, respectively, trying to stabilise her but she was losing consciousness. When I did a preliminary examination, I found that she had no pulse. Realising the seriousness of the situation, I immediately started giving her CPR, after which she came to her senses and was immediately taken to the nearby Rajawadi hospital."
Also Read: Mumbai: BMC hospital says it has no data on baby girl born in May 
Raut is now stable
"We came to know that she had been suffering from heart issues. I'm happy to have saved someone's life. It is important for others to learn how to perform CPR as it will help anyone in an emergency. I would like to recognise Dr Prahi Nayak and Dr Chandrakanta, who provided valuable assistance," the doctor said.
Civic officials praised Dr Gaikwad for her alertness. BMC Executive Health Officer Dr Mangala Gomare stated that it is crucial to check one's blood pressure regularly, go for medical check-ups from time to time and take one's medication. "The period from cardiac arrest to hospitalisation is very important for the patient. Therefore, it is very important to raise awareness among the general public about CPR," the doctor added.
What is CPR?
CPR is a fairly simple life-saving procedure that is performed on someone whose heart is no longer able to pump blood. The key part of CPR is chest compressions, which keep blood flowing to vital organs until a regular heartbeat returns.  A person of any age needs CPR if they are unresponsive, aren't breathing and don't have a pulse. 
17
The day in September when the incident occurred Do you go for heart health checkups regularly?