Inefficiency and environmental challenges: Persistent struggle of unresolved civic complaints and lingering pollution in Mumbai's infrastructure despite the civic body spending thousands of crores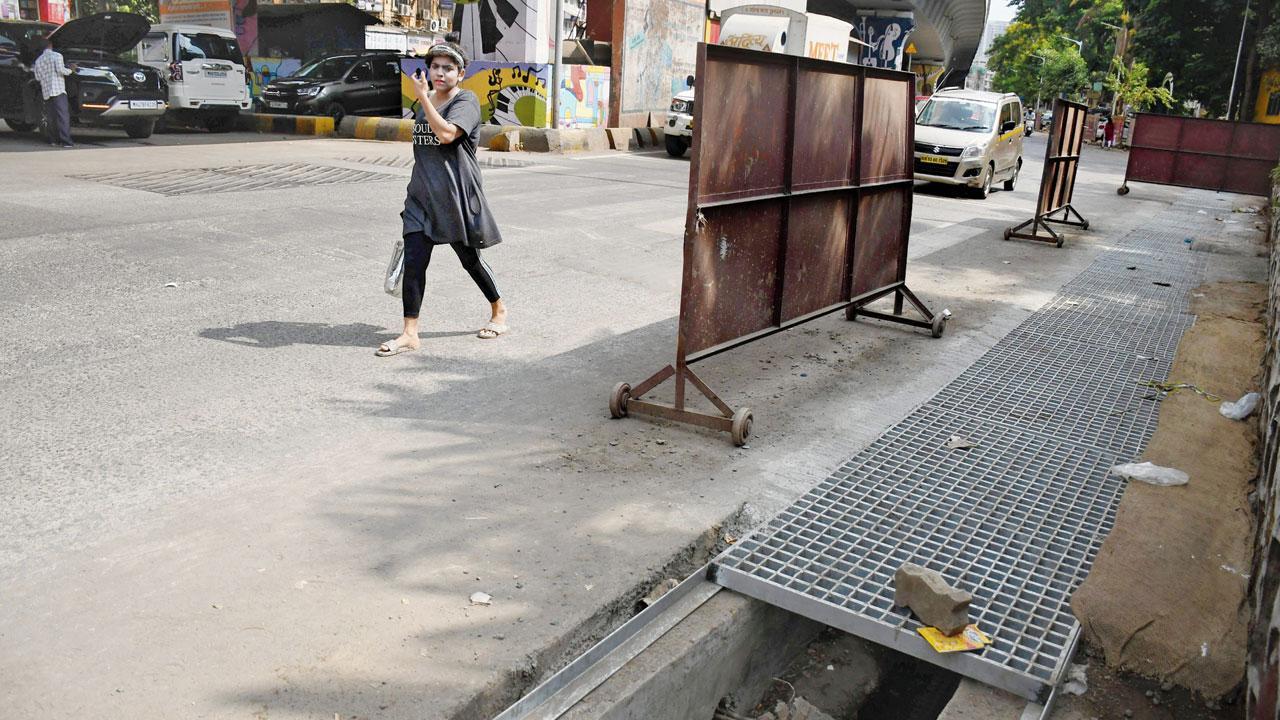 New drainage constructed by BMC at Hindmata. File pic
Despite spending thousands of crores every year on various infrastructure projects, the number of civic complaints has remained the same. Over the last 10 years, the BMC received an average of 1 lakh complaints every year, and in 2022, over 40,000 complaints were specifically related to issues such as drainage, solid waste management, and roads. On Tuesday, Praja Foundation released a report on the status of civic issues in Mumbai. The report aimed to highlight the growing problems related to solid waste management, sewerage, and the quality of air and water bodies in Mumbai, and it pointed out an increased number of complaints.
Out of the 1.04 lakh complaints received through the BMC's central complaining registration system, 17,121 complaints were related to drainage. Among these complaints, 10,079 were for drainage chokes, and 3,646 were related to overflowing drains. Additionally, 12,351 complaints were received for solid waste management issues, mainly regarding garbage not being lifted, and 11,161 complaints were regarding the poor condition of roads. There were also over 30,000 complaints related to buildings (unauthorised, illegal work, etc.) and licenses.
ADVERTISEMENT
Time taken to resolve the issues
According to the report, on average, the BMC took 32 days to resolve complaints related to drainage, pest control, road/footpath, and water supply in 2022. It took 64 days to address pothole-related complaints and 63 days to repair footpaths.
Also Read: Mumbai: BMC's 'concrete solution' to city potholes delayed 
The report highlighted that these delays can cause accidents and inconvenience, especially for the elderly and disabled. It took 31 days to resolve the issue of contaminated water and 30 days to address the water shortage. Over the past decade, the highest number of complaints were related to solid waste management (1,02,149), licensing (1,00,283), water supply (99,740), and pest control (65,511). BMC can potentially save Rs. 1,485 cr annually
The report stated that the BMC can potentially save approximately Rs. 1,485 crores annually with a decentralized solid waste management process. The National Institute of Urban Affairs (NIUA) recommends the Integrated Solid Waste Management (ISWM) system to reduce waste generation, process waste at the source, and minimize waste sent to landfills. The report emphasized that with decentralized waste management processes, the cost of transporting waste to landfills can be significantly reduced. First time in 5 years the AQI was poor for 2 consecutive months.
Regarding air quality, the report mentioned that the months of December 2022 and January 2023 had the worst Air Quality Index (AQI) levels, marking the first time in the past 5 years that the air quality remained under the poor level for two consecutive months. The best average monthly AQI was 61 in August and September 2022. However, the highest average monthly AQI in 2022 was 210 in December.  The report indicated an increase of 17% and 25% in air pollution levels during January and February 2021 and January and February 2022, respectively, suggesting a deterioration in air quality during those months over time.
Key findings in the report
In 2022, the highest per capita per day waste collected was from wards A, B, and H/W—0.90 kg, 0.84 kg, and 0.76 kg, respectively.
>> Complaints related to drainage increased by 35% from 12,708 in 2013 to 17,121 in 2022.
>> The average time taken to resolve these complaints was as high as 31 days in 2022. In 2022, Mumbai experienced the worst average AQI in the last 5 years, with an average yearly AQI of 125.
>> The average maximum Biochemical Oxygen Demand (BOD) recorded in all major beach outlets in 2021 was 22 mg/lt, which is much higher than the prescribed norm of <3 mg/lt by the Central Pollution Control Board (CPCB). Furthermore, the Mithi River was found to be heavily polluted with faecal coliform, with a concentration of 17,000 MPN/100ml, exceeding the prescribed limit of less than 2,500 MPN/100ml.
>> In terms of air quality, the report revealed that in 2022, on average, 13% of the days had good air quality (47 days), 22% had satisfactory air quality (79 days), 30% had moderate air quality (108 days), and 9% had poor air quality (34 days). Additionally, there were 8 days with very poor air quality and one day with severe air quality.
1L
Average no of complaints the BMC receives every year
"Exciting news! Mid-day is now on WhatsApp Channels

Subscribe today by clicking the link and stay updated with the latest news!"
Click here! Will you take intranasal vaccine as a precautionary dose?