Despite assurance that the process would start from April 1, revised fee structure still awaits nod, but pools remain empty with only 30 per cent visiting regularly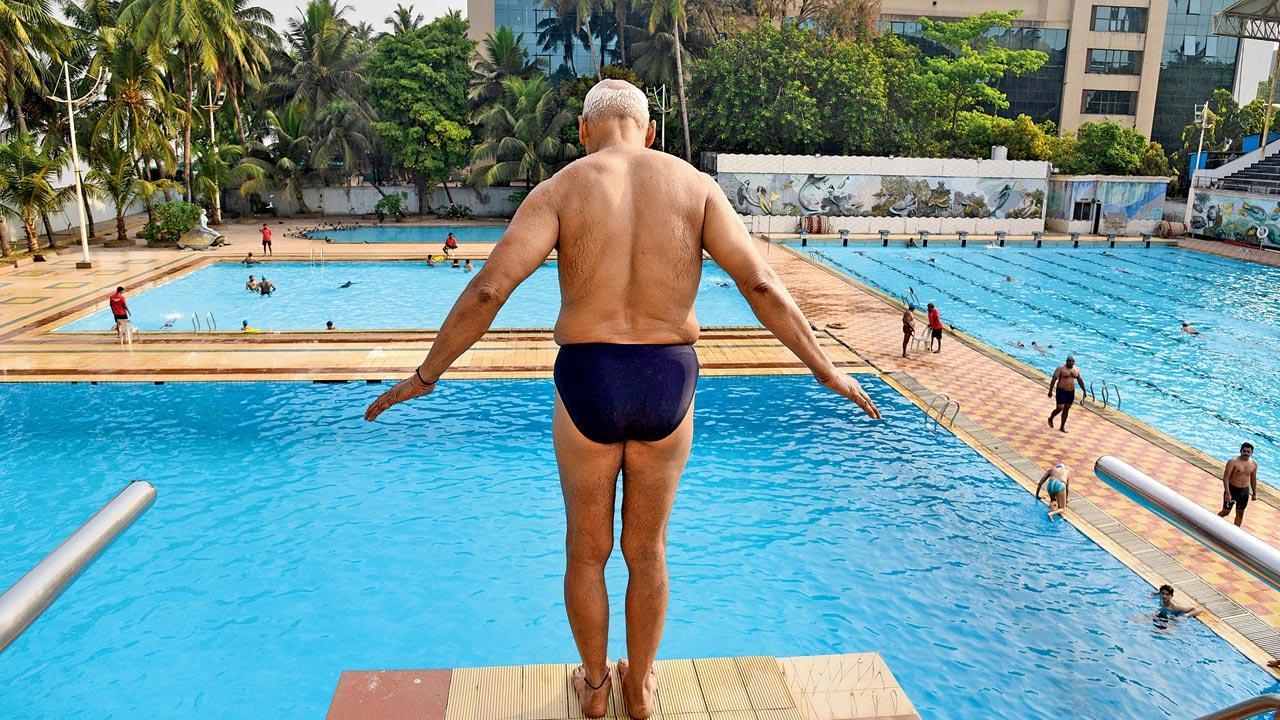 A swimmer prepares to dive at the Mahatma Gandhi Memorial Swimming Pool in Shivaji Park, Dadar. Pic/Pradeep Dhivar
Civic swimming pools are yet to start giving new memberships and some pools even stated that they cannot accept new members at all, even as top officials had earlier claimed the process would start from April 1. 
mid-day had earlier on March 26 reported that new membership at these pools were not accepted at the time as the new fee structure was pending approval with BMC chief I S Chahal, which would come before April 1. However, six days into the month, it is still awaiting the nod. 
ADVERTISEMENT
Only vacation batches
So far, only the Shivaji Park swimming pool has accepted new members for its vacation batches, which last a month. "After reopening of the pools on February 1, old members have started coming to the swimming pools but many are yet to join. Meanwhile, our vacation batches for April and May have started. So, we cannot start new admission for a year as of now. Once we get the idea of overall members who want to renew their membership, we can start new admissions," said the in-charge of Shivaji Park swimming pool. 
The official said there are two pools, one of which is of an olympic size and can accommodate around 550 people in one batch. For the summer vacation batches, the pool can accommodate an additional 600 people. However, as per officials, the pool remains empty most of the time with only around 30 per cent members visiting regularly. 
Already over capacity
Some other pools are also facing a challenge with the number of members already exceeding the limit.
The in-charge of the Chembur swimming pool told mid-day, "The capacity of the pool is around 2,500 to 3,000 with 350 members in eight batches. But we already have 4,000 members enrolled. So there is a limitation to take new members. In addition, we are also taking the load of Ghatkopar swimming pool, which has been shut for the past three year."
The official added, "We still have given admission to around 550 new members since the pool reopened on February 5." 
Dahisar swimming pool, a small one with a capacity of 70 people each in 10 batches, also faces the same issue. A staffer at the pool said, "We already had 1,238 members before the COVID-19 pandemic hit, and 800 of them have rejoined. Even as only 250 members are coming regularly, we cannot give membership to others." 
Prabhat Rahangdale, deputy municipal commissioner and in-charge of swimming pools, said that they cannot take more admission than the recommended level as it is dependent on the infrastructure and ensures security of the people. "What will happen if all the members come on even a single day? We cannot take any risk with the lives of people," he said. 
BMC officials, however, said that admission for the newly built olympic-size swimming pool in Kandivli will start next week.
1 Feb
Day when swimming pools were allowed to reopen