With 'COVID threat gone', civic body cuts down health expenses by 9pc; to emphasise on vocational skills for secondary students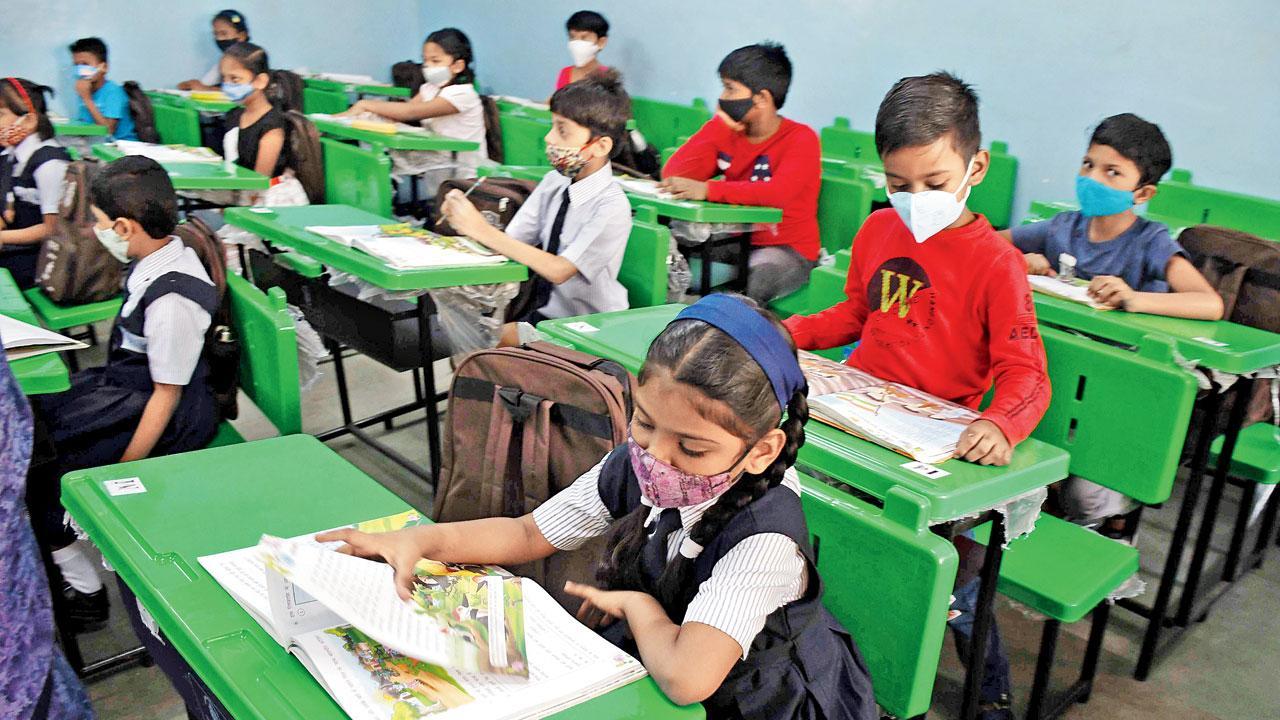 The BMC has paid Rs 4.44 lakh as a "candidacy programme fee" to join the IB board. File pic
Health infra projects will be the focus of the BMC in the coming year with most of its resources being directed to building of multi-specialty hospitals, maternity homes, and hostels, as per Saturday's budget. The BMC's public health budget has dropped by nine per cent this year. The budget estimate for 2023-24 stands at Rs 6,309 crore from Rs 6,933 in 2022-23. Of the total budget, 13 per cent—as opposed to 15 per cent last year—has been allocated to health.
BMC Additional Municipal Commissioner Sanjiv Kumar said, "Previously, we had allocated more money for COVID-related expenses. However, this year the threat of COVID-19 is almost gone, due to which there is a difference of Rs 600-Rs 500 crore."
Some of the new schemes include Arogyam Kutumbam (Rs 12 crore). Under this scheme, people of 30-plus age will be screened for diabetes and hypertension in the first phase, while people aged between 15 and 30 will be screened in the second phase. To lower the burden of tertiary-care hospitals, BMC had opened 106 HBT clinics and polyclinics last year. By March 2024, the civic body plans to have 270-such clinics and polyclinics across Mumbai. It has also proposed to buy three Tesla MRI machines costing Rs 25 crore each and three CT-scan machines costing Rs 15 crore each for civic hospitals.
Also Read: Shinde-Fadnavis stamp clear in BMC budget 
In order to keep an eye on future outbreaks of communicable diseases, the BMC is going to set up a Metropolitan Surveillance Unit at Kasturba Hospital. Funds for this will come from the Centre. Meanwhile, the civic body on Saturday presented a Rs 3,347-crore education budget, recording a marginal drop from last year's Rs 3,370 crore.
Calling it a student-centric education budget, BMC's Additional Municipal Commissioner Ashwini Bhide, said, "Measures have been taken for accessibility of primary education, upgrading the quality of education, safety, security and health and hygiene of students. Emphasis has been given to entrepreneurship and vocational skills for secondary students too this year." A majority of the initiatives and schemes mentioned in the budget documents have been carried forward from last year.
The BMC has paid Rs 4.44 lakh as a "candidacy programme fee" to join the International Baccalaureate (IB) board. It is the first civic body in India to provide education under boards other than state boards. The civic body has also identified 316 children of migrant labourers and enrolled them into mainstream schools under the Right To Education Act, of 2009. A budgetary provision of Rs 10 lakh has been made for the same.
Apart from this, the BMC has also announced a digital classroom programme, under which a systematic database of education curricula will be created, and classes and curricular activities will be carried out through LED intelligent boards. Under the new National Education Policy 2020, students from select BMC schools will be given skill development training in their field of interest. Courses like electronics, apparel, fashion designing, health and hygiene will be available in secondary schools.