Family member of victim who died in chain-snatching incident in September 2020 says case should be treated as murder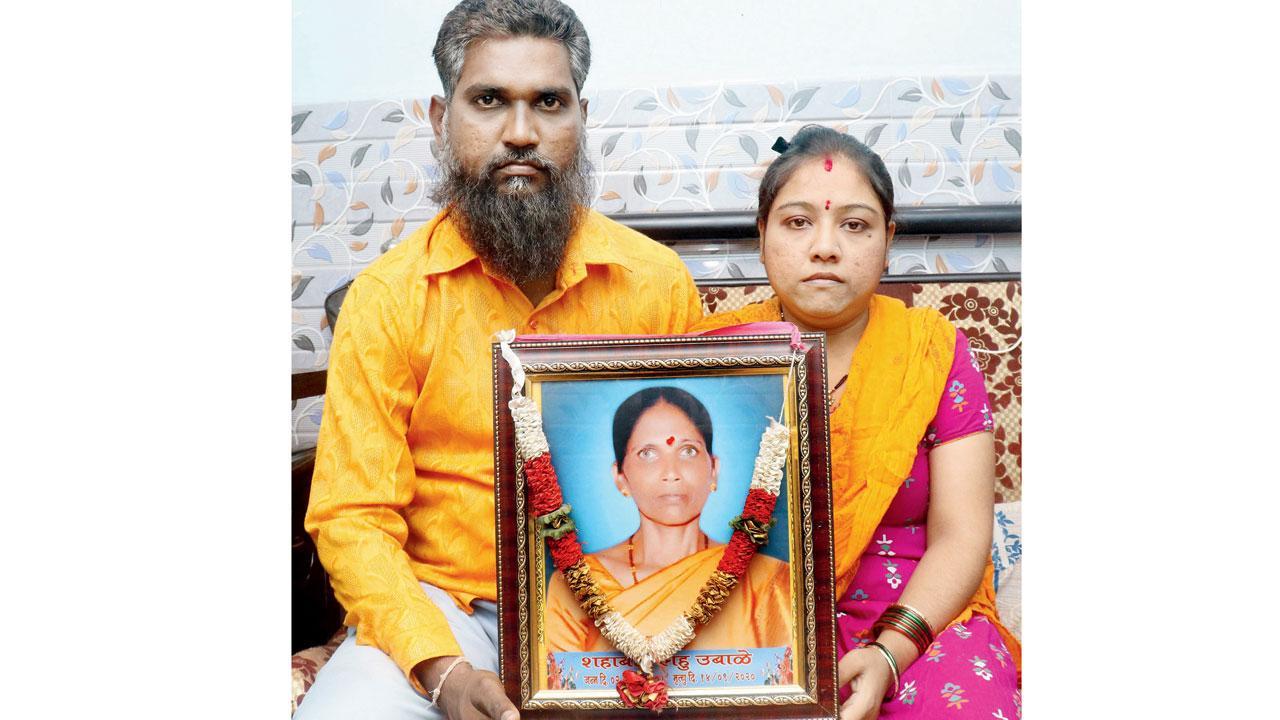 Bhimrao Bhalerao and his wife Kavita with a photo of his mother who died
Chain-snatching incidents don't only lead to loss of the jewellery or phones for the victim, sometimes it also proves to be fatal. Several people have lost lives during their altercations with criminals. mid-day spoke with the family members of one such victim who said they want death penalty for the snatchers.
Ghatkopar resident Sahabai Ubale, 52, lost her life after criminals grabbed her chain and dragged her to the road in September 2020. Ubale's family members said that she had sustained multiple skull fractures and succumbed to the injuries after suffering for 8 days. The accused were nabbed by Pant Nagar police officers and have been lodged in jail since. 
'Suffered for 8 days'
Ubale's son Bhimrao Bhalerao told mid-day, "My mother suffered from a lot of pain and died in the hospital. The accused dragged her on the road while snatching her gold chain. She sustained injuries including multiple fractures to her skull. The snatchers killed my mother and fled. We didn't even get a chance to talk to her for the last time. This incident should not be treated as a chain-snatching case, but as a murder case. The accused should get death penalty for the heinous crime."
Also read: Mumbai: This festive season, watch out for these top 26 chain-snatchers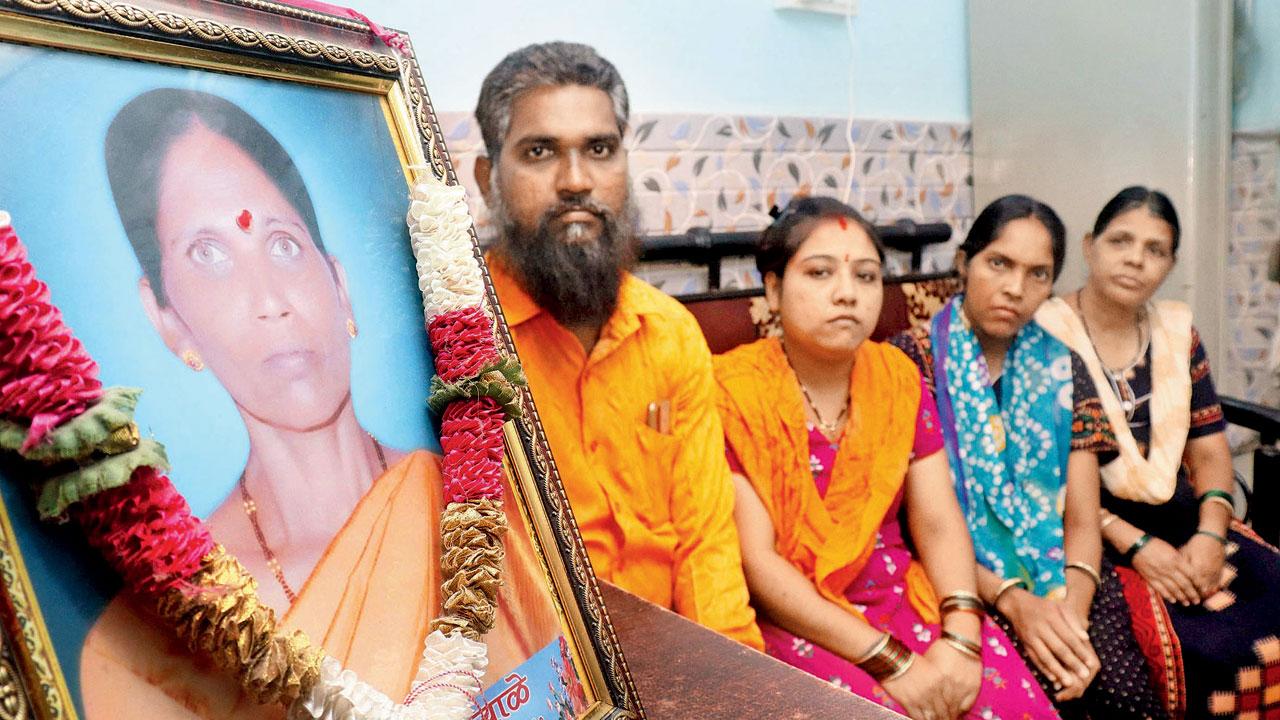 Family members of Sahabai Ubale at their residence in Ghatkopar. Pic/Rajesh Gupta
"Our entire family is still reeling under the trauma of this incident. The doctors performed multiple operations on her skull. As it was during the COVID-19 lockdown, we were not even allowed to enter the hospital and meet my mother. In fact, two days after she was admitted there, she tested positive for COVID too. The incident took place on September 6 and she died on September 14, after suffering for 8 days," he added.
Pant Nagar police arrested four accused in the case—Mohamad Yashin Hanif Khatri, 20, the snatcher; Waris Shaikh, 24, the rider; Mohd Faiz Khan, 18, who helped them flee; and Mohd Hamid Yusuf Shaikh, 32, who helped in selling the chain. 
'Still in shock'
Majority of the victims of chain-snatching cases are women as a lot of them wear chains or mangalsutras. Seema Verma, a 38-year-old Vile Parle resident, said, "I am a victim of snatching but the accused snatched my mobile phone, not jewellery. I was returning from my sister's home when two people on a bike stopped their vehicle in front of me and asked for directions. When I was telling them how to reach their destination, they snatched my phone and fled. I immediately rushed to the police station and registered an FIR, but no action has been taken yet. The police didn't even bother to investigate the matter. I was left traumatised and shocked." 
Viral message warns citizens
Since the Navratri festival started, a message has been doing the rounds on social media asking citizens to be vigilant in the face of an uptick in such crimes. The message read: "Red Alert - Guys Vile parle is now becoming unsafe. Within a week 4-5 incidents of chain snatching, mobile snatching, robbery at house have happened at Subhash Road. Irrespective of CCTV footage, FIR, police can't take any action against the thief. They are doing it regularly and roaming fearlessly in our area. These incidents can cause someone's death. My phone got snatched and my eye got hurt. On the same day 2 more incidents happened. Please inform your children and family members to be very careful while walking on the road. If these incidents can happen fearlessly, we have a big question on the safety of children, senior citizens and family members as most of the senior citizens in Vile Parle live alone in the house. Can't understand that despite CCTV cameras, why can't police take any action and scald these rascals. [sic]"
06
Day in September 2020 when the incident took place