mid-day had reported in 'Top crop cracks the whip on sex toys' on June 29 report about the city Commissioner of Police promising action against those found selling the illegal products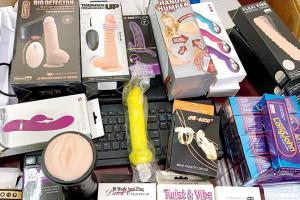 The raid was conducted at Musafirkhana on Friday
The Mumbai police is silencing a distinct buzz in south Mumbai ­— that of sex toys. Cracking down on the illegal sale of the products, cops recovered sex toys worth over R41,000 in a raid at Musafirkhana on Friday.
mid-day had reported in 'Top crop cracks the whip on sex toys' on June 29 report about the city Commissioner of Police promising action against those found selling the illegal products.
Prior to the raid, mid-day had carried a series of reports about these products being sold in markets in south Mumbai. Some retailers had claimed they'd been in the business for 40 years without facing any police action.