Sessions court rejects application, which was filed on the grounds that it was a civil dispute, saying there was a clear intent to cheat; he will now approach HC, says matter is not criminal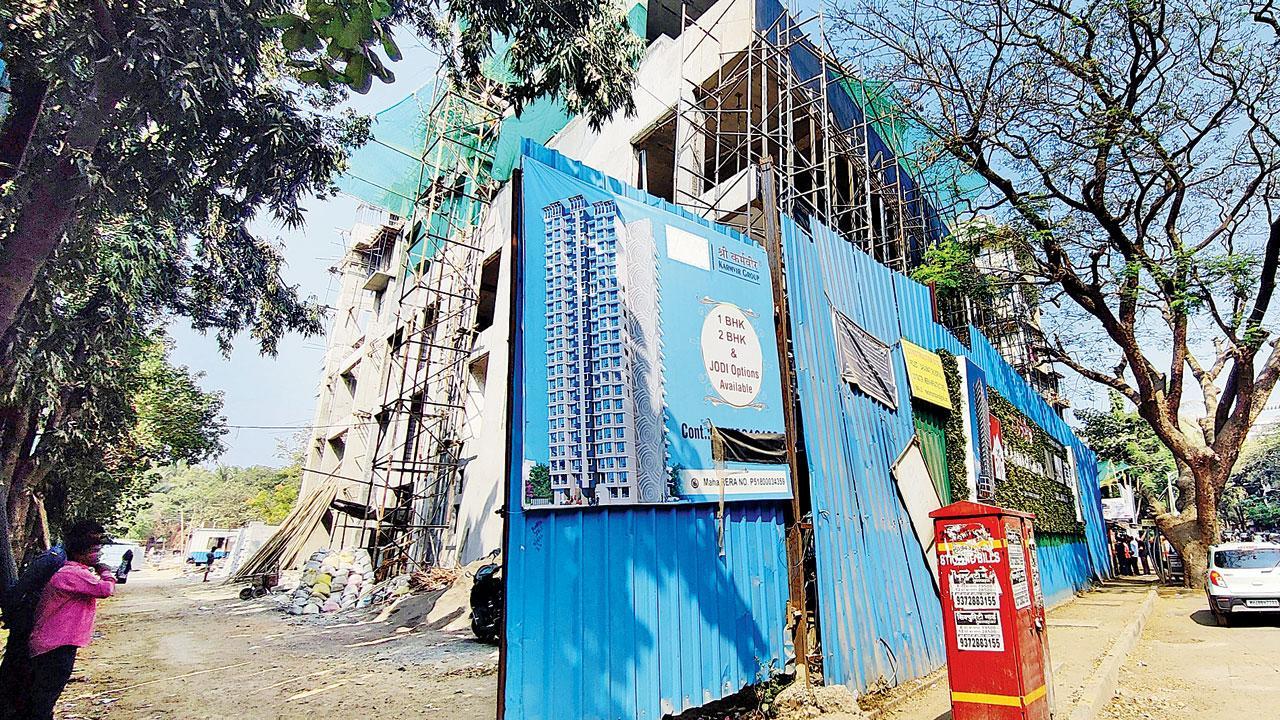 Peerless Constructions alleged that two real estate agents had approached it to invest in the redevelopment of Saraswati and Shree Saraswati CHS (in pic), but the firm later learnt that the developer mentioned by the duo had no right over the properties. Pic/Nimesh Dave
The Dindoshi sessions court on Tuesday rejected the anticipatory bail application filed by Karamvir Rajpurohit, a developer accused of cheating a Borivli-based real estate firm. Rajpurohit, who had sought bail on the grounds that the matter was of civil nature and not a criminal case, has now decided to approach the Bombay High Court. 
Borivli police lodged the FIR in the case on January 11 following the complaint by Peerless Constructions Private Limited. The firm alleged that Rajpurohit and two other real estate agents had cheated it of Rs 1 crore by asking it to invest in the redevelopment of Saraswati and Shree Saraswati cooperative housing societies in Borivli West. 
As per the FIR, two real estate agents had approached Peerless Constructions with a proposal to invest in the redevelopment projects which, they claimed, were taken up by Rajpurohit. The firm agreed and invested an initial amount of Rs 1 crore, but later realised that it was misled as the accused did not follow the terms mentioned during the investment proposal. As no solution could be reached, Peerless Constructions lodged a complaint with Borivli police. Soon after the FIR was filed in the case, Rajpurohit had moved the sessions court seeking anticipatory bail. 
Also Read: Mumbai: SRA halts a project in Vile Parle, says nod wrongly given
Additional Sessions Judge N L Kale rejected the application and observed, "There are specific and clear allegations that the applicant and other co¬accused in furtherance of there common intention had obtained an amount of Rs 1 crore from the complainant to invest in construction business/building. Though, their further talks to proceed with business are not succeed, the applicant as well as other co¬accused never made any serious efforts  to return the amount of complainant. Hence, at present, it can be said that, since the inception, an intention of all the accused including the applicant was only to cheat the complainant and to grab huge amount from him [sic]."
Advocate Laxminarayan Shukla, for Peerless Constructions, told mid-day, "My client was asked to invest in a redevelopment project with a developer called Karamvir Rajpurohit. Initially a token amount of Rs 1 crore was paid. However, before handing over the remaining amount agreed upon, Peerless firm learnt that Rajpurohit had no right over the property. The firm then lodged a police complaint as we strongly believe that it is a planned act with the motive of cheating. Though the accused lawyer argued before the court that the case is of a civil nature, we opposed the same on the grounds that it is a criminal case," Shukla added. Rajpurohit claimed to have been falsely implicated in the case. "It is a civil case and not a criminal case. We will approach the Bombay High Court in connection with this case," he said.
11 Jan
Day when the FIR was filed in the case