The city - sliced, diced and served with a dash of sauce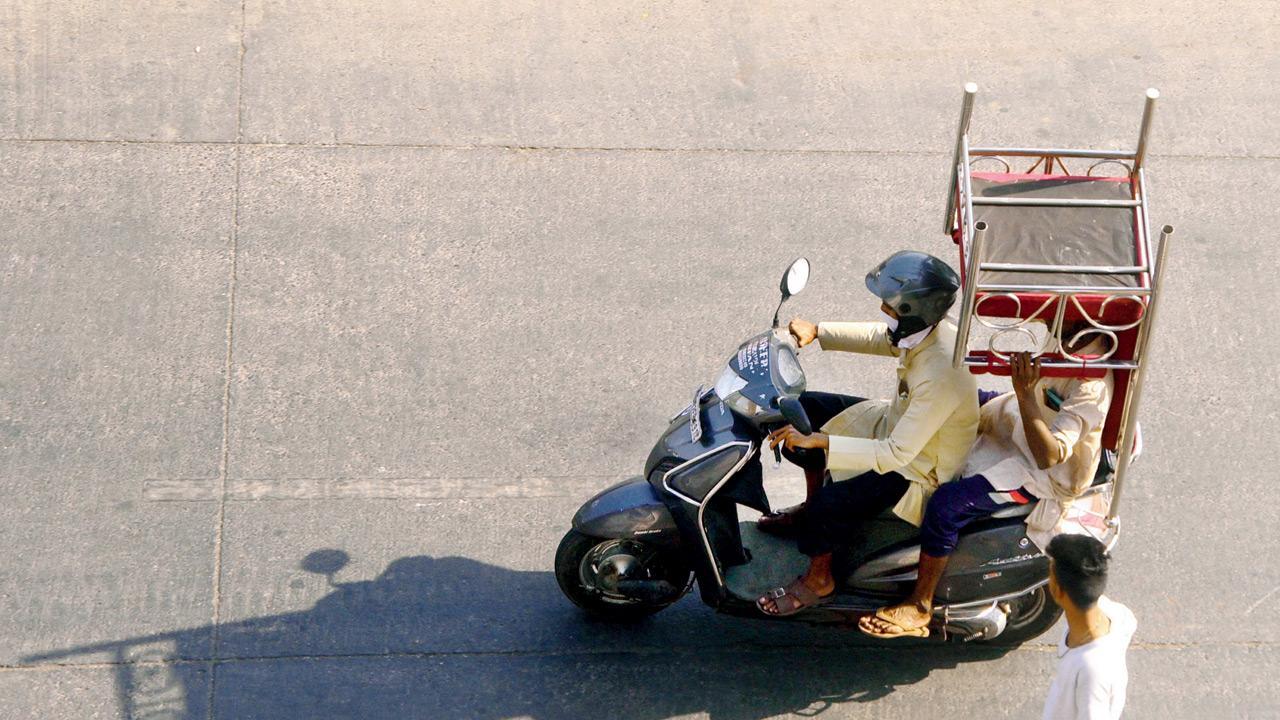 Pic/Atul Kamble
Kissa kursi ka
A man sitting pillion on a two-wheeler balances a chair on his head, as the rider navigates Bandra's roads.
ADVERTISEMENT
Girls like you
GirlUp abaadh is an initiative started by a few students at Ambedkar University in Delhi, to spread awareness within university spaces across India. Its members want to talk about the power dynamics on campus and other public areas, the idea of being self-sufficient, gender-based violence, mental health, women in leadership, education, consent and more. Sanah Arora, a member, says, "I became a member of GirlUp abaadh to use the time and energy as a young college student towards a cause that has always been close to my heart—women empowerment. With the help of social media and volunteers across the city, we are trying to reach out to those in need in the pandemic. We want to make a difference on university campuses with these important conversations."
When Tendulkar had a toe woe
This time 20 years ago, Indian cricket lovers were gripped with concern over when would Sachin Tendulkar recover from his toe injury, which he sustained in a tri-series ODI against West Indies in Zimbabwe on July 4, 2001. Tendulkar heard a click on his right foot while batting with Rahul Dravid and it turned out to be no ordinary a hairline fracture. It was on the sesamoid bone of the right big toe. To provide more clarity on his injury, Tendulkar invited a few journalists to his Bandra West flat on July 18 (can't imagine that happening today with our current cricket stars). For the next few months, Tendulkar's toe updates used up reams of newsprint. To arrest the gloom a bit, this newspaper decided to print a log of tongue-in-cheek tips for the batting master. Some of them were: Say no to shoe commercials, don't get your leg pulled, don't toe the Board's line of excessive cricket, watch Toe Toe Main, Main regularly and put your foot down if asked about the captaincy. Fortunately, Tendulkar was up and running by October of that year, but that recovery took some effort including travelling to South Africa in August 2001 to consult a podiatrist, who recommended special inner soles. Considering the incredible number of injuries he endured during his 24-year international career, we can say that Tendulkar was also a champion in dealing with injuries. Indeed, he can have his own Keep Calm series.
Tap and be safe and sound
Pimpri Chinchwad resident Nikhilesh Wani has innovated a device for cyber security purpose that he claims holds a proven record of fighting major cyber attacks like phishing and stolen credentials. Byteseal has been funded and supported by the Science and Technology department of Government of India, under the mission of Startup India. The Personal Authentication Device is a compact, card-shaped device with built-in fingerprint sensor, which allows you to login to your favourite websites and apps with just a tap. "In the virtual world, where there are lot of interactions of people with digital products and services, keeping one's identity unique and free from identity theft is a challenge. While the identity in the virtual world is entirely defined by the usernames and passwords, the repercussions of bad password management result in financial losses as well as harm individuals socially as well. With our product, we aim to resolve this problem once and for all by allowing individuals to take control of their cyber security in their hands, literally," he says.
Luxury wellness comes to Alibaug