Man found out that not even an FIR was registered in cyber fraud case when he approached the Zonal DCP; latter too had to haul up MBVV cops twice to get it lodged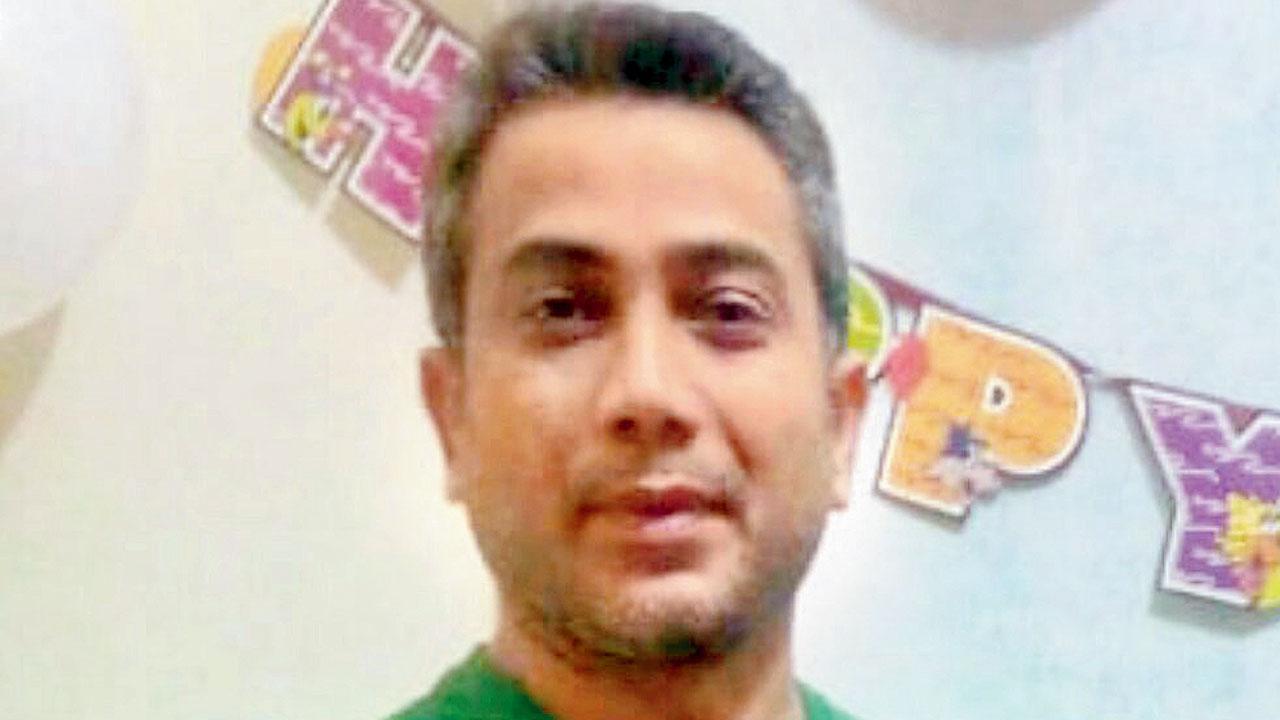 Niranjan Jha had been conned online. Pic/Hanif Patel
A 45-year-old foreign languages teacher was forced to run around by the police for almost eight months in Nalasopara, over a cyber fraud case wherein he was duped. During these eight months, the officers at Mira Bhayandar Vasai Virar (MBVV) police kept telling him that investigations were underway, even though they had not even registered an FIR in the case.
The FIR was registered only after the victim, Niranjan Jha, met zonal Deputy Commissioner of Police (DCP) Suhas Bavche, who pulled up the cops at Nalasopara police station, and directed them to immediately register an FIR. Bavche, too, had to ask the cops twice to get them to register the FIR. However, the cops have not added  section(s) of the Information Technology (IT) Act in the registered FIR.
ADVERTISEMENT
Explaining his ordeal, the teacher said, "I was duped of Rs 20,000 online at the end of last July, and approached the Nalasopara police with a written complaint on August 1 to register an FIR. The cops there assured me of all possible help. In reality, they did nothing."
Also Read: Mumbai: Teenager arrested for harassing minor on Instagram
The progress
"When I visited Nalasopara police station again for a follow-up, a duty officer told me that the case would be investigated by the cyber police in Kanakia, Mira Road. The same police officer also suggested that I visit the cyber police to expedite the process. I visited the cyber police in Mira Road, where an officer told me that he had approached the court to freeze the bank account of the accused," he added. "Later, the same officer told me to visit Nalasopara police station for further action in my case. I was never told by the MBVV police that the FIR had not been registered," added Jha, who kept on making several rounds of the police stations.
"I had also contacted the then police chief and his office had called me and suggested that I contact Zonal DCP Suhas Bavche. I did not meet Bavche then but personnel at the DCP's office told me that the CDR of the accused had been retrieved and handed over to the Nalasopara police," he recalled. "When I visited Nalasopara police and met officer Saleem Shaikh, he told me that the CDR had not come yet. This continued for a few weeks," he added.
DCP's find
When there was no headway in his complaint, the victim met the DCP and told him everything. "When the DCP enquired around the first week of February, he learnt that even an FIR had not been registered. He called the senior inspector of Nalasopara police station to get it registered, but even then it was not registered. After waiting for another 1.5 months, I again met Bavche who called the Crime PI of Nalasopara police station to get the FIR registered," he added.
Finally, the FIR was registered on March 20 under sections 419 and 420 of Indian Penal Code (IPC). "The cops have not added the IT Act, despite me mentioning everything in my written complaint," he said. When contacted, Shaikh said, "He had submitted a complaint in July but our investigation was  underway. Based on the investigation, an FIR has been registered."
Another senior officer at Nalasopara police station said, "At present, we have not got details to apply the IT Act. If we get the phishing link during investigation, we will surely add the IT Act. The complainant has named three people in this case and their tower locations indicate that they are in Mewat. No arrests have been made so far."
Rs 20,000
Amount that the man was conned out of